Ninh Binh is known for its beauty and peaceful scenes, captivating people's hearts. The list of things to do in Ninh Binh introduced to you in this article will hopefully help you plan a wonderful Ninh Binh trip.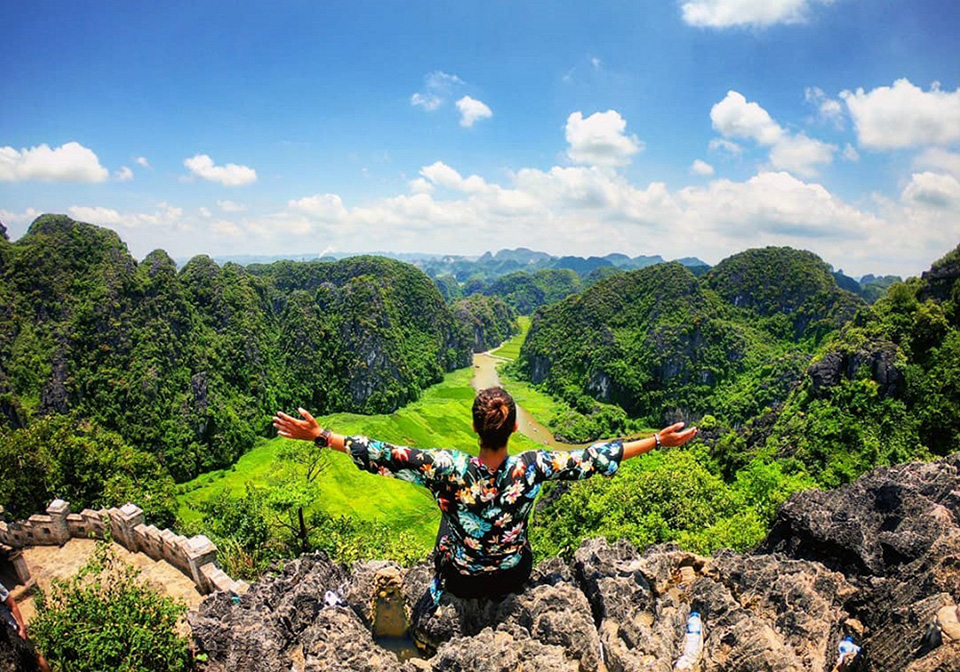 Explore Ninh Binh caves
Ninh Binh owns many beautiful and mysterious caves that create its unique charms such as Thien Ha cave, Thien Thanh cave, Mua cave, Thien Mon cave, etc.
Mua cave
Mua Cave is located at the foot of Mua Mountain, in Khe Dau Ha village, Ninh Xuan commune, Hoa Lu district, Ninh Binh province. To get to Mua Cave, you will have to experience your toughness and endurance when climbing up the mountain with 486 stone steps. Then, from the top of the mountain, you will be admired the whole beauty of the Tam Coc area with immense rice fields.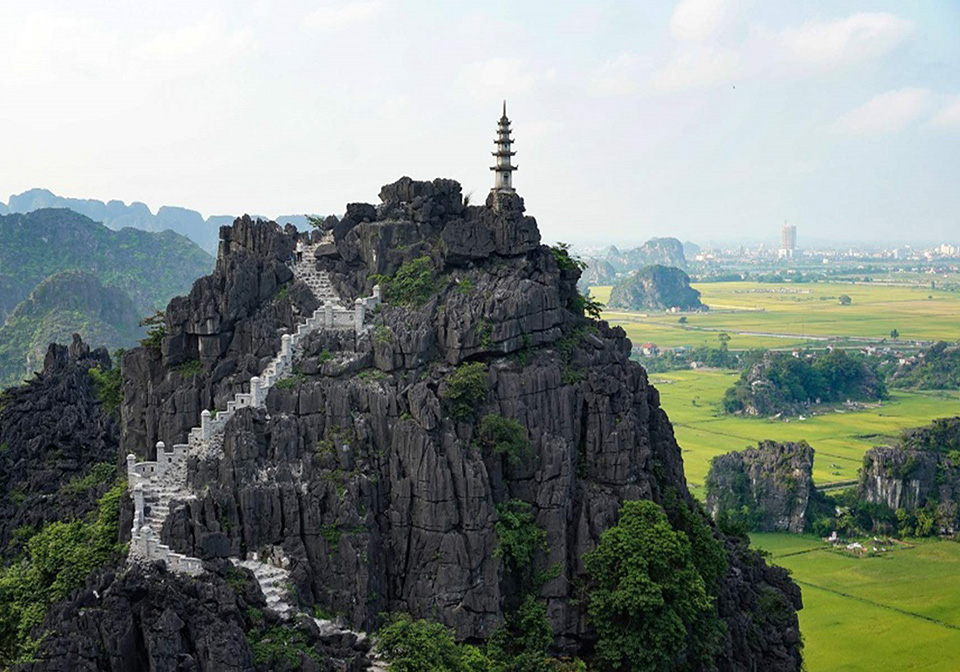 Trang An grottoes
Trang An – Tam Coc landscape complex in Ninh Binh is classified as a special national monument by the Prime Minister of Vietnam. It has also been ranked as a world heritage by UNESCO. This place is very famous for travelers because of its charming scenery.
Trang An grottoes own the outstanding features of a heritage area with four main types of caves. They are ancient underground cave, ancient Karst cave, stone roof cave, and cave shaped as frog's jaw.
Tam Coc – Bich Dong
Referring to Ninh Binh, it is impossible not to mention Tam Coc – Bich Dong. This is the most beautiful scenic area of Ninh Binh. 
Tam Coc means "Three caverns", including the Ca cave, Hai cave, and Ba cave. All three caves are created by the Ngo Dong river piercing through the mountain.
The scenery of Tam Coc, as well as the two sides of the Ngo Dong river, will change according to the rice season.
Bich Dong meaning "green cave", located 2 km from Tam Coc wharf. Bich Dong consists of a dry cave (Bich Dong pagoda) located in the halfway through the mountain and a water cave called Xuyen Thuy Dong piercing the mountain. In front of the cave is a branch of Ngo Dong river winding beside the ridge. Across the river is a rice field.
Trang An boat trip
The boat is the main mean of transportation when visiting Trang An, Tam Coc – Bich Dong. It will take you to visit the whole Trang An ecological area, bring to you the feeling of floating on the water, watch the majestic nature and the beautiful caves.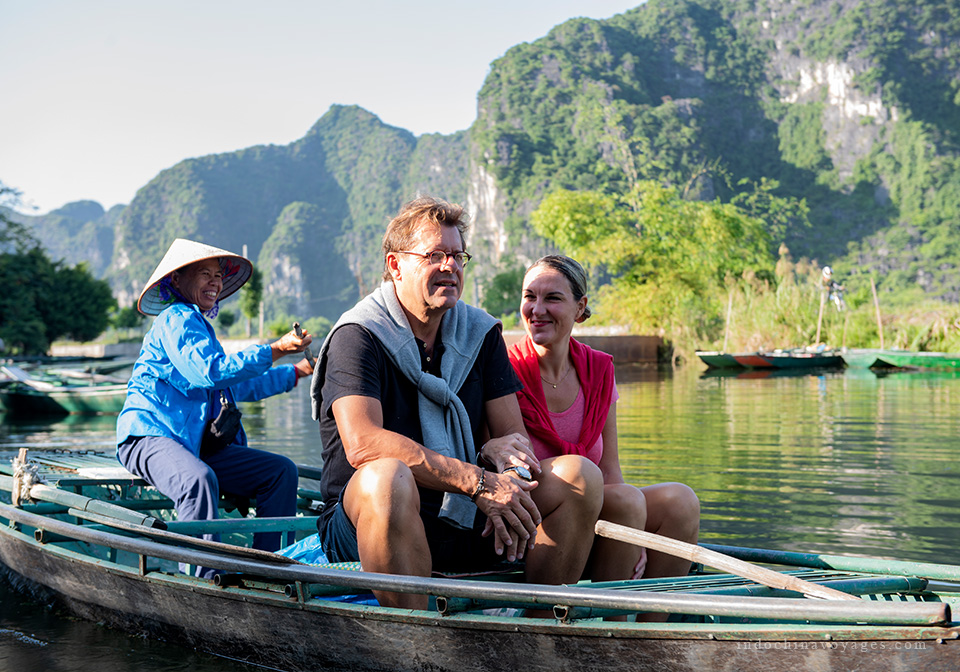 Visitors will seat in boats rowed by friendly locals. You will be taken through 12 caves and 3 spiritual points following a closed route. The Trang An boat trip will last more than 3 hours. This is the travel route combining the exploration of the water river, caves, and climbing.
Bai Dinh Pagoda
Bai Dinh pagoda, one of the largest pagodas in Vietnam, is well-known for its records in Vietnam as well as Asia.
Below are records of Bai Dinh pagoda:
The largest gold-plated bronze Buddha statue in Asia: Bronze statue of 100 tons in Phap Chu temple.

The largest bronze Maitreya statue in Southeast Asia: Maitreya statue of 100 tons placed outdoors.

The largest bronze bell in Vietnam: Dai Hong Chung bell weighs 36 tons located in the Bell Tower.

The tallest Stupa in Asia: The Stupa of Bai Dinh pagoda (Ninh Binh) has 13 floors, 100m high.

The pagoda has the largest area in Vietnam: a total of 539 hectares (in which, ancient pagodas are 27 hectares, new pagodas are 80 hectares).

The pagoda has the longest Arhat corridor in Asia: the Arhat corridor is nearly 3 km long.

The pagoda has the most number of Arhat statues in Vietnam: 500 Arhat statues made by greenstone of about 2m high.

The pagoda has the most number of Bodhi trees in Vietnam: 100 Bodhi trees are extracted branch from the Indian Bodhi tree.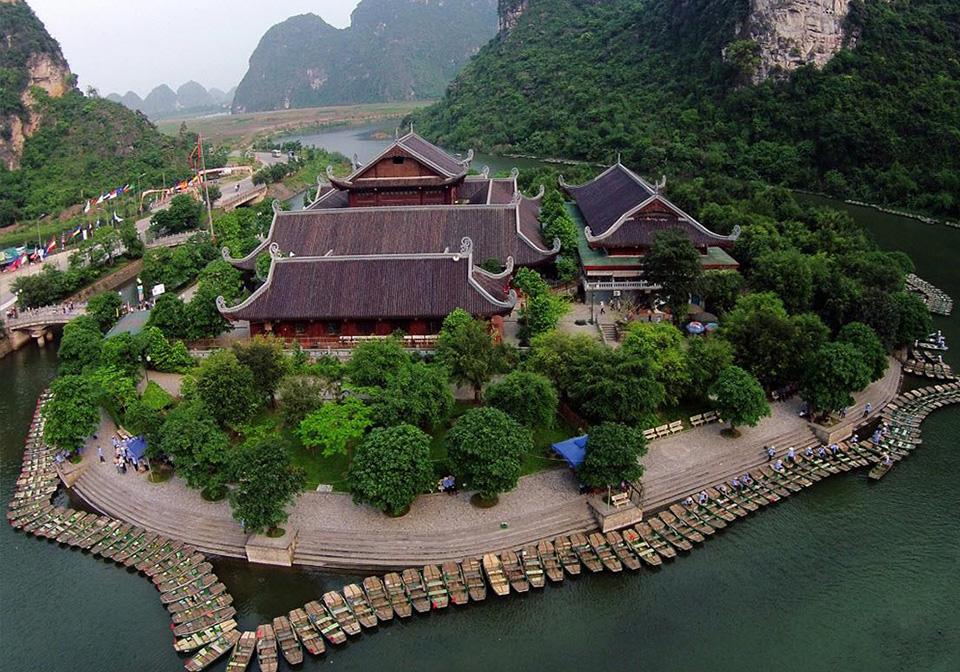 Ninh Binh cycling tour
Traveling by bicycle in Ninh Binh has been very common in recent years. Especially cycling in the famous tourist areas such as Tam Coc- Bich Dong and Trang An are very popular with foreign travelers.
Some suggested cycling routes in Ninh Binh:
Tam Coc to Thai Vi

Thai Vi to Bich Dong

Tam Coc to Mua Cave

Tam Coc to Bich Dong

Bich Dong to Thung Nang

Bich Dong to Thung Nham Bird Garden

Tam Coc to Trang An ecological zone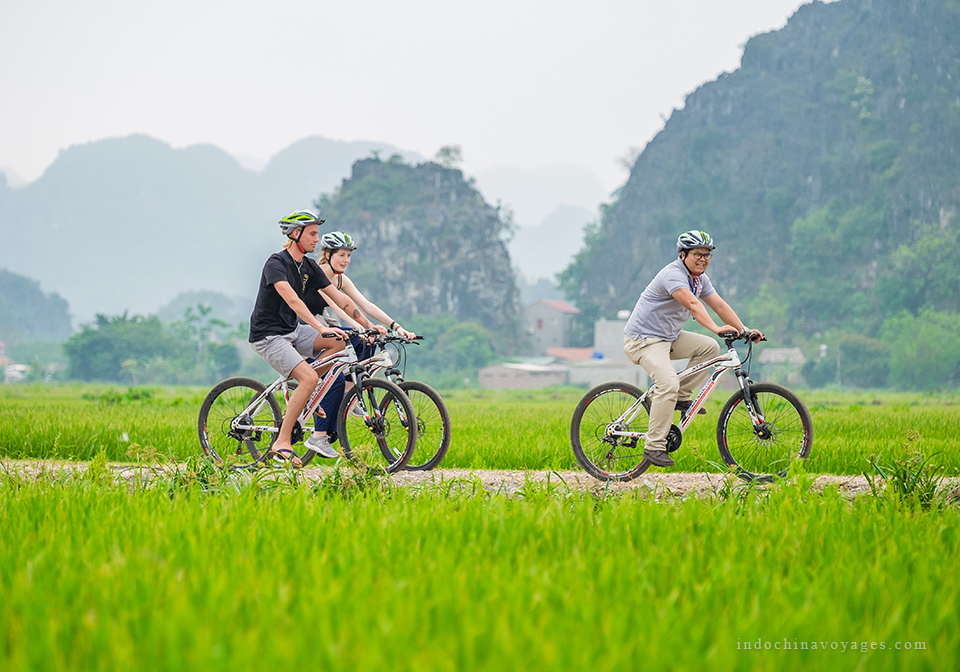 When visiting Ninh Binh, you will have chances to explore beautiful sceneries and many interesting cultural places. This will be a promising destination having many interesting surprises for you and your family. I hope that the above list of things to do in Ninh Binh will bring such good information for your Vietnam tours. 
Can Thu Hong – Travel Lover