Along with Sapa, Halong Bay and Hanoi, Ninh Binh is one of the most attractive destinations of the North. Ninh Binh is a large province located in the South of Hanoi as well as the South of the Red River Delta. With only about 98 km from Hanoi, it is pretty easy for travelers to visit. It has many world heritage sites, the most famous place of which is Trang An scenic complex or Con Son Kim Son – Ninh Binh World Biosphere Reserve. Therefore, Ninh Binh has become a tourism destination with many potentials. If you are planning Ninh Binh tours, let's find out Ninh Binh weather and the best time to visit Ninh Binh in this article below.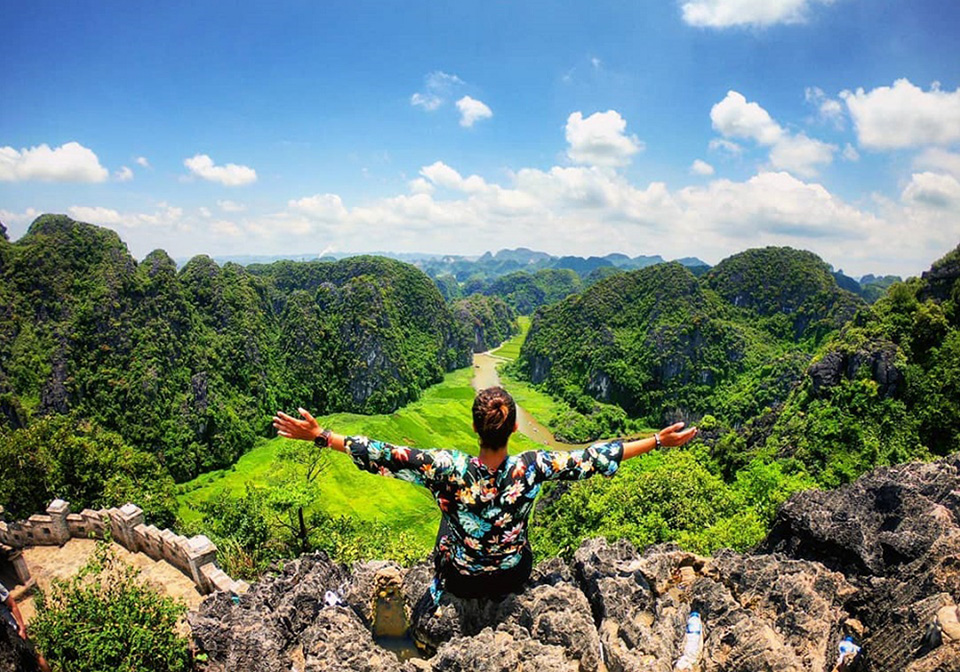 Weather in Ninh Binh
As a province in the Red River Delta region, located in the North of Vietnam, the climate of Ninh Binh is followed by the tropical monsoon and subtropics. The annual weather here is divided into 4 distinct seasons: spring, summer, autumn, and winter. In Ninh Binh the average temperature is 23.5 degrees C. The average annual rainfall is from 1,700 – 1,800 mm. The number of sunshine hours in a year is about 1,600 – 1,700 hours; and the average relative humidity is from 80 – 85%.
It often has hot and humid summers with heavy rain from May to August. Otherwise, the winter here is quite dry and cold. It occurs from November of the previous year to February of next year. March and April are springtimes with plenty of traditional festivals. September and October are autumn time. These two seasons are the busiest in Ninh Binh that a large number of international travelers pay a visit.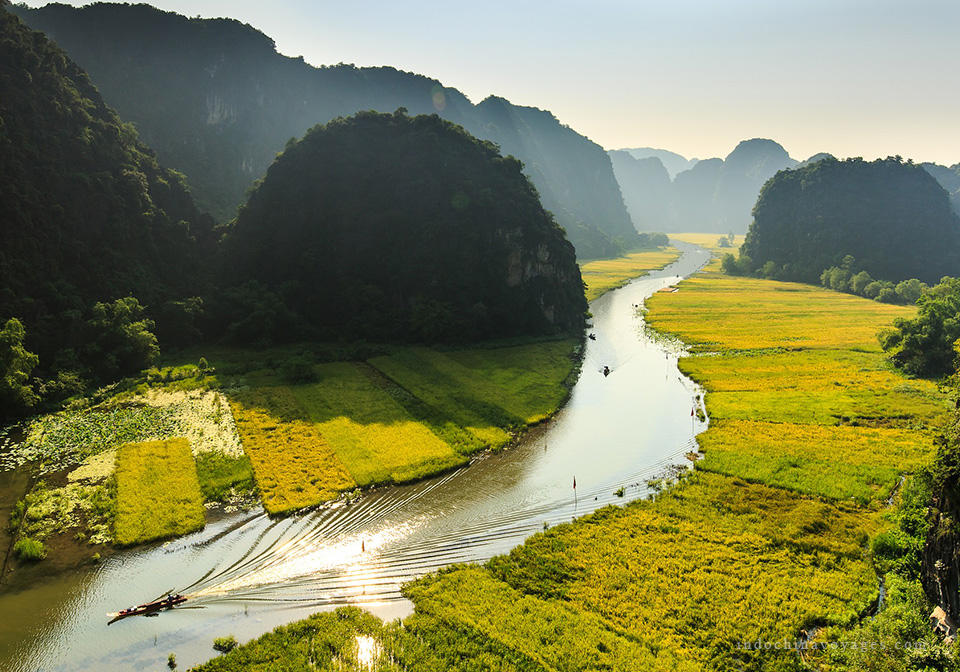 Best time to visit Ninh Binh
Ninh Binh is famous for not only beautiful landscapes, world-class architecture and special heritage culture, but also has fresh air, pleasant weather. Hence, it is suitable for everyone to travel at any time of the year. To choose a suitable season for yourself, you should understand the typical characteristic of Ninh Binh weather by month.
The golden season
It is said that the best time you should travel to Ninh Binh is the end of May to early June and September to October. This is the most favorable time in Ninh Binh because of the ripe golden rice fields in Tam Coc. If you have a plan to visit Ninh Binh, you should not ignore this highlight season. Apart from the harvest season, June in Ninh Binh is also the ideal time for many travelers due to the valleys of lotus flowers blooming.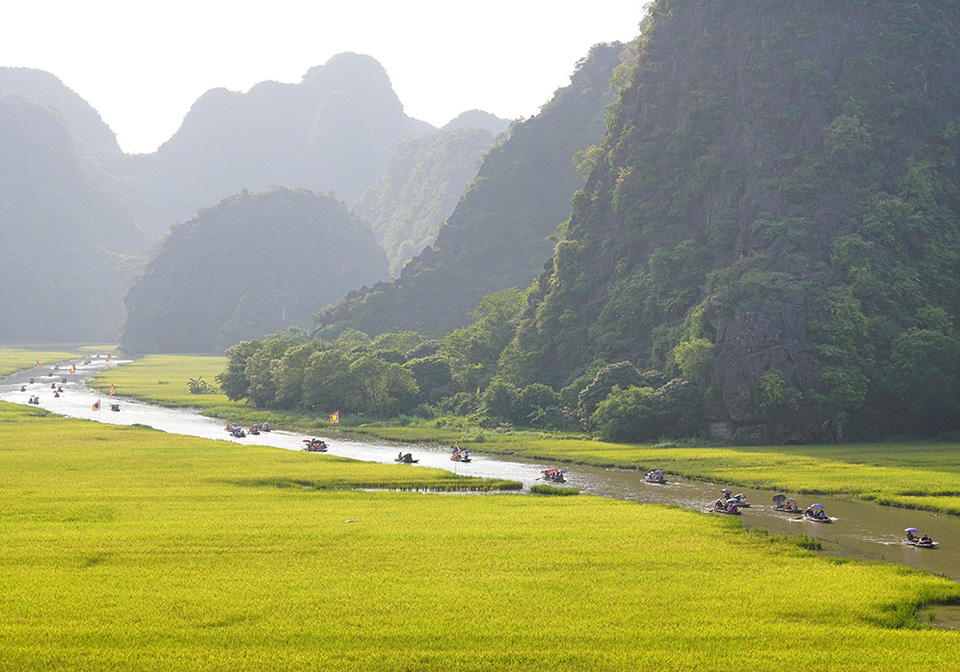 The festive season
However, it does not mean that Ninh Binh is not attractive at other times. If you cannot come to Ninh Binh in golden time, there are still many other options for you. One typical season that you should consider is definitely the festive season in Ninh Binh.
It occurs from January to March in the lunar calendar every year, also the beautiful springtime here. There are beautiful sunshine, mild climate. It is not too hot or too cold, pretty fine and suitable for travelers to have outdoor activities.
This season is also an appropriate season to go to Bai Dinh temple and many other temples in Ninh Binh. You will have a great opportunity to experience the Vietnamese culture, custom in special events such as Lunar New Year or Bai Dinh Pagoda festival. Bai Dinh Pagoda festival is a spring festival, officially held on the 6th day of Tet and lasting until March. This is a festival to commemorate the merits of the national heroes of the country, to pray for peace and happiness.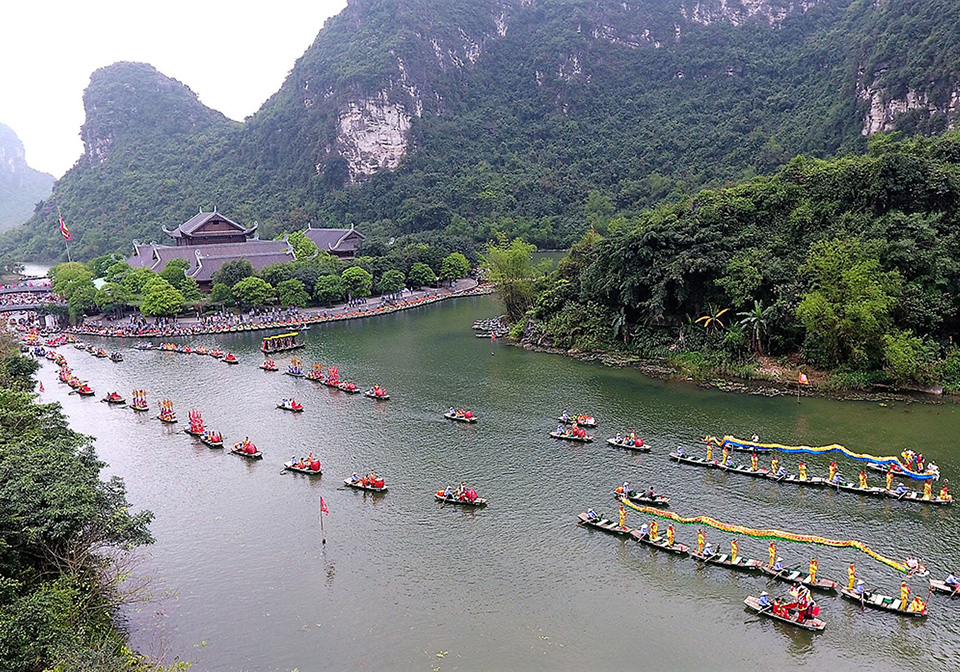 Moreover, Thai Vi Temple Festival is also a big festival in Ninh Binh. It is usually held from 14 to 16 March of the lunar calendar in order to worship the Tran Dynasty in Vietnam. Thai Vi Temple Festival is held every 3 years in the year of Rat, Horse, Rabbit with an extremely large scale.
Another important event is called Hoa Lu ancient capital traditional festival held on March 6th, 7th, and 8th every year. This festival is to celebrate the recognition of noble heroes who built the Hoa Lu Kingdom and Dai Co Viet State in Ninh Binh.
In this season, thousands of visitors come to Ninh Binh leading to overload status in the accommodation system. Therefore, make sure you booked your Ninh Binh accommodation in advance. This period of time is often crowded and bustling with many things to do in Ninh Binh. It will be a great time for you to go sightseeing and join some awesome outdoor activities like boat riding or exploring Trang An grottoes.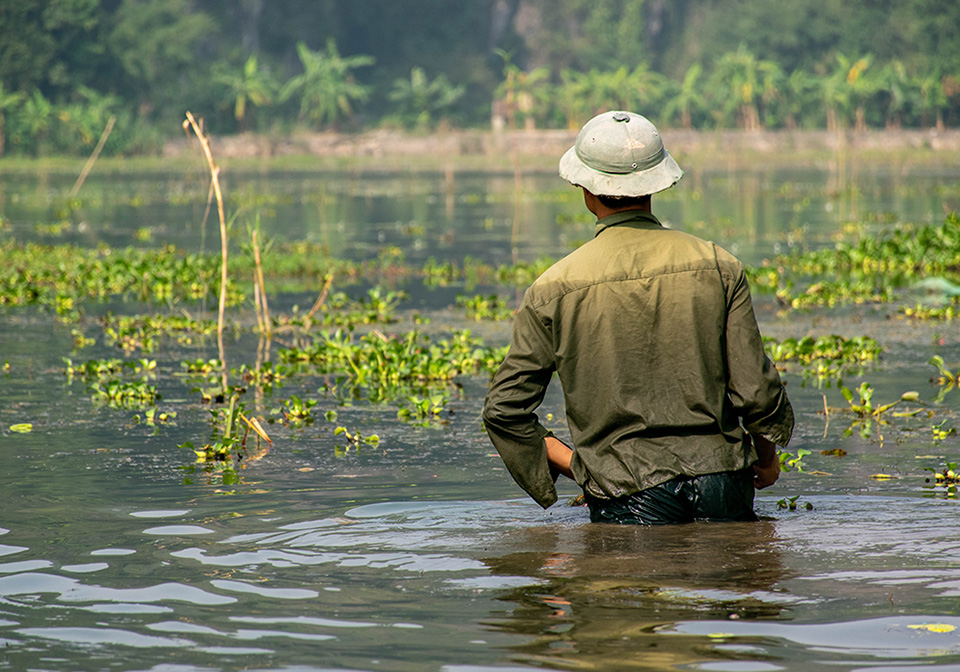 Ninh Binh in April
Another perfect time to visit Ninh Binh is April. It is also the early summertime in Ninh Binh. The weather is quite pleasant with almost sunny, windy days that are suitable for outside activities. April is also the ideal time to see the butterfly with different colors in Cuc Phuong National Park. Thung Nham Bird Park with hundreds of bird types is also a good idea for your tour.
Eco-tourism in Ninh Binh is also more suitable at this time, you can go trekking or explore Tam Coc – Bich Dong or Van Long Nature Reserve.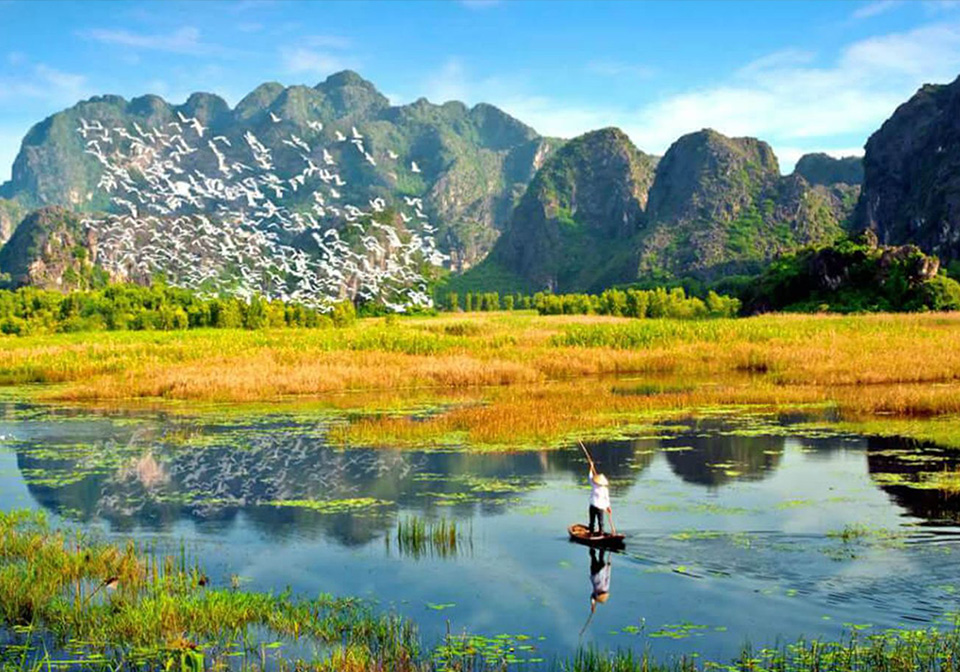 Ninh Binh weather in any season has its own unique beauty. It is truly a perfect destination if you are seeking for the cultural beauty and picturesque landscape. We hope you will have the memorable Vietnam tours with your friends and family in Ninh Binh.
Thanh Thanh – Travel Lover