Ninh Binh province is one of the greatest tourist destinations in North Vietnam owning 1,500 relics of all kinds. Surrounded by a lot of famous landmarks, Ninh Binh Vietnam achieves the title of world heritage, biosphere reserve recognized by UNESCO. With karst topography that has been altered by geological changes over time, Ninh Binh is considered as "Halong on land "with countless super beautiful caves like Ninh Binh Tam Coc, lakes, mountains, etc. Let's find out all information to plan a perfect Ninh Binh tour.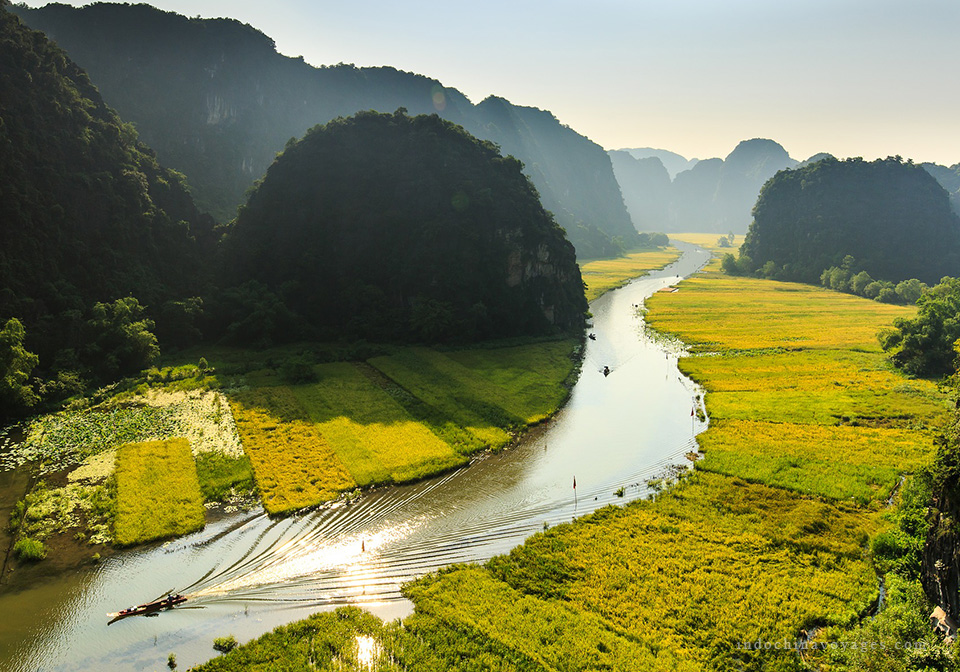 You can travel to Ninh Binh in all seasons, but the best time to go is from January to March of the lunar calendar. In spring weather, this place is not too cold or too hot, suitable for visiting the temple or taking part in the spring festivals. In addition, the time of the ripe rice season in Tam Coc at the end of May to early June and September to October is perfect for travelers who like to take photos.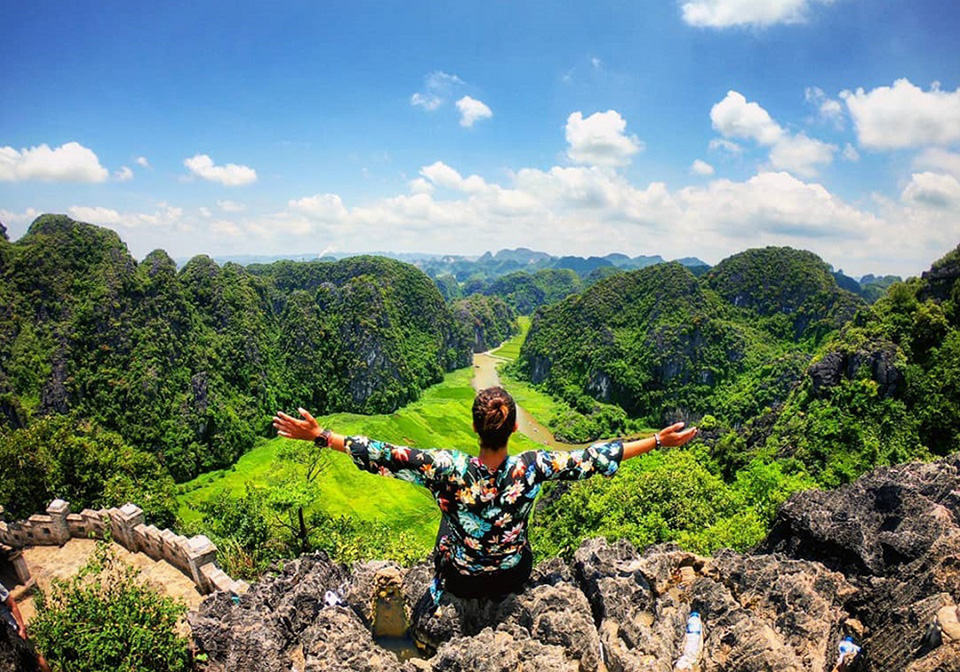 93 km south of Hanoi, you can have Ninh Binh day trip from Hanoi by crossing one of the national highways including 1A, 10, 12A, 12B, or the North-South railway. With that, you can go to Ninh Binh by various means of transport such as trains, buses, private car, or motorbike.
In the case of the shuttle bus, the Hanoi-Ninh Binh route has dozens of rides every day, starting from 5 am to 11 pm. It will take you about 2 hours of traveling with the lowest price of about 80,000 VND per person (approx. US$3.5). If you plan for a Ninh Binh day trip from Hanoi, you can freely choose any bus station in Hanoi such as My Dinh, Giap Bat, Gia Lam, etc
Or in case of private car or motorbike, it is convenient for you to travel from the center of Hanoi, follow Giai Phong Street, pass Giap Bat Bus Station for about 3 km, turn 1 km left to Phap Van Highway – Gie Bridge, then continue going in the direction of Gie Bridge – Phu Ly – Ninh Binh. It will take you about 1.5 hours to reach Ninh Binh by road.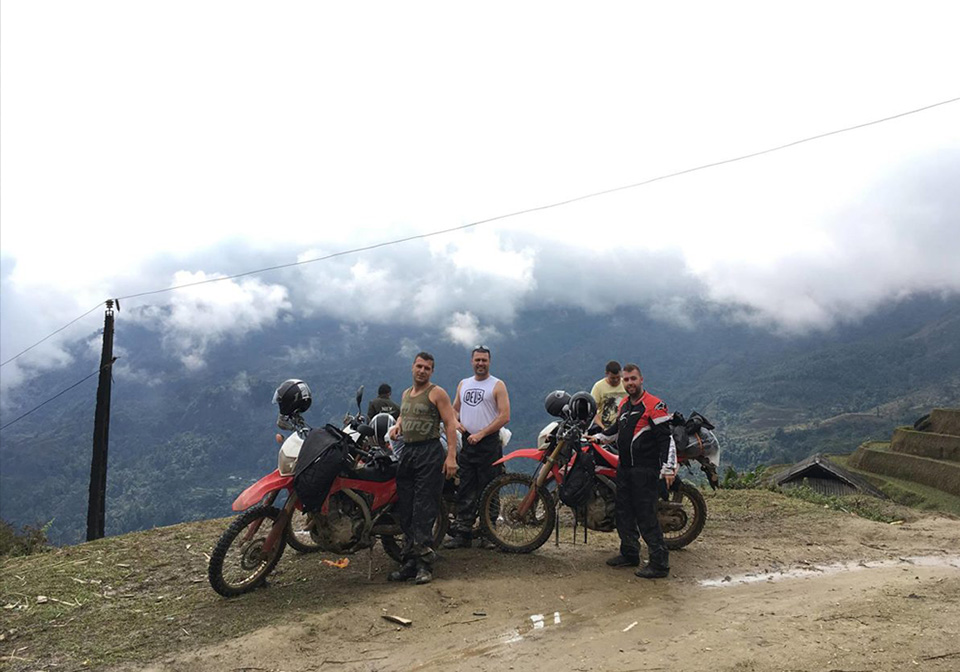 If traveling by train from Hanoi, you can buy a ticket to Ninh Binh at Hanoi Station. There are 3 options of trains such as SE1 departing at 21:09, SE5 at 11:14, and SE7 at 8:29. The ticket price depends on seat class, ranging from 58,000 – 128,000 VND / ticket (approx. US$2.5 – 5.5)
Now, when we get to Ninh Binh, let's find out things to do in Ninh Binh!
Visiting Trang An Ninh Binh
 Needless to say, you probably know how famous Trang An World Heritage Complex is, right?
Coming to Trang An, the most interesting thing is to immerse yourself in nature, with fresh air, quiet space. In particular, you will sit on small boats to admire the natural beauty of the landscape hidden in rocky mountains, clear water rivers winding around cliffs, or caves.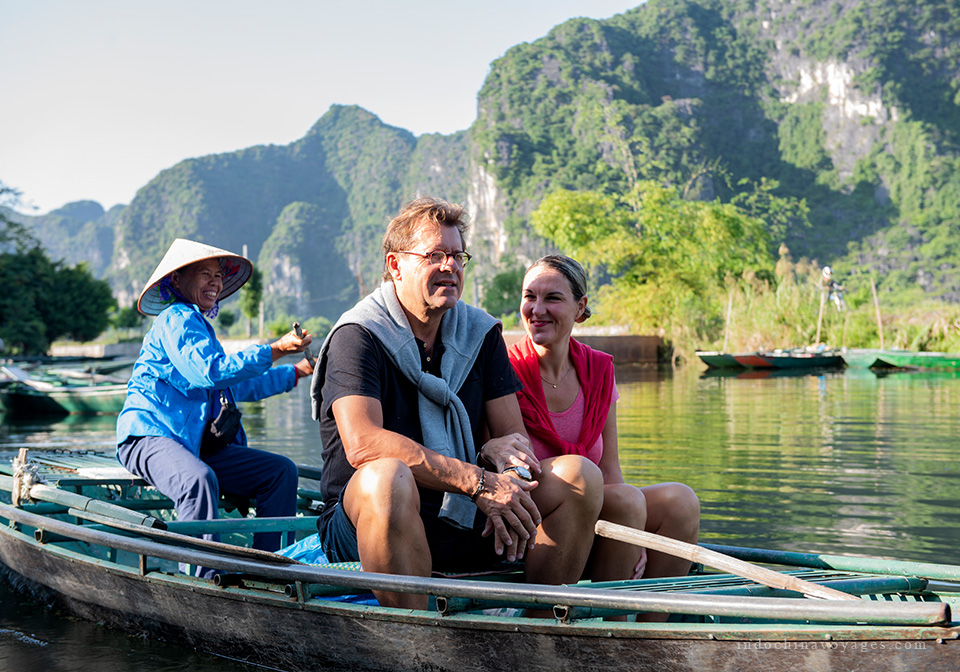 To fully explore Trang An, it will take about 2 to 3 hours, so be sure to arrange a reasonable time.
Exploring Ninh Binh Tam Coc
Besides Trang An, Tam Coc is also an equally famous place in Ninh Binh. It is one of the few places still retaining the pristine natural beauty with the beauty of the countryside, caves mingled with beautiful mountains and rivers.
In particular, in the rice season, you will admire the unique scenery, when the peaceful Ngo Dong river winds between one side of the golden rice field and one of the pristine, magnificent rocky mountains. It creates a peaceful, extremely romantic painting.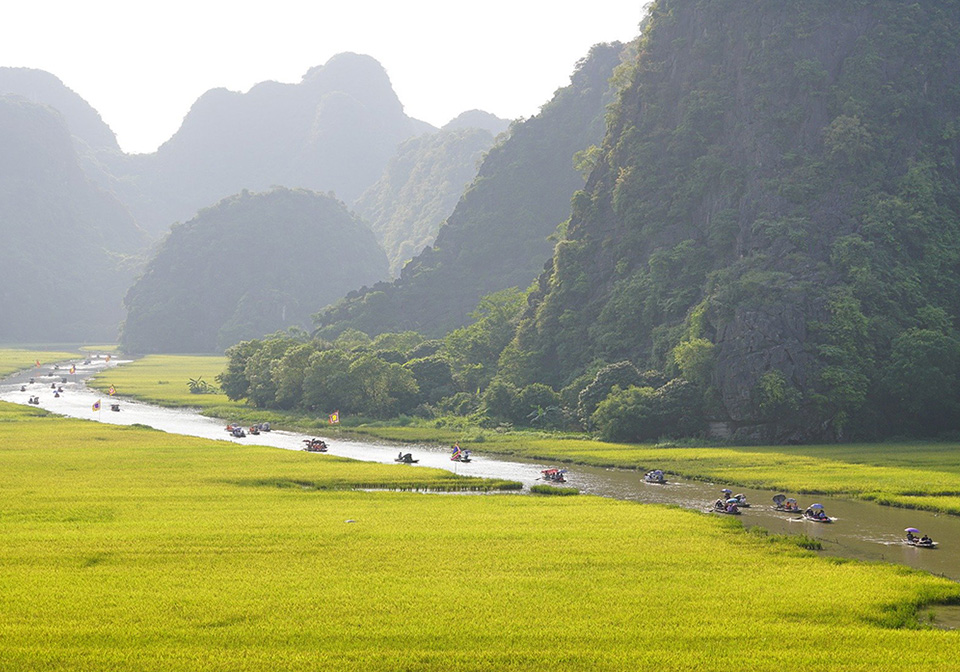 It is also convenient for you to take a journey from Ninh Binh to Halong Bay by driving along National road No.10 and crossing Nam Dinh, Thai Binh and Hai Phong province. 
Ninh Binh Homestay
To complete the preparation for your Ninh Binh tour, a perfect homestay must be on the list. Here is top Ninh Binh accommodation for your journey escaping from the city with friends and families.
Ninh Binh Valley homestay
If you love nature with pristine beauty, Ninh Binh Valley Homestay will be a good option. This is one of the few homestays in Ninh Binh located in the valley, surrounded by mountains, lakes, forests. 
Coming to Ninh Binh Valley, you will completely immerse yourself in nature. Every morning, you will wake up in a bamboo house, listen to the birds singing. In the afternoon, you can watch the sunset sinking behind the mountain; and the white storks fly back to find shelter. It is a perfect destination for your journey, isn't it? With this destination, you will have to pay 500.000 VND/night (approx. US$22)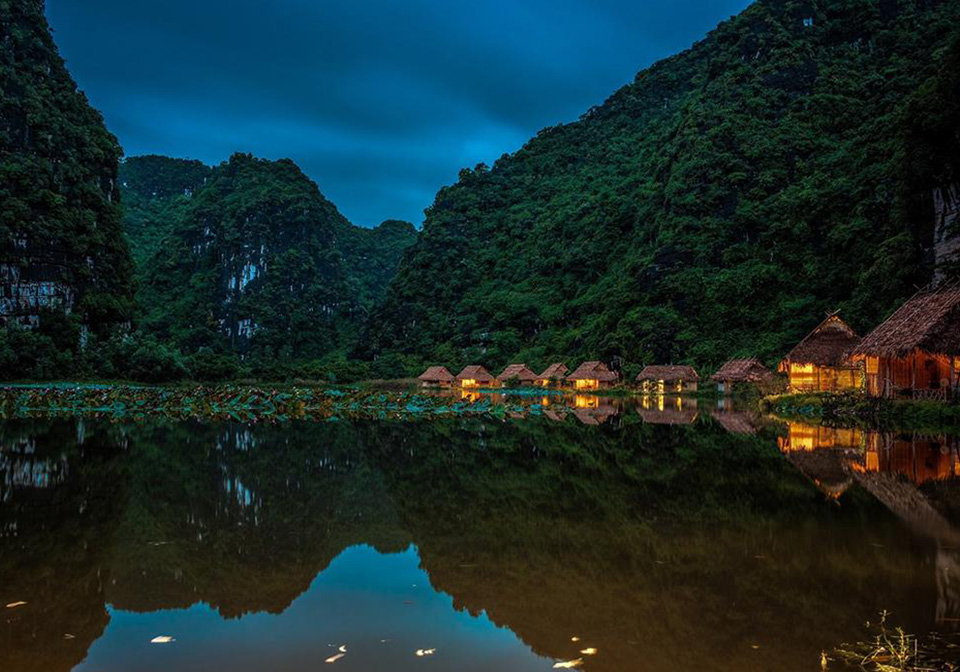 Chezbeo Homestay
Chezbeo Homestay is located inside the mountains and surrounded by a huge lotus lake. It will be perfect if you stop at the homestay in Ninh Binh from May to July because this is the time of flowers blooming. It can be said that Chezbeo is one of the simplest homestays in Ninh Binh with simple roofs connected together. With the back of the house leaning on the foot of the mountain, the window overlooking the lake, the smell of flowers and plants blended with the natural wind, you will surely have the best time to relax and enjoy the beauty of Ninh Binh. The price for this location is 200.000 VND/ night (approx. US$9).
That is all the information you need for a wonderful trip to Ninh Binh. Now, take a Ninh Binh tour and have the best moment during your Vietnam tours.
Phuong Dao – Travel Lover