Ninh Binh is one of the most gorgeous landscapes in Vietnam. Coming to Ninh Binh, travelers would not miss the opportunity to explore interesting experiences in Bai Dinh pagoda, Trang An eco-tourism Thung Nham Bird Garden Ninh Binh, Mua Cave, and so on. First of all, getting to know about Ninh Binh accommodation is very essential when planning Ninh Binh tours.   
Ninh Binh Homestays
Ninh Binh Valley Homestay
Located in Khe Ha Village, Ninh Binh Valley Homestay is one of the few homestays in Ninh Binh located in the valley, surrounded by mountains, lakes and forests. It offers you a good chance to enjoy an authentic Tonkin village.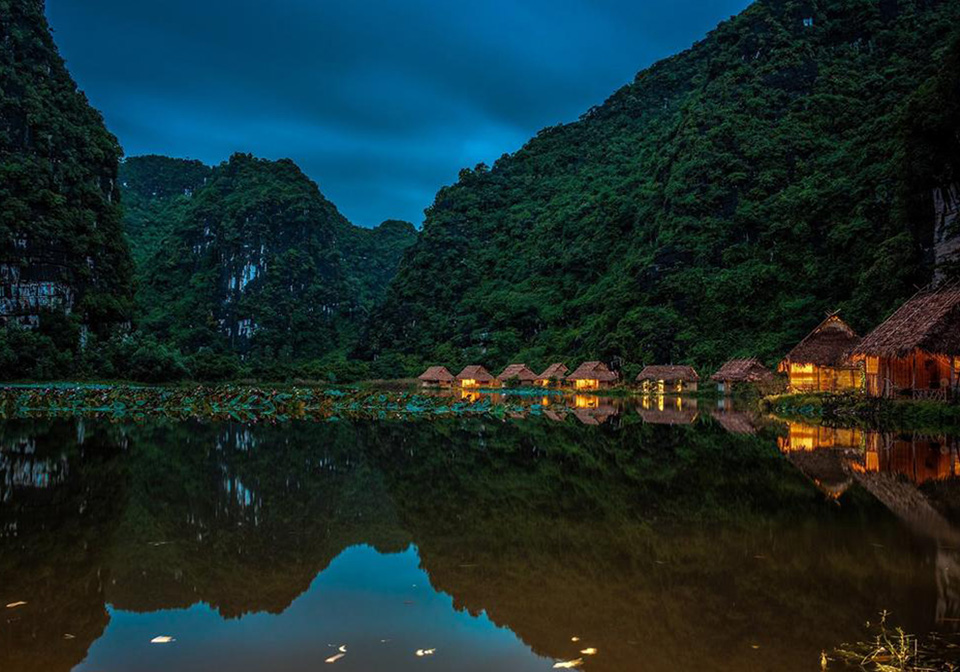 Coming to Ninh Binh Valley, you will completely immerse yourself in nature. In detail, in the morning, you wake up in a bamboo house, listen to the birds singing. In the afternoon, you can go sightseeing the sunset with the white storks. During the day, you will be able to explore the caves, go fishing, or cycle around the beautiful villages. In the evening, the night camping on the fire is the main entertainment activity.
The price for a room per night is from US$22. 
Ninh Binh Mountain View Homestay
Ninh Binh Mountain View Homestay is located in Team 10, Highway 38B, Gia Sinh commune, Gia Vien district, Ninh Binh province. Especially, this Ninh Binh homestay is as comfortable as your own house.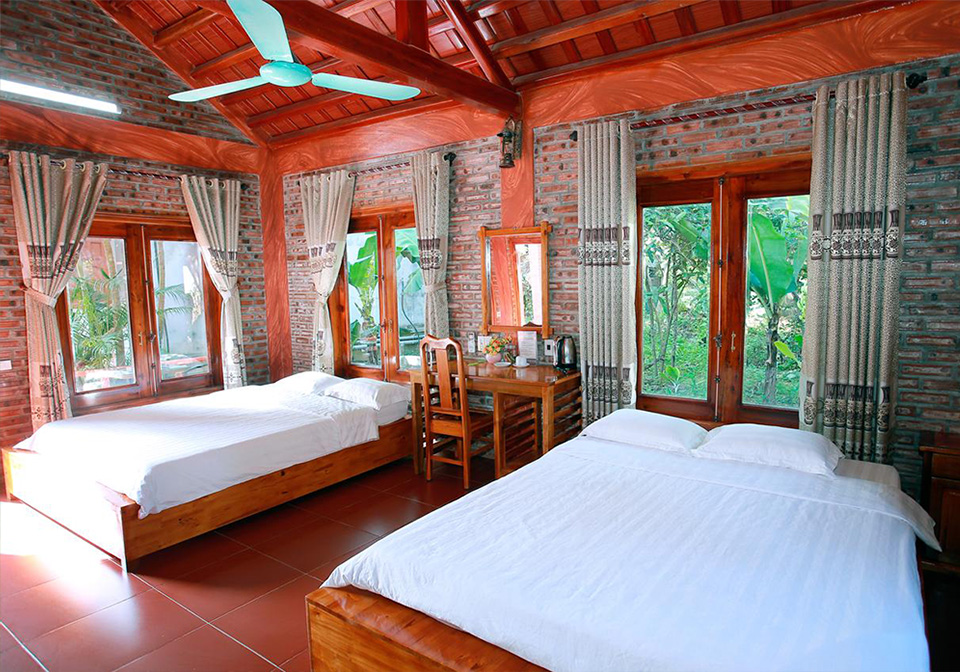 Ninh Binh Mountain View Homestay has beautiful small rooms for rent and separate villas with airy brown tones. Every room has a balcony, lots of windows to welcome the sun and the wind, creating a feeling of coolness and relaxation for travelers. One of the best attractions is unforgettable meals with special Northern Vietnamese dishes. For example, you can try crab soup, garden egg, pickled shrimp, and meat stew.
A room costs from US$19 per night. 
Ninh Binh resorts
Mua Caves Ecolodge
Mua Caves Ecolodge is situated near Mua Caves, which is often referred to as "Halong Bay on land". It is approximately 100 km to the south of Hanoi. You can easily get access to resort by car from Hanoi. There are rice fields and magnificent mountains surrounding Mua Caves Ecolodge. There, travelers could go deep inside nature by experiencing special things such as waterways, fruit trees, and vegetable gardens.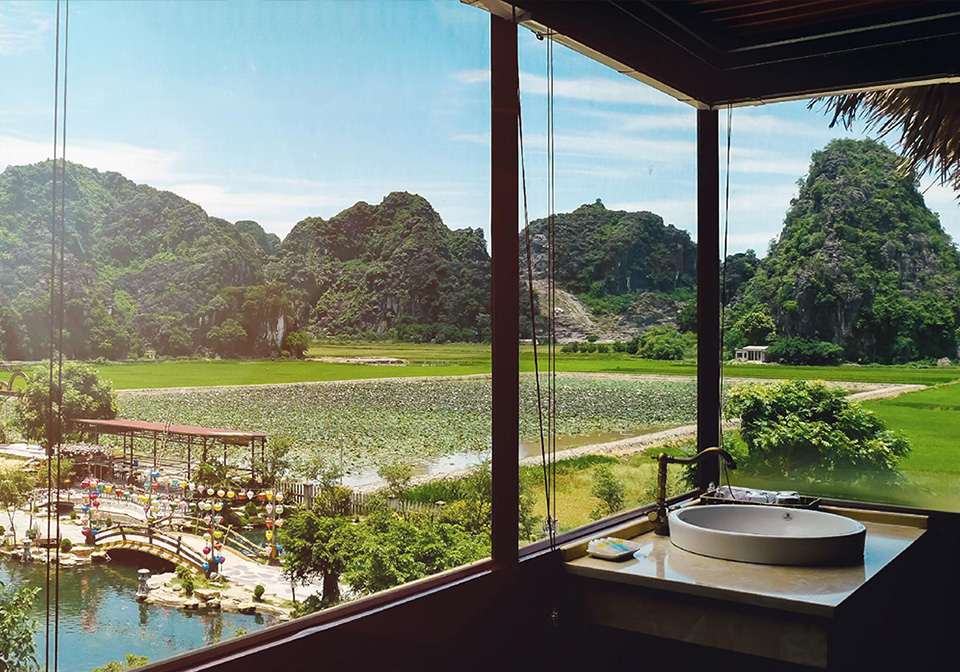 In addition, built-in a rural architectural style, Mua Caves Ecolodge evokes the image of an authentic Tonkin village with tile-roofed houses, green bamboo hedges, lush paddy fields, and cultivated vegetable gardens.  Besides, staying here is a great way to discover the living environment of Tonkin farmers and to learn more about green and cultural tourism.
In accordance with the spirit of solidarity projects, most of the employees at Mua Caves Ecolodge are local people living in the nearby village. The tranquil of the nature and comfortable accommodation of Mua Caves Ecolodge have truly attracted travelers.
The average price for two people per night is about US$45, depending on the type of room. 
Emeralda Resort Ninh Binh
Architecture and decoration of Emeralda Resort Ninh Binh combine the traditional Vietnamese style and advanced facilities. Emeralda Ninh Binh Resort is proud of its commitment to protecting the environment throughout the resort. The natural materials and local products in the resort provide a great experience for travelers.
You have numerous choices for accommodation because Emeralda owns 172 luxury rooms located in 9 areas, 3 luxury restaurants. In addition, La Cochinchine spa, as well as mini-golf, are also ideal options for relaxing.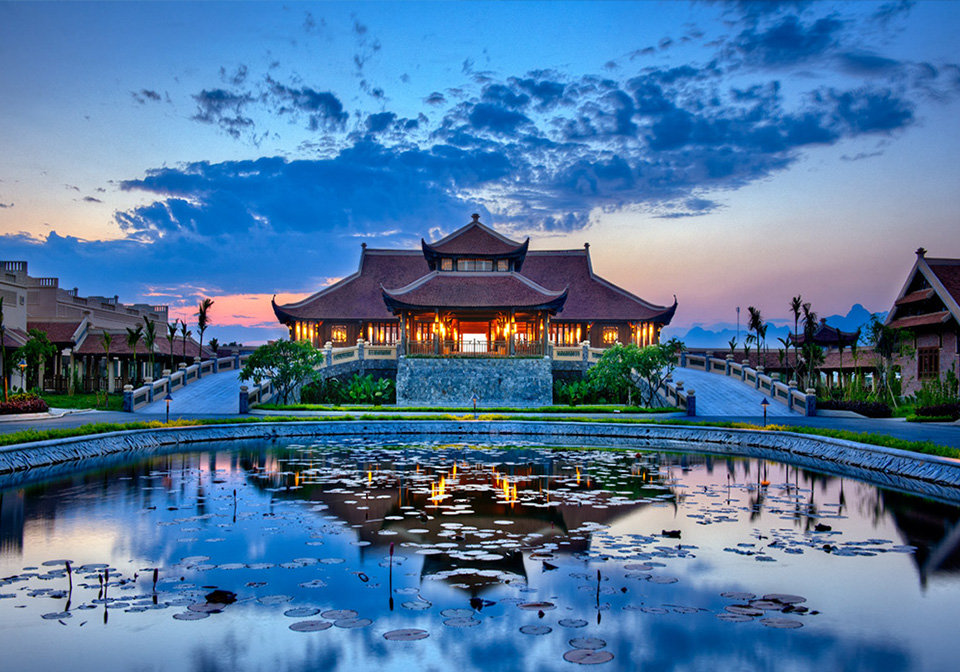 The resort offers you the chance to wake up and feel the atmosphere of the majestic mountain. In detail, Emeralda Superior room with Northern style decoration and luxurious bathrooms is such a good option for couples. If you travel in a group, our recommendation is Emeralda Deluxe or Esmeralda Duplex family room. Both of them have spacious bathrooms overlooking the garden and outdoor shower, which help you see an authentic Vietnam.
Lying on the armchair and enjoying a cup of tea, the poetic natural scenery of the garden from the bedroom helps you forget all the hustle and bustle of daily life. In addition, you can explore the attractive destinations in Ninh Binh by bike rent in the resort.
There are 2 main types of room there, which are room for 2 people and room for 4 people. The price of the former is about from US$75 to US$185, that of the latter is approximately US$322. 
Tam Coc Boutique Garden
Far from the hustle and bustle of the city, Tam Coc Boutique Garden, nestled amidst rice fields, is a jewel of hospitality, gastronomy, and romanticism, harmoniously intertwined with local farm life. It's 27 km far from Bai Dinh pagoda, 36 km from Phat Diem Church and 7 km from Thung Nham Bird Garden Ninh Binh.  
Like other resorts in Ninh Binh, Tam Coc Boutique Garden includes restaurants, the garden, and accommodations with air-conditioning and internet access. The benefits of eco-tourism, cultural tourism and combined tourism are conveyed through the architecture and the foundation functioning of Tam Coc garden. In addition, this Ninh Binh accommodation offers a rich breakfast menu which is from over the world. Besides, Tam Coc Boutique Garden also provides bike and car rental service.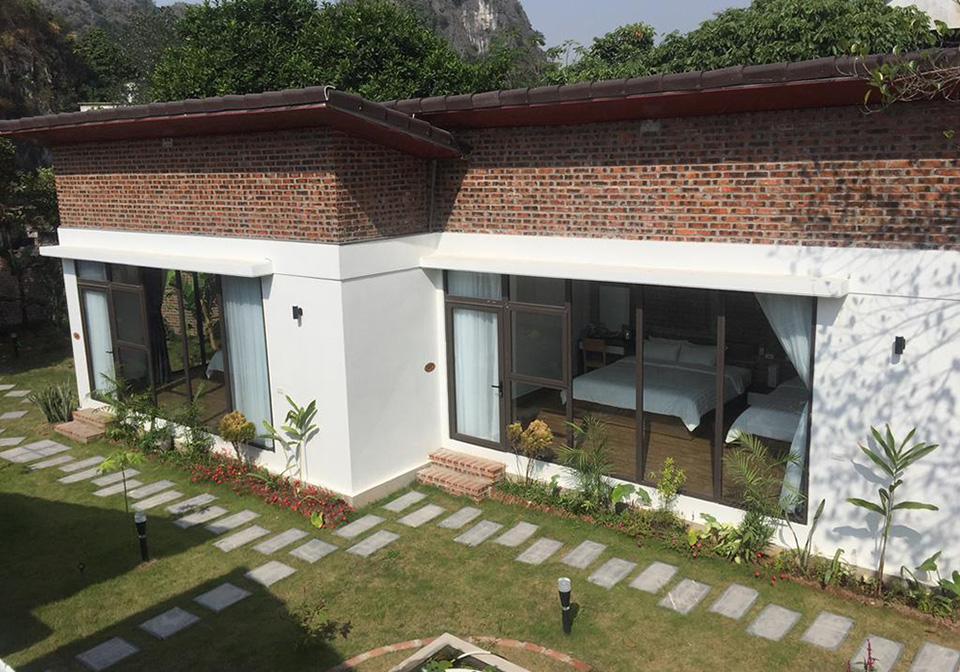 The authentic Tonkin village's spirit has been preserved, as people could easily recognize the relics of time, such as its stone houses, bamboo groves, garden, and orchards.
Especially, Tam Coc boutique garden welcomes you by the special moments, peaceful, simple atmosphere in which comfort is not compromised. The price fluctuates between US$40 and US$56 for 2 people per night.  
Ninh Binh accommodation is numerous and the price of them is distinctive depending on the location and type of room. However, in general, these are good and reasonable prices, comparing with the service that they offer. Let's plan your Vietnam tours including Ninh Binh now!
Nguyen Ngoc Huyen – Travel Lover