Sapa hotels become a great concern of travelers when Sapa is a hot destination on vacation. Here are some recommendations for you when you travel to this wonderful land during Vietnam tours. 
Sapa 3-star hotels 
Freesia Hotel
This is a 3-star hotel recently built in Sapa town. Located 1km far from the center, Freesia Hotel is a good option for travelers to stay away of crowds. Sapa Bus Station is 500 meters from the hotel, while Fansipan Mountain is 8.6 km away.
Freesia hotel is located in Suoi Ho street area, behind the new street. You can see it first when entering the town. Moreover, it takes just some steps from Freesia Hotel to Xuan Vien lake.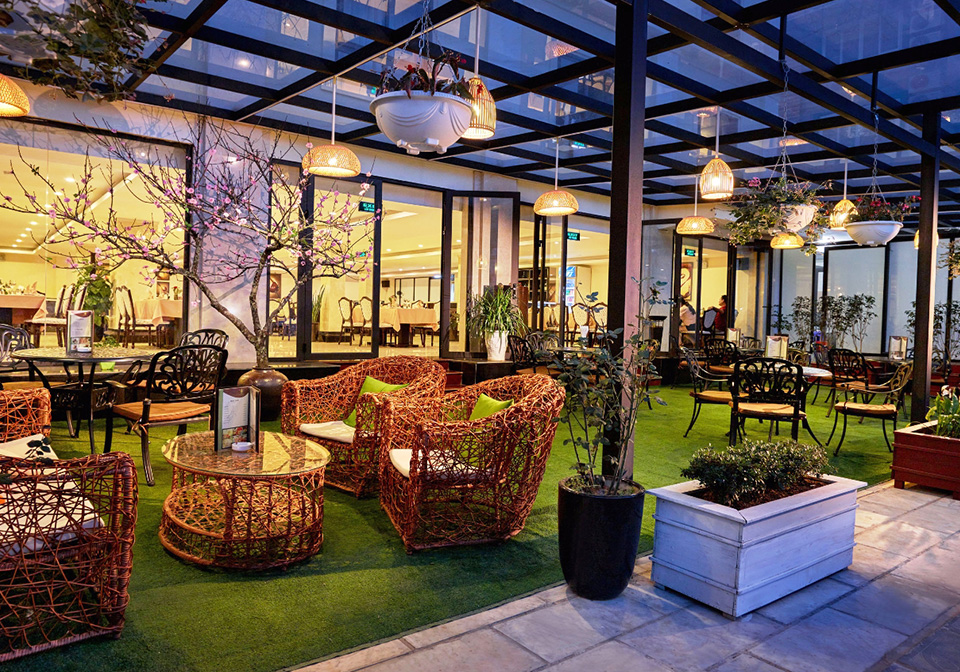 With a 3-star standard, English and French-speaking staff are very helpful and friendly. There are a shared lounge and souvenir shop at the hotel. An indoor swimming pool and gym are also available. Besides, bicycles and car hiring services are always ready.
To get the best rate, you are recommended to book through Vietnam tour companies or some booking application. From Monday to Thursday, the price is approximately US$30.5 to 34.5/2 people/night and costing a little more at the weekend. 
Sapa Vista
Sapa Vista Hotel was built in 2016, located on a quiet street right in the center of Sapa town. This is an ideal place for those who love mountains, exploring and relaxing. It's about 3.2 km from the Fansipan Legend cable car station in Sapa. The hotel also owns a featured garden, bar, city views, ticket service, and currency exchange service. 
Besides, it is easy for travelers to visit famous destinations in Sapa such as Ham Rong Mountain, Stone Church, Tho Cam Market. Especially you can have a chance to discover the ethnic culture through one of the most famous Sapa markets, Love Market.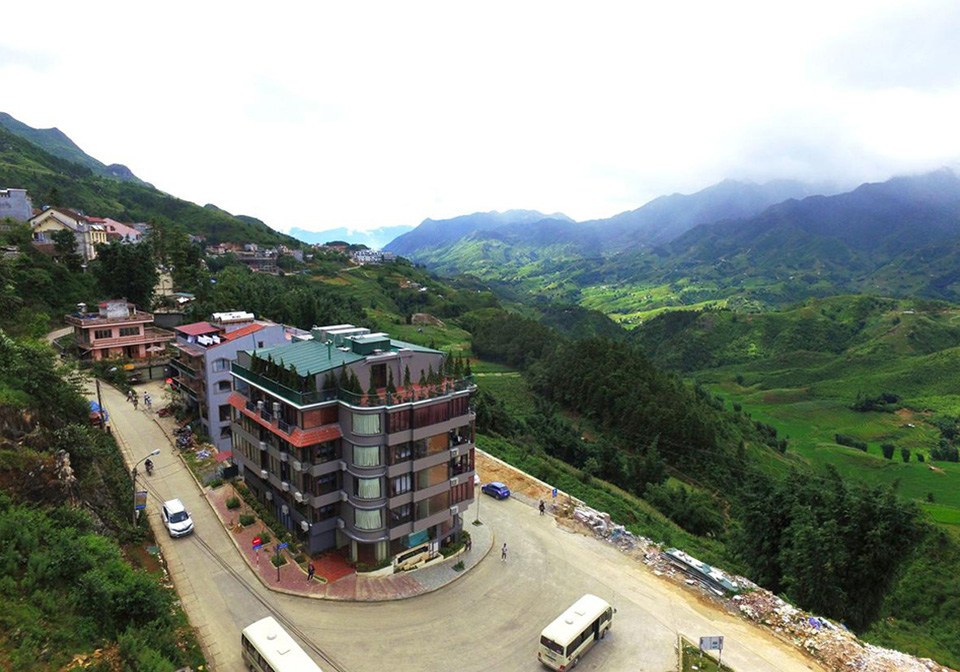 Sapa Vista Hotel has 50 beautiful rooms, designed in an ancient mixture of modern style. In addition, the hotel's massage is an ideal place to release and relax. Also, the hotel has a terrace, bicycle, and car rental services. Sapa Vista Hotel is definitely a perfect choice for your stay in Sapa. Double room fluctuates between US$26 and US$38, including breakfast in the hotel. 
Sapa 4-star Hotels
Sapa Legend Hotel & Spa
Sapa Legend Hotel & Spa is located in the center of Sapa town. It is a comfortable and high-class hotel, bringing an unforgettable experience on your journey to discover food, landscape, and culture in Sapa. The hotel gives you a 4-star standard service and memorable impression by the luxurious boutique architecture. In addition, restaurant in the hotel serves the various dishes from Asia – Europe, including Sapa specialties.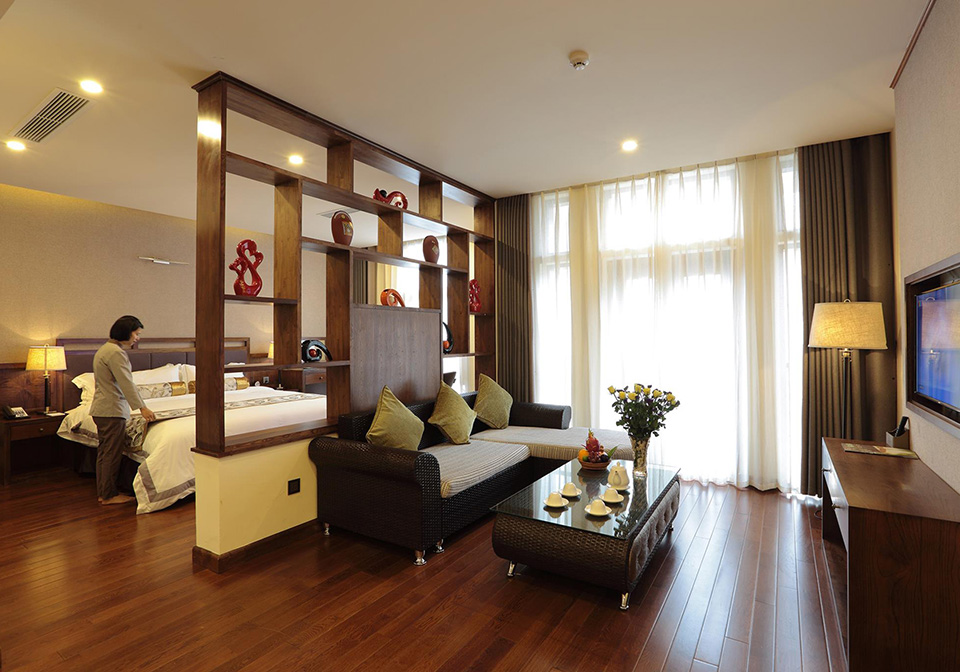 Moreover, the hotel is excellent with Legend spa. You can get the Red Dao herbal bath or massage then hunting cloud in Rooftop cafe. What an experience. Sapa Legend Hotel will surely be the ideal destination for all travelers' journeys.
Aira Boutique Sapa Hotel & Spa
It takes 5 minutes to walk from Sapa town to Aira Boutique Sapa Hotel & Spa. In detail, the hotel is 650m from Stone Church, 1 km from Sapa Lake and 7 km from Fansipan Mountain. The hotel offers luxurious and stylish accommodations and features an outdoor pool. Travelers can enjoy meals at the on-site restaurant.
This Sapa hotel is an ideal place to stay in Sapa as you can get away from the busy and noisy center of Sapa town. Especially, the hotel is highly recommended due to the room views. Most of the rooms give you an impressive and beautiful view. Besides the decor of the Sapa hotel is also outstanding. Staff can speak English fluently and have a good manner. However, the pool and the gym is a little bit small. According to the standard of room, the price is about US$73 to 129/2 people/night.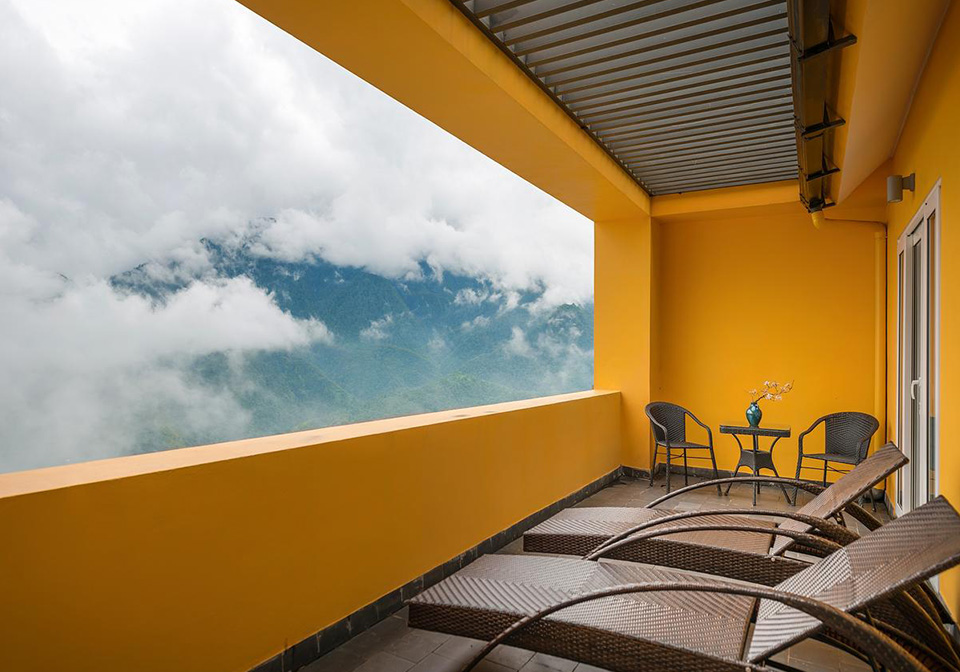 Sapa 5-star Hotels
Silk Path Grand Resort & Spa
Silk Path Grand Resort & Spa is considered as the most ideal Sapa hotel. The hotel is located quite near from Fansipan Mountain, it's just 1 km from there and 900 m from Sapa Lake.  
Silk Path Grand Resort & Spa Sapa offers you a 5-star standard service with modern facilities and cozy accommodations. In detail, travelers can immerse themselves in the indoor heated pool or relax with a soothing massage at the spa.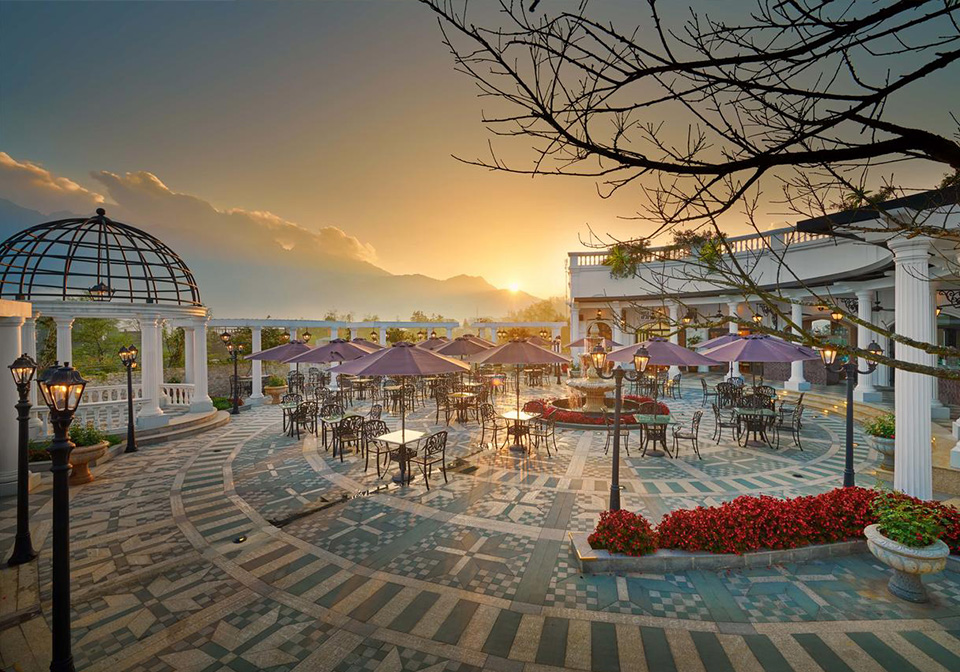 Decorated in neutral tones with brown, blue and orange accents, all rooms feature an elegant design with dark wood furnishings. The air-conditioned room features large windows that welcome natural sunlight and overlooks the mountains, together with private balcony, flat-screen TV and minibar. Some rooms have a separate seating area or a terrace.
The hotel has a 24-hour front desk, a shared lounge, and a gift shop. Especially, babysitting services are provided at the children's club. Travelers also enjoy a 30% discount on spa treatments and karaoke. The price for 1 day fluctuates between US$65 to 215 for 2 people based on the room's view and standard. 
Pao's Sapa Leisure Hotel 
Pao's Sapa Leisure Hotel is 4 km from the Fansipan Legend cable car station. Above all, its location is one of the most outstanding selling points. This Sapa Hotel is located in a hillside position with views surrounding Muong Hoa valley area and terraced field. Besides, it offers accommodations with a restaurant, free private parking, fitness center, and a bar. Moreover, this 5-star hotel has a children club, a shared lounge, and free wifi. There is also a 24-hour front desk, room service and currency exchange for guests.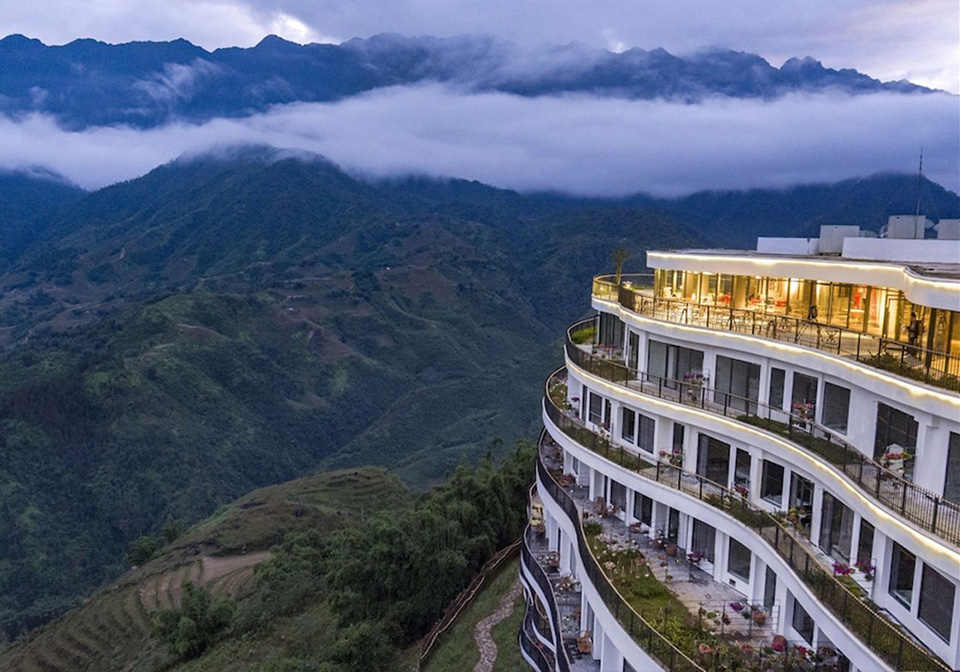 Pao's Sapa Leisure Hotel offers 5-star accommodations with an indoor pool and terrace to let you admire the magnificent in Sapa. Furthermore, the motorbike or car rental service is available at the property.
The popular destinations are near the hotel including Sun Plaza, Sapa Central Square, and Stone Church Sapa. It's perfect accommodations in Sapa whether it is a business trip, a vacation or a journey with family and friends. According to the standard of the room, the price is about from US$65 to 260/2 people/night. 
Nguyen Ngoc Huyen – Travel Lover