With three-quarters of the country territory consisting of mountains and hills and a very long coastline of more than 3000 km, Vietnam offers many kinds of adventure activities for those who love nature and escape from the busy cities. Let this blog blow your mind with a lot of suggestions to prepare the best Vietnam adventure tours.
Kayaking
Kayaking during Halong Bay tours should be a priority in your list for the best Vietnam adventure tour. Actually, this activity is fun and delightful and does not require many skills from travelers. Even a very young kid will be able to do it since the water in the bay is very calm and very protective of mountain surrounded. Get on a kayak and paddle around many limestone islets in a pristine environment of Halong Bay and you will feel like getting lost in the maze of paradise. You might be able to find other places along Vietnam's long stretch coastline offer kayaking tour too such as Nha Trang, Da Lat and Phu Quoc island. But beforehand, prepare that can be very challenging.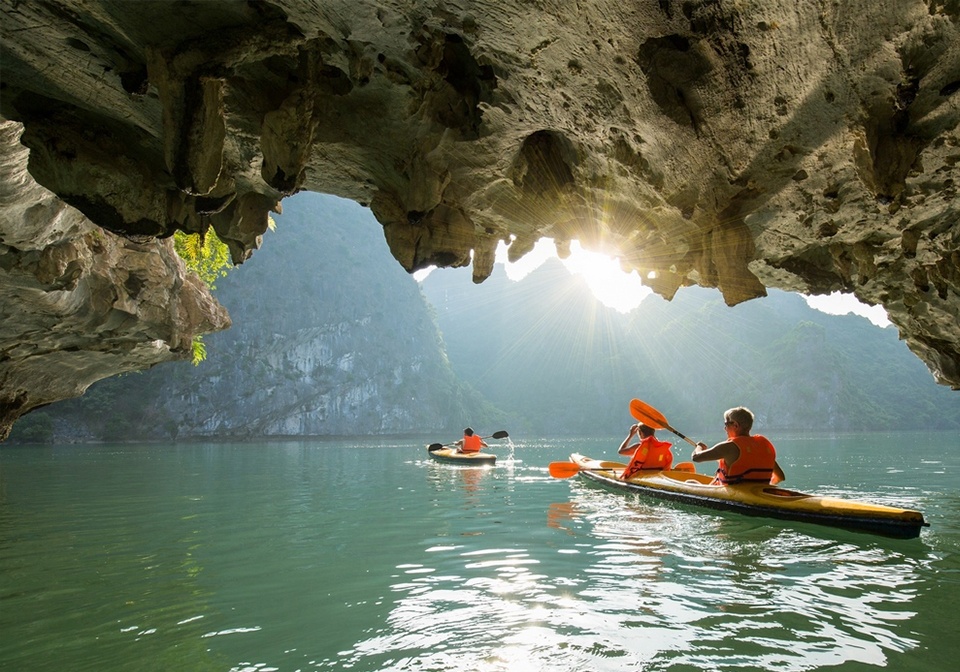 >> Click here to see more about Vietnam holiday deals:
Trekking
With stunning landscapes and many diverse cultures of ethnic minorities, Vietnam, especially the Northern part is a wonderful destination for those who love trekking and get into nature. One of the most popular routes is in and around Sapa, where you can trek through mountains and mountain, passing villages and villages and rewarding breathtaking landscape. One of the adventurous trekking routes that you can do in Sapa is conquering the highest peak of Indochina, Mount Fansipan. At 3,143 meters high, it takes you about 3 days to claim your victory. You are expected to cope with strong wind, rough terrain, cliff climb. So you should only attempt this climb if you are fit and want to get your blood pumping. Otherwise, the cable car would be an alternative option for those who want to reach the summit but afraid of this challenging trek.
Besides Sapa, there are a lot of other destinations that you may find beautiful hike trek; such as Mai Chau, Pu Luong, Cao Bang and Ba Be Lake.  In addition, some National Parks, including Cuc Phuong, Phong Nha, Cat Tien will be another idea for your Vietnam Adventure Tour.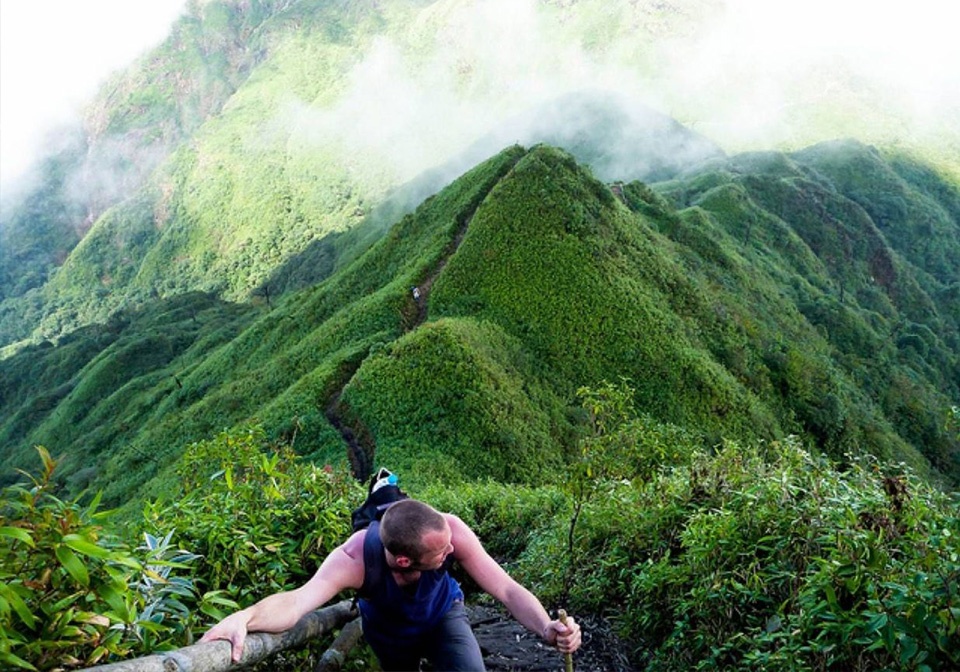 >> Click here to see more about Vietnam holiday packages:
Motorbike Adventures
During your Indochina tours, especially when traveling to Vietnam, you must be impressed by the huge number of motorbikes. Why not rent a motorbike and explore the country from the north to the south of Vietnam. You can easily buy a motorbike from your departure city (Hanoi or Ho Chi Minh) and follow the highway to the end city. If do that, you will pass through some of Vietnam top tourists spots including Mui Ne, Nha Trang, Da Nang and Hoi An, Ninh Binh. Not the end, from Hanoi, if possible, let get the Ha Giang Vietnam Northern Loop since it is considered as the most perilous route of the country for driving. Not only the landscape but also the diverse culture of ethnic people you meet on the way will make you totally in deep love with this land.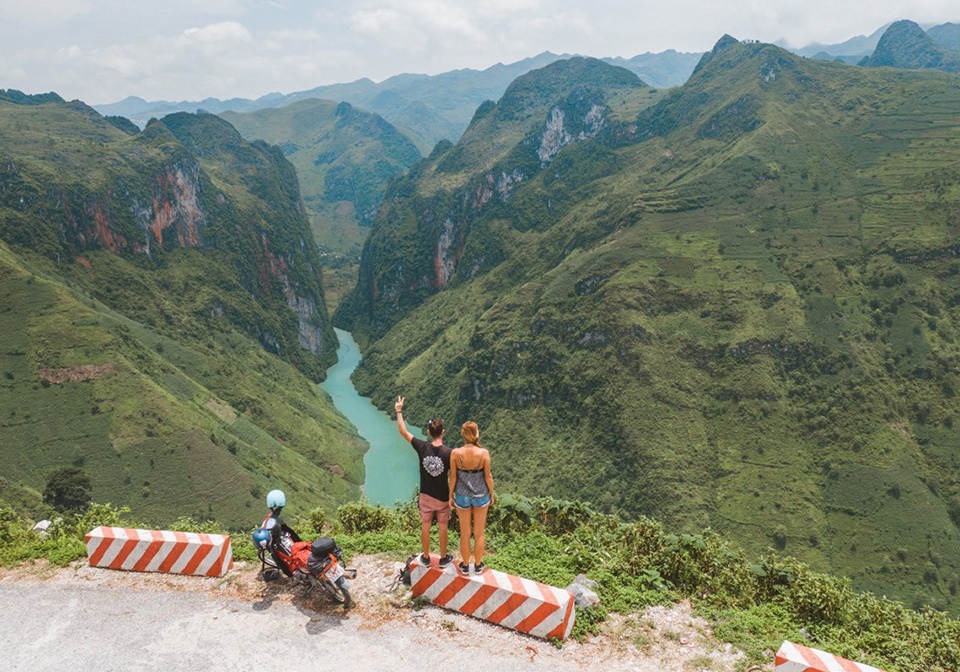 >> Click here for Ha Giang tour: Spirit Of Northeast Vietnam Adventure 7 Days
Mountain Biking
One of the other ways to experience the magnificent roads of Vietnam is mountain biking. This is a perfect way to explore the countryside and can be considered as the tough exercise to keep fit. You can either ride along peaceful village- path of Ninh Binh and Mekong Delta or get an excursion day with experiences guides to ride along the mountain trails of Sapa, Mai Chau or Da Lat. Otherwise, a Vietnam itinerary 2 weeks ride from Hanoi to Sai Gon will be a fancy choice for your Vietnam adventure tours.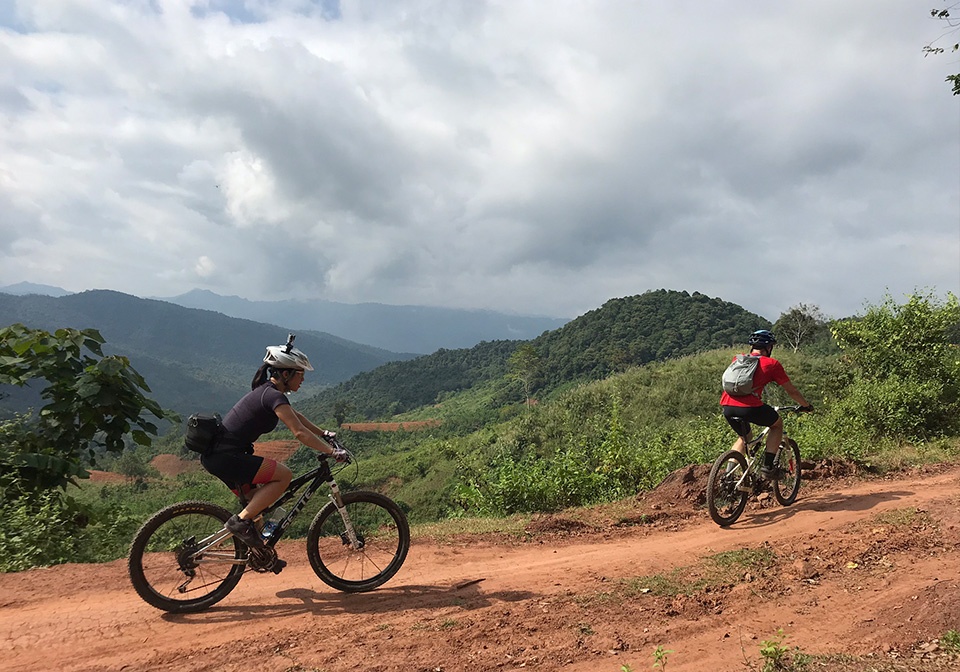 >> Click here to see more about North Vietnam tours:
Rock climbing
Though Vietnam has many mountain karsts, rock climbing is still in its infancy. However, with the popularity of Vietnam on the World travel map, many international climbing travelers choose the country for the extreme sport recently. The best places to go rock climbing in Vietnam, I think, is Cat Ba national park and Lan Ha Bay. With its scenic landscape, little secluded beaches and greenish water, your climbing at limestone cliffs will never be picturesque like that. More experienced climbers might be able to transverse the Marble Mountains near Da Nang. There are some providers offer climbing service in the whole country, make sure to choose a legal company for your safety and good instruction.
>> Click here to see more: Vietnam Cultural Highlights 14 Days
Diving
It maybe not common for travelers coming to Vietnam for diving; on the contrary, the country offers pretty good scuba diving opportunities even for inexperienced divers. Especially diving in Nha Trang should not be left out of any future adventure tour to Vietnam. The main diving season is from March to October when the water is warm and clear. Expect to see a diverse marine ecosystem with rich reef life, nudibranchs and some other muck life; and even spotted some moray eels, boxfish, bannerfish and cleaning shrimp. The other places that also provide diving experience including Cham islands off the coast of Hoi An; and  Con Dao archipelago is for those who would love the more adventurous experience.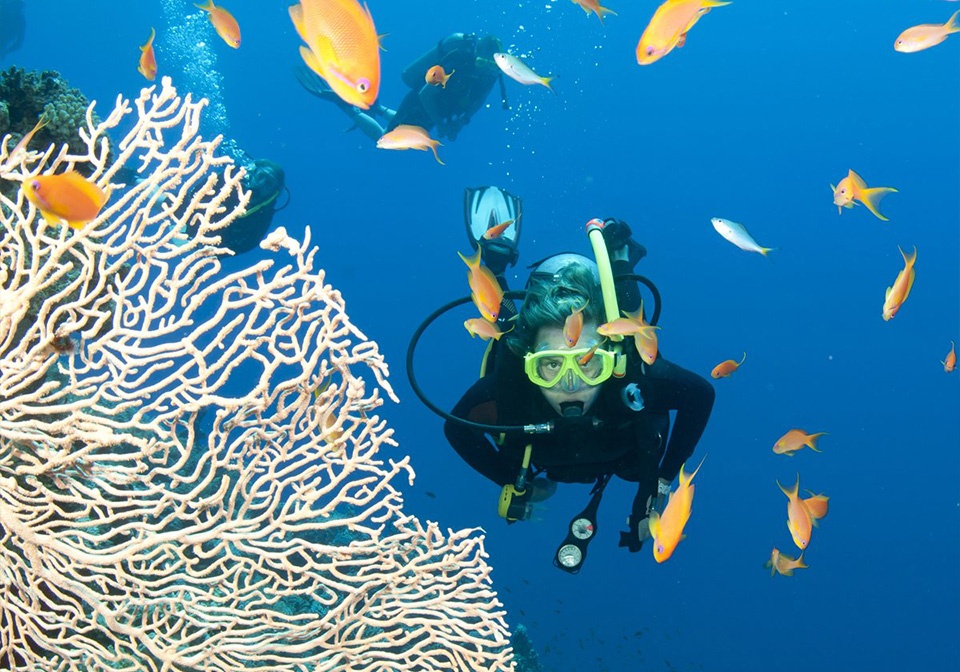 Caving
Last but not least, your adventure tour to Vietnam will not be complete without mentioning the spectacular caving activities in Quang Binh province; where the world's largest cave Son Doong, is found. The expedition to Son Doong cave will last for nearly 1 week and cost around US$3000 which definitely expensive and just only reserved for true adventurers. Luckily, there are other cave systems in the region that also offer an exceptional experience. The famous ones include Hang En, Hang Tien and Dark Cave.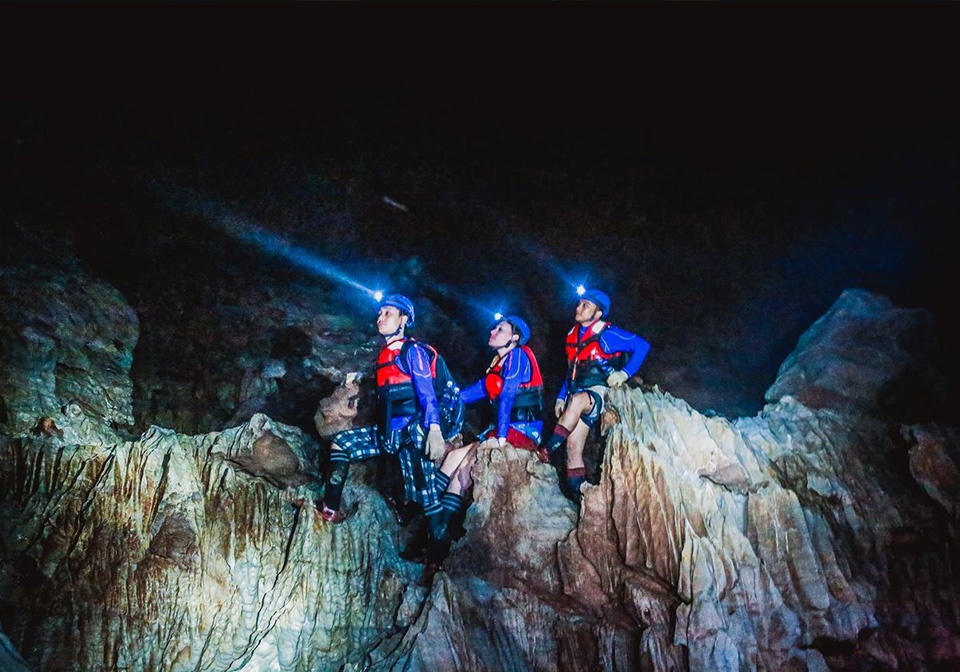 These adventurous activities in your Vietnam tours should only be attempted with a guide or tour group even if you are an experienced adventurer. Hope you will find activities that you are really keen on and plan the most memorable Vietnam adventure tours.
Van Do – Travel Specialist