If you are planning your Vietnam travel to Sapa, you would certainly be overwhelmed by the interesting and pristine beauty of this destination. Among Sapa attractions, Sapa waterfall at the foot of the majestic Fansipan mountain is must-not-miss. Moreover, if you are keen on adventure traveling, Sapa waterfalls will be the most ideal destination. Top 3 Sapa waterfalls including Silver waterfall, Love waterfall, and Tien Sa waterfall will certainly bring you unforgettable experiences.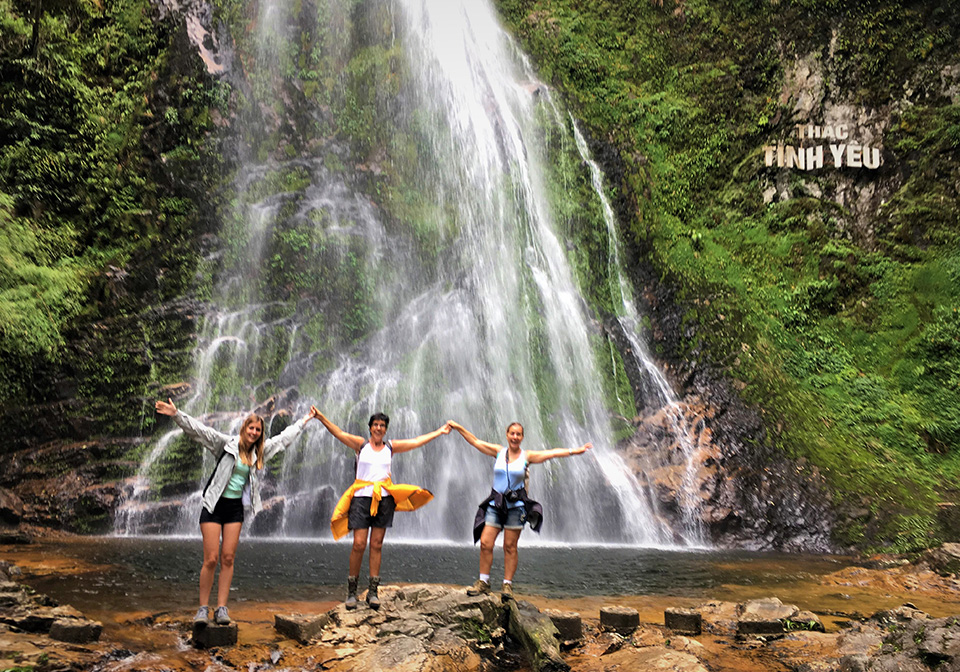 Silver waterfall
Silver waterfall is 15 km from Sapa town, located in San Xa Ho commune, Sapa district, Lao Cai province. The road to this waterfall in Sapa is quite convenient because it is next to Highway 4D. To visit one of the few most beautiful waterfalls Sapa, it takes you about 30 minutes by motorbike or bus from the center of Sapa town.
During the way, travelers are able to admire the magnificent natural landscapes and immerse themselves in the majestic nature such as pine forests, rubber gardens spread on the hillsides, lush fields all year round.
On sunny days, standing on Ham Rong Mountain, travelers would have the chance to view the silver-water flowing scenery of Silver waterfall from afar. In winter, this waterfall is one of the thickest snowfall places in Sapa.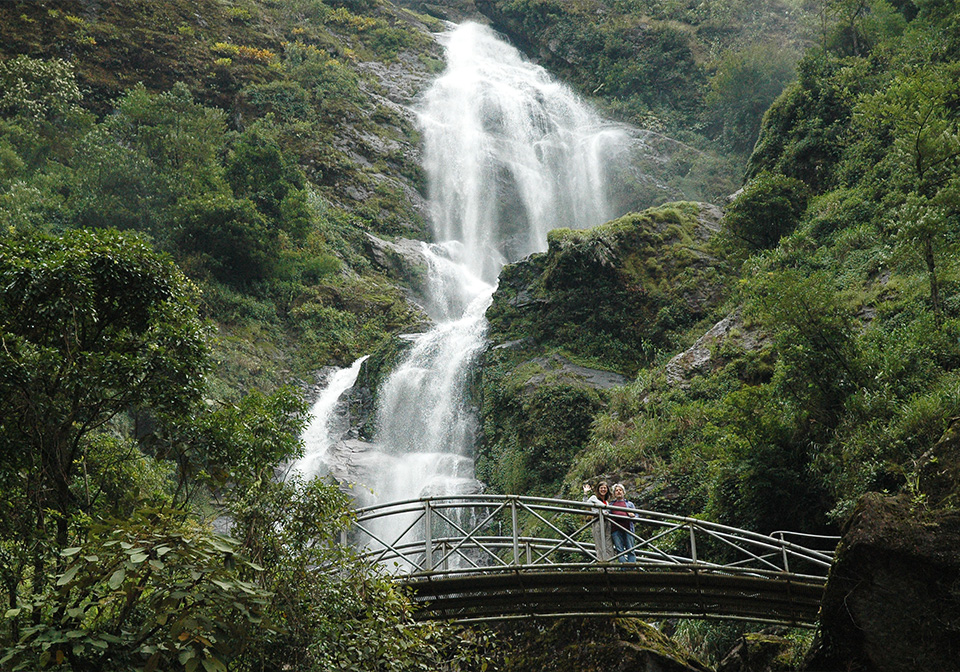 Traveling to Silver waterfall, you would seem losing in another world. The waterfall is from the high ravine, the rumbling water flows down, white foam bubbles like flowers. Even from a distance, you can hear the beautiful melody of the waterfall. It is this enchanting beauty that has motivated a lot of travelers to come to Silver waterfall. In particular, Tram Tom, the departure place for the journey to conquer Fansipan, is about 2 km from Silver waterfall. Especially in the summer, you will comfortably soak in the cool water to relax and get away from the hustle and bustle of daily life.
After the exciting journey to explore Silver waterfall, you can enjoy specialties of Sapa such as fresh vegetables, stream fish, etc. Moreover, you also have the opportunity to enjoy the unique dishes made from salmon such as salmon hotpot, salmon salad, grilled salmon.
Love waterfall Sapa
Love Waterfall is located in San Sa Ho commune, 14 km southwest of Sapa town center. To reach Love Waterfall, you have to walk deep into the forest, through the green bamboo forests. In March, the path to the waterfall becomes more beautiful thanks to the brilliant red of azalea flowers. The green of those forest trees combines with the bright red color of azaleas would create a very attractive natural picture. After about 20 minutes through bamboo forest, you will come across the Golden stream.
Going through the stream for a while, travelers are able to find out glamorous Love Waterfall. Although it's quite challenging to get there, it is worth seeing the charming and wild beauty of this Sapa waterfall.
Love waterfall is one of the attractive tourist destinations in Sapa. With the height of 100 m, the waterfall is compared to the soft silk ribbon beside the green ecosystem. Love waterfall is famous for not only a magnificent beauty but also extremely interesting legends. It is said that Love waterfall was the meeting destination of a fairy and the woodcutter named O Quy Ho.
Love waterfall has a gentle and romantic beauty. In detail, it's surrounded by charming scenery, green trees and wildflowers bloom. The waterfall flows down creating a blue lake. Occasionally, you will hear the birds chirping.
In addition, there is a variety of interesting destinations nearby Love waterfall. From there, you can admire the majestic panorama of O Quy Ho pass, Silver waterfall as well as Hoang Lien Son peak. Visiting Love waterfall, you are free for sightseeing, bathing and hunting unique photos.
Tien Sa waterfall
Tien Sa waterfall is also known by locals as Cat Cat waterfall. The waterfall is located in Cat Cat village, San Sa Ho commune, only 3 km north of the center of Sapa town. To get to Tien Sa, you will go through the Si bridge which is across a poetic stream. After that, the waterfall would appear with rushing water and white foam unleashed. Nearby Tien Sa waterfall is the Cat Cat cultural house. H'Mong girls and boys often come here to organize party including singing and dancing.
Closing your eyes, listening to the sound of the waterfall flowing, combining with the leaves of the panes, it is a truly poetic and serene experience. Furthermore, travelers can find out some small shops selling Sapa specialties. You will have a wonderful chance to gather around the burning embers, grilling corn, potatoes, eggs and enjoying a warm cup of corn wine.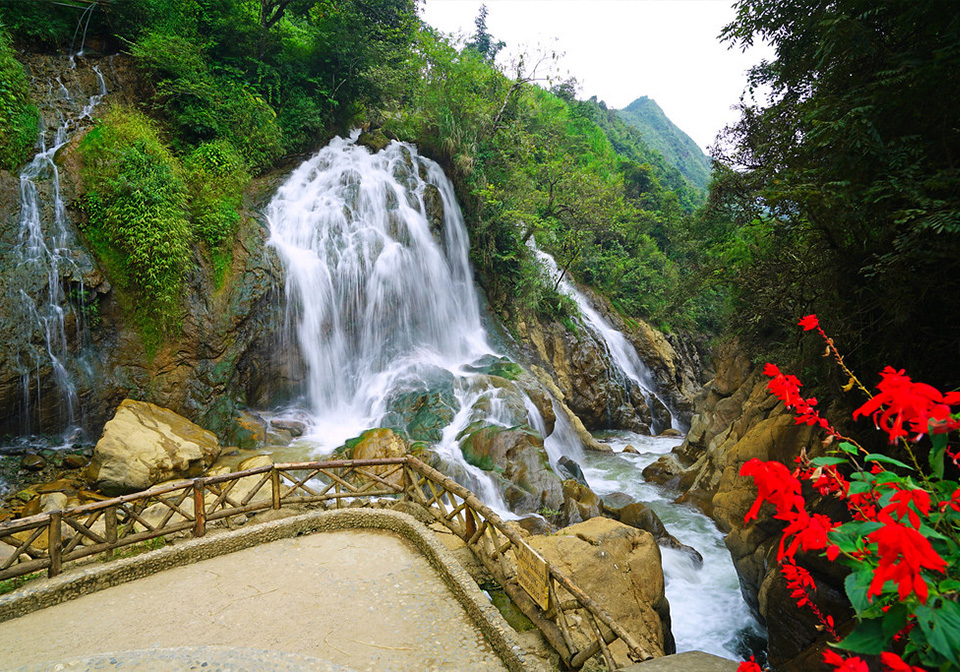 Because Tien Sa waterfall is quite new for traveling, it still retains the wild beauty of nature. Especially, the road to Tien Sa waterfall is also very beautiful covered with green trees. Scenery on both sides of the road leading to the waterfall brings you such amazing photos.
Discovering the unspoiled beauty of Sapa waterfalls is one of the great trips you should not miss during Sapa Vietnam tours. However, we have some recommendations for travelers. Firstly, do not come to Sapa waterfalls in the evening, because at this time it is very difficult to move into the forest. Don't forget to follow the forecast before the trip. Secondly, highly note that do not wear high heels or dress, sport shoes and clothes are recommended. Last but not least, you should bring hats, coats, mineral water and snacks to eat and drink when coming to the waterfalls.
Nguyen Ngoc Huyen – Travel Lover