If you are planning Vietnam tours and are an adventure lover, you should think of Sapa tours with magnificent landscapes and various activities. Among that, Sapa trekking is a must-not-miss activity through Sapa villages to discover the ethnic culture or climb Mount Fansipan, branded "Roof of Indochina".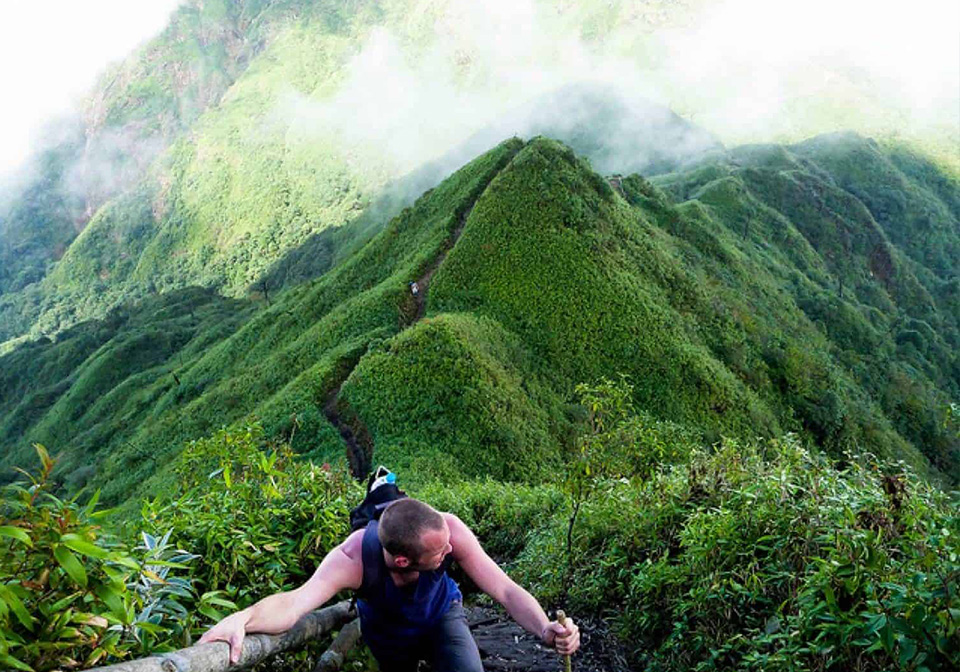 Sapa village trekking
Among Sapa villages, Cat Cat village is the most popular with nearly 2 km from Sapa town. After a short road to the ticket root, you will see the stone path up and down through the village. Along the way, you will have chances to communicate with the locals and buy some souvenirs. At the end of the path, there are water mills, picturesque bridges, then Tien Sa waterfall, so-called Cat Cat waterfall, one of the most magnificent Sapa waterfalls.
You can continue your trekking to Lao Chai and Ta Van village the next day. Located 10 km far from Sapa town, you will need a private driver to get you there. However, it is worth it due to the authentic value and beautiful landscape. It is recommended that you should have lunch in a local house, interact with the ethnic people to know more about their culture and daily life.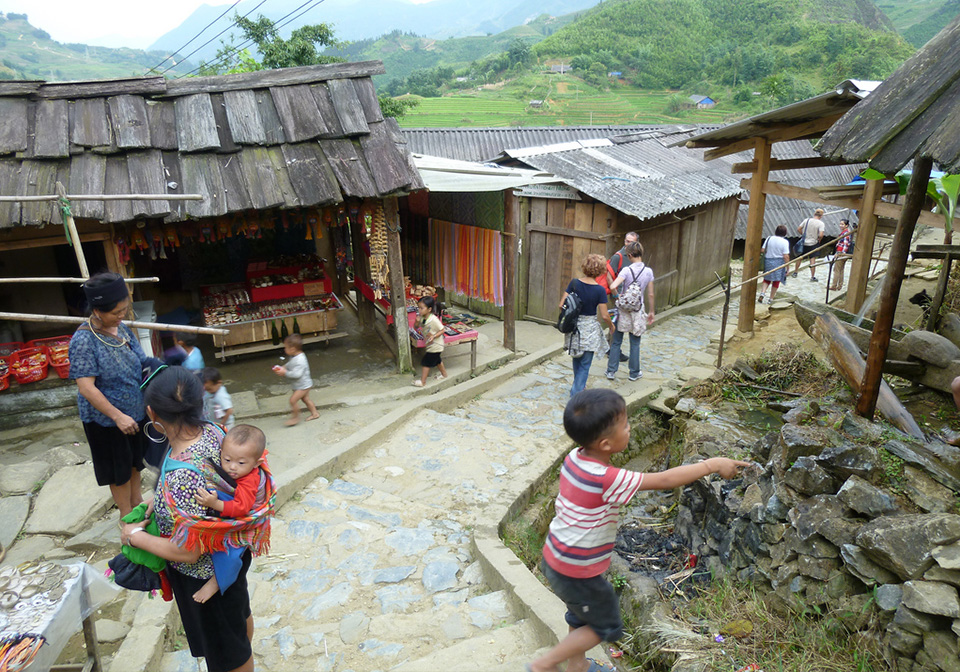 Fansipan Sapa trekking tour
Fansipan has an altitude of 3,143m above sea level. Trekking to the mountain peak, you will encounter many difficulties because of the long and craggy way. Therefore, to join this adventure journey you need to have good health and preparation. You should fully prepare the essential items and have an experienced person to guide the road.
There are many types of Fansipan conquest tours, depending on your climbing ability and health condition. Accordingly, the journey can last from 1 day to 4 days or more.
If you are in average health, a 3-day tour is suitable for you. The suggested itinerary is:
1st day: up to station 2 near the top of the mountain
2nd day: from station 2 to the top and return down to station 2 to rest
3rd day: from station 2 going down to the foot of the mountain.
Do not forget that the road down to the mountain foot is always harder than the road to the mountain peak because the steep mountains will make your legs sag, knees tremble. Time to get down the mountain should ensure departure early to get safe, not through the mountains in the dark.
If you are not in the best of health or going with children, you can be straight to the cable car station to get to the peak and come back within a day. The ticket is VND700,000 (approx US$30).
Explore Sapa by Vietnam's longest mountain climbing train
To get to the Fansipan cable car station, you can take the mountain climbing train. The train officially started operating in May 2018. Its route with approximately 2km in length starts from the Sapa town, running through Muong Hoa mountain and ending at the Fansipan cable car station area.
Each wagon has 20m length, 3m width, 25 tons weight with a capacity of 200 people. The train journey goes through 2 tunnels and 4 viaducts with a maximum speed of 10m/s, the capacity of 2,000 passengers/hour. It will help visitors shorten travel time to 4 minutes instead of having to use a car cross craggy mountain roads that takes 15 – 20 minutes.
The interior of the train is designed in a classic, elegant European style with luxurious gold-plated details. The hull of the ship uses transparent glass doors, allowing visitors to admire the picturesque beauty of the Northwest Vietnam mountains.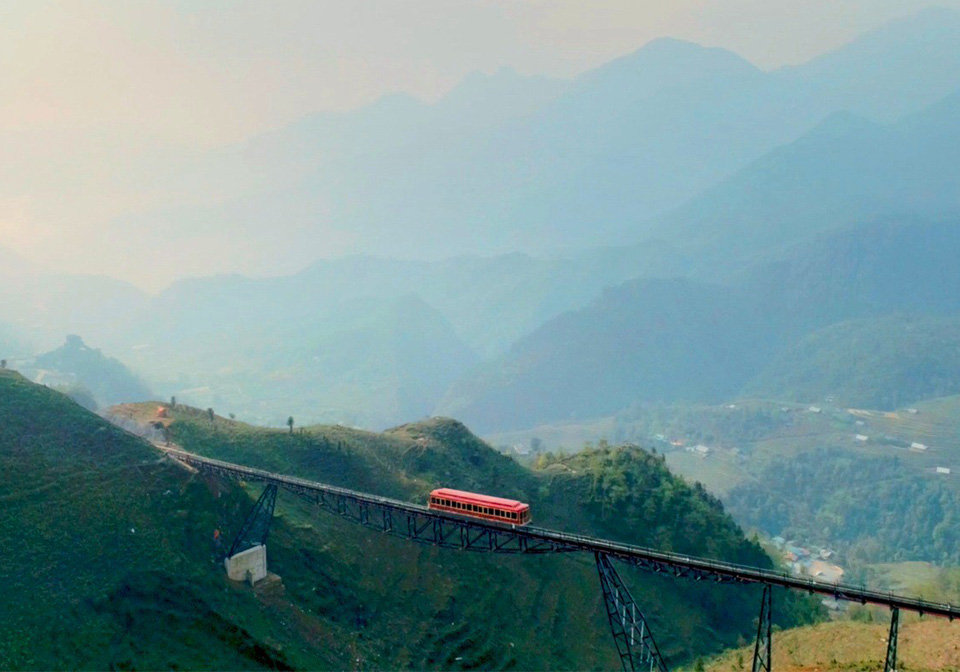 Prepare for your travel
For a perfect Sapa trekking, you need to have good health as well as prepare ready logistics and your psychology thoughtfully. About 3-5 days before hiking, you should practice exercises such as walking, yoga, jogging and limit smoking. Especially relaxing yourself to feel well comfortable and fun. If you can invite more close friends to climb the mountain, it will create a good team spirit. You also should bring some diarrhea medicine, flu medicine, wind oil, medical alcohol, cotton, bandage, Salonpass and some high-nutritious candies such as chocolate, energy-supply candy, ginseng tea, sunscreen, etc. This road is very difficult and arduous so you should not be subjective.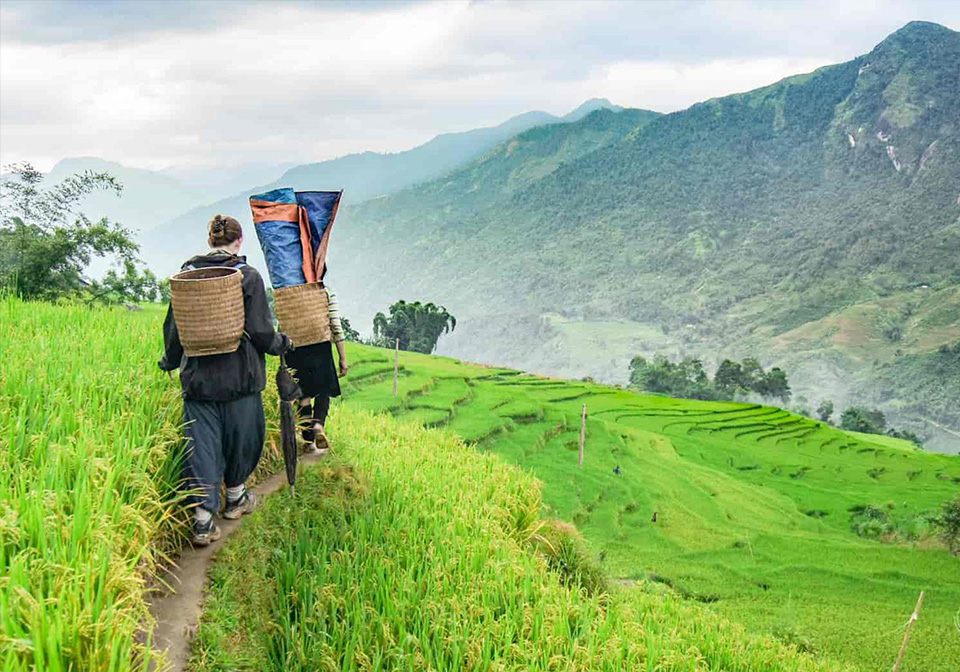 Necessary equipment for trekking in Sapa
Climbing shoes: There are many suitable types of climbing shoes depending on the weather. If it is sunny, choose the best type of soldier's shoes because this type is soft and easy to move. You should choose the shoe size that fits your foot. Choose the shoes to have a soft sole and good friction when moving. They will not hurt your foot.
Climbing sticks: There are many good stick types such as lightweight metal sticks. They have elastic springs, adjustable lengths vary according to your height, also can be shortened to put it the backpack when not using. It is quite expensive. So you can rent it in Sapa to reduce costs. There is another regular stick type made by old bamboo trees on the forest, which is consistent, not elastic, you can cut it along the way.
Gloves: Choose spikes rubber gloves that help you can cling to mountainsides, twigs …
Clothes: Should choose soft cotton clothes. You need to bring at least 2 suits for a multi-day climbing trip including a set to wear on and a set to change. If it rains, you should bring waterproof clothes because wearing raincoats is difficult to move.
Backpack: Choose a compact backpack type with a tough strap in case of being broken. You should bring about 5-8 kg in backpack to facilitate transportation.
Scarf: Bring a scarf to help you keep warm when the weather becomes cold at an altitude. It can also be used to bandage the wound.
Sapa trekking brings a feeling full of fun for visitors. This is a difficult journey, so do not forget the necessary preparations for it. Let us accompany your trip to discover new challenges!
Hong Can – Travel Lover