Mai Chau is a mountainous district of Hoa Binh province, adjacent to Moc Chau of Son La province and Pu Luong of Thanh Hoa province. It's surrounded by majestic mountains and covered with clouds throughout the year. Mai Chau valley has a dry, cool climate and fresh atmosphere. Besides, Mai Chau is highlighted with the poetic beauty of the mountainous region. Moreover, the unique culture of Thai ethnic people as well as the rustic and charming features of highland cuisine are also attractive points. Mai Chau is an ideal destination for North Vietnam tours. Let's find out how to get to Mai Chau in this article below.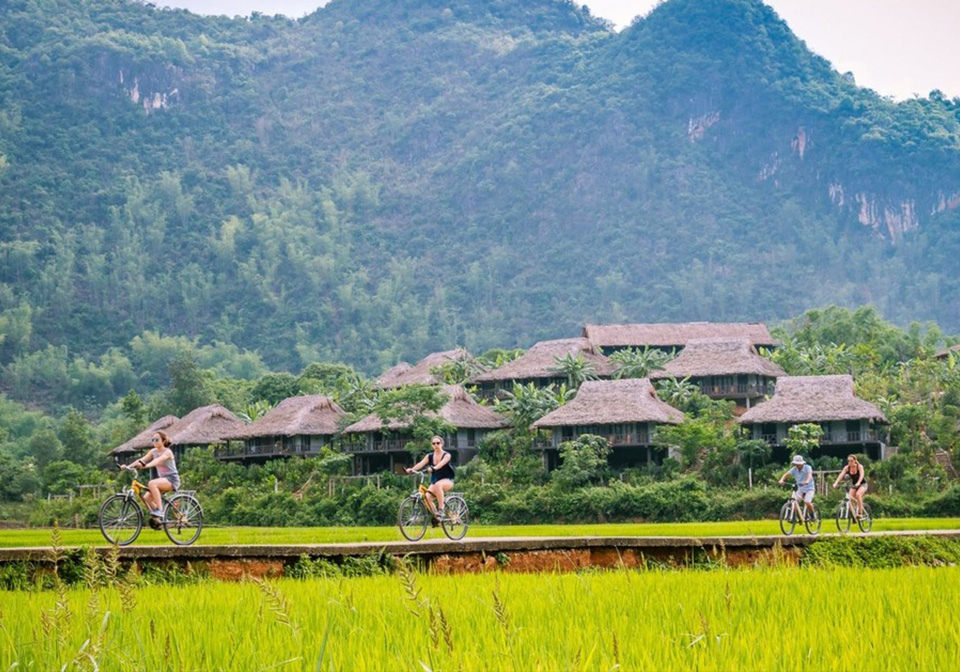 How to get to Mai Chau
Compared to other tourist destinations, one of the outstanding advantages of Mai Chau is that it is convenient to get there from Hanoi. In detail, it only takes about 3 hours to get there, and most of the sections are safe for the driver. Moreover, you also go through many beautiful sceneries and can take some gorgeous pictures and videos. There are 3 options for you to get to Mai Chau from Hanoi.  
By private car or motorbike
There are 2 main routes to get to Mai Chau from Hanoi with about 140 km by private car and motorbike.
The shortest one is Hanoi – Luong Son – Mai Chau. Firstly, you go to Highway 32 through Nguyen Trai (Hanoi) – Ba La junction – go straight to the town of Xuan Mai (about 1 hour for 40 km). Then from Xuan Mai crossroads, you follow National Road 6 through Hoa Binh City (about 30 minutes, 35 km), to Cun slope, then Thung Khe. After that, you go downhill to reach Tong Dau intersection then turn left for 5 km and get Mai Chau town (about 75 km in 2 hours).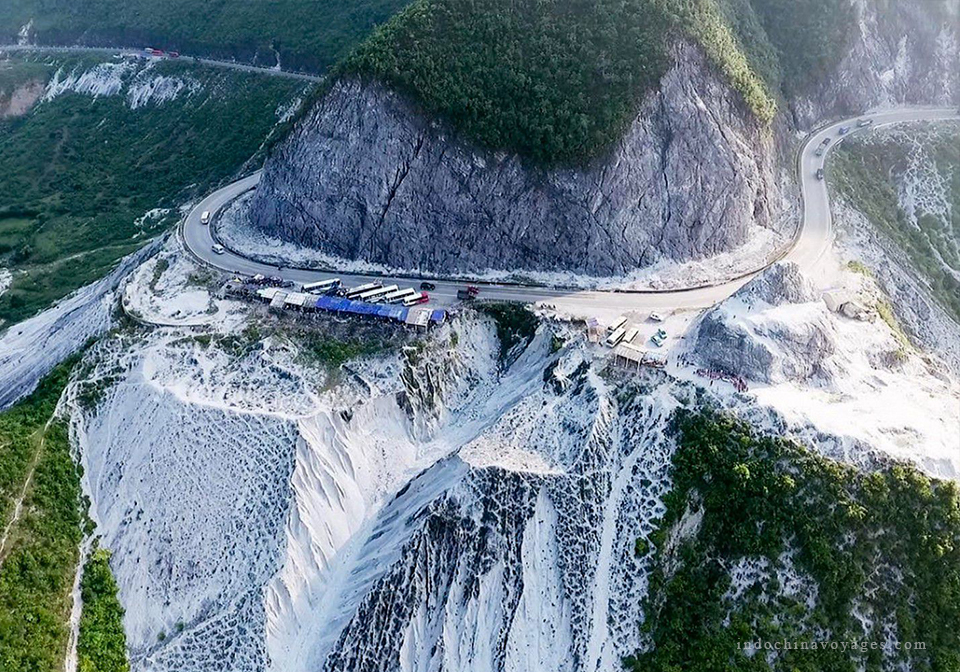 Another route is Hanoi – Thang Long – Xuan Mai – Mai Chau. Initially, you follow Tran Duy Hung Street, go to Thang Long Boulevard, then turn left to Xuan Mai town and continue as the first route. This route is more than 10 km longer than the one above and there are not many beautiful landscapes on the way. However, according to Mai Chau tourists' experience, this route has better traffic, the car can run faster so it is suitable for private cars. 
By bus
Travelers are able to take a bus directly to Mai Chau or catch a bus to Son La province. After that, you will get off at Tong Dau T-junction and then take a motorbike or taxi to the Lac village (about 5 km). The bus departs from My Dinh or Yen Nghia bus station. The ticket price is about US$4.5, depending on the bus brand. Here are some recommendations for you: Hoang Thao (departing from My Dinh at 14:30 and 8:45 from Mai Chau), Ha Loan (departing from My Dinh at 7:50 and at 13:30 from Mai Chau). If you travel in a group, you should contact the bus office to negotiate prices and be picked up.
High-quality car
This is the ideal choice for those who want a high-quality car (Ford Transit or Mercedes Sprinter) organized by Maichau Tourist. This service is the most popular option selected by foreign tourists. In detail, the car stops at some destinations for a break as well as lets you go sightseeing and taking pictures at Thung Khe pass. The price is US$15.5/person for a round-trip ticket. The car can pick you up in the old town or on Kim Ma street, Nguyen Chi Thanh street and Lang Ha street.
Mai Chau to Pu Luong
From Mai Chau, follow the direction to Co Luong, turn to road 15C along Ma River to reach Pu Luong Nature Reserve. On this road, you can explore roadside villages such as Duom, Hang, Eo Ke villages. In addition, you can follow Pa Kha and Kho Muong T- junctions to reach the villages deeper inside the mountains. Especially, the deeper you go, the more peaceful and primitive villages you will find.
>> Suggested Mai Chau tour to Pu Luong: Pu Luong To Ninh Binh Escape 4 Days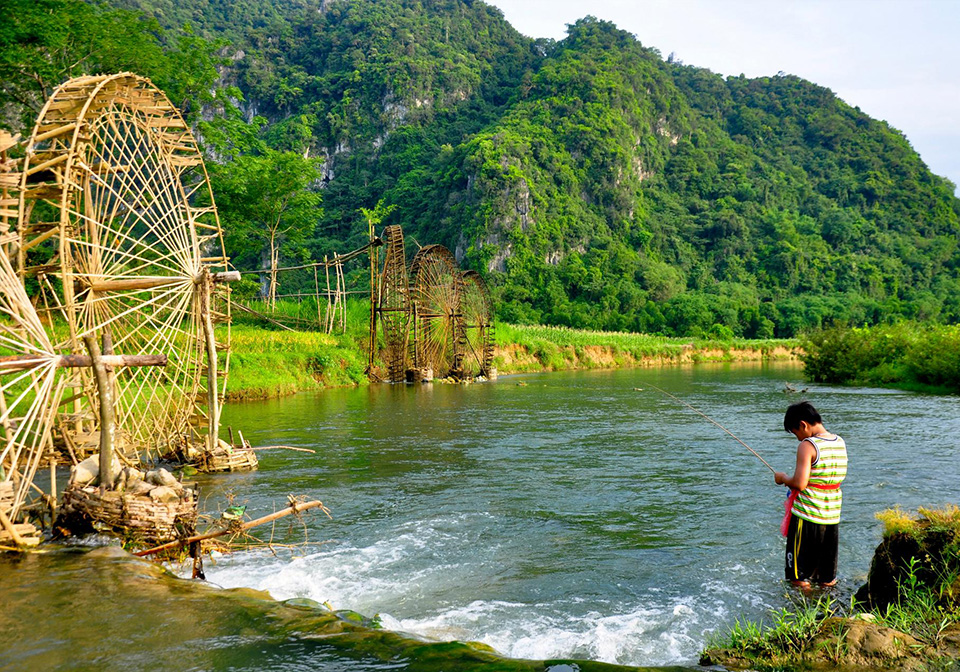 Mai Chau to Ninh Binh
It's about 133 km from Mai Chau to Ninh Binh so you have to spend about 3 to 4 hours to get there. As the route from Hanoi to Mai Chau, travelers can go to Ninh Binh from Mai Chau by bus, motorbike and private car. You can contact some Vietnam tour companies for the private transfer arrangement. Or taking the bus is another popular option. You can find the bus in sub-area 4 in Mai Chau town at 8:30 every day. The price is about 15.5 USD and it arrives at Ninh Binh city. However, the tickets are usually sold out on holidays and weekends so you should book in advance. 
>> Suggested Mai Chau tours from Ninh Binh: Cycling the Northern Delta 7 days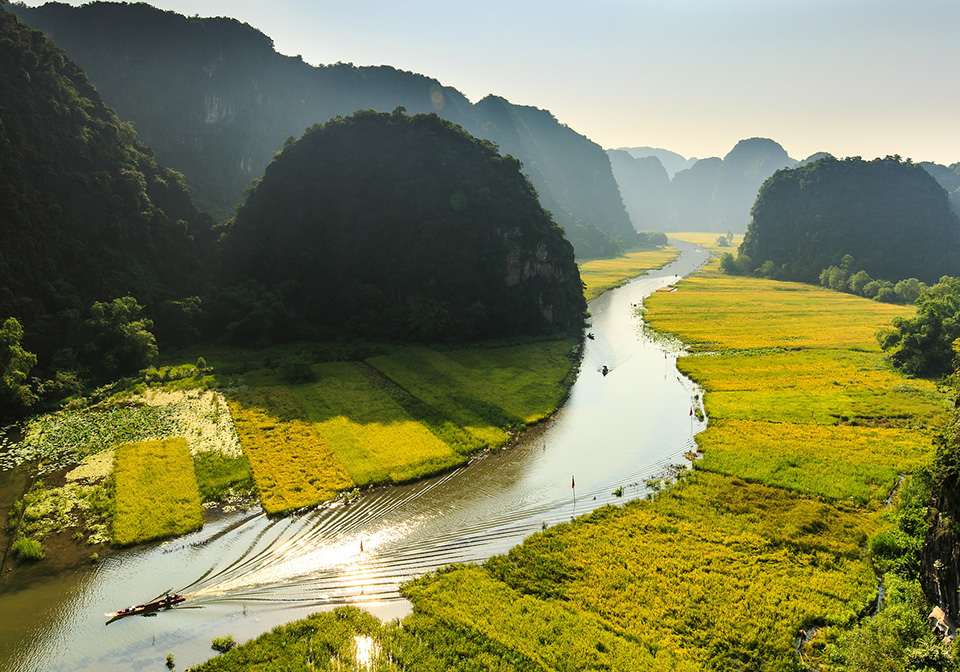 Notes
The tourism destinations and villages of Mai Chau Valley are quite close so the most convenient vehicle to explore Mai Chau is a bicycle. Most hotels and homestays there have bicycle rental services with low price at US$1-2/bike/day. One more recommendation for you is that if you consider traveling Mai Chau by motorbike, you should also carry a bottle spare gasoline.
Nowadays, it's also easy to get to/from Mai Chau as well as there are many options for transport. Hopefully, this article about "how to get to Mai Chau" will help you to plan a perfect Mai Chau tour.
Nguyen Ngoc Huyen – Travel Lover