Halong Bay is one of the most famous destinations in Vietnam, located in the northeastern region of the country. With thousands of magnificent islands, stunning beauty and diverse ecosystem, Halong Bay has been recognized by UNESCO as a natural heritage of the world. Halong Bay has the advantage of beautiful landscapes, attractive to domestic as well as international travelers. Let's explore the top list of things to do in Halong Bay in this article below.
Tuan Chau island
Tuan Chau island is about 2 km from the center of Halong City and created by gentle hills. There is a paved road about 2 km long, which connects this unique island to the mainland. In addition, you will be surprised at the culinary district with five restaurants and roundhouses designed with royal architecture. Each dish is such an exquisite blend of Western and Vietnamese cuisines, prepared carefully by reputed chefs. All the staff wears traditional Vietnamese, which gives you a sense of truly Vietnam. 
At Tuan Chau island, travelers can participate in watersports activities, for example, high-speed water skiing motorbike; canoeing, windsurfing; fishing on Halong beach, hot-air balloon. Furthermore, performing dolphins, seals, circus animals, martial arts is available throughout the week except for Monday.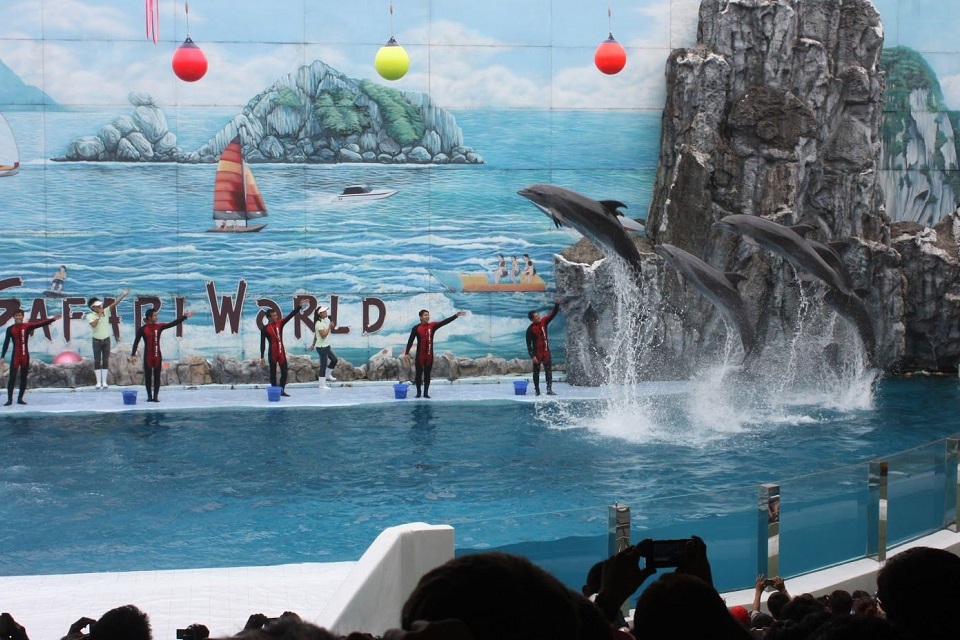 Ti Top island
Another island that is worth discovering is Ti Top island. In detail, it is an island with a steep and inclined bank with pure white sand. This Halong Bay island has beautiful natural scenery and a peaceful atmosphere. It also has a glamorous beach that can attract any travelers.
Besides, you are able to climb to the top of the mountain to see the whole island. Seen from above, Ti Top island is shaped like a crescent moon. On the island, there are services such as bar, swimming pool rental, freshwater bath, and water motorbike rental service. Especially, Ti Top Island is one of the best destinations to swim.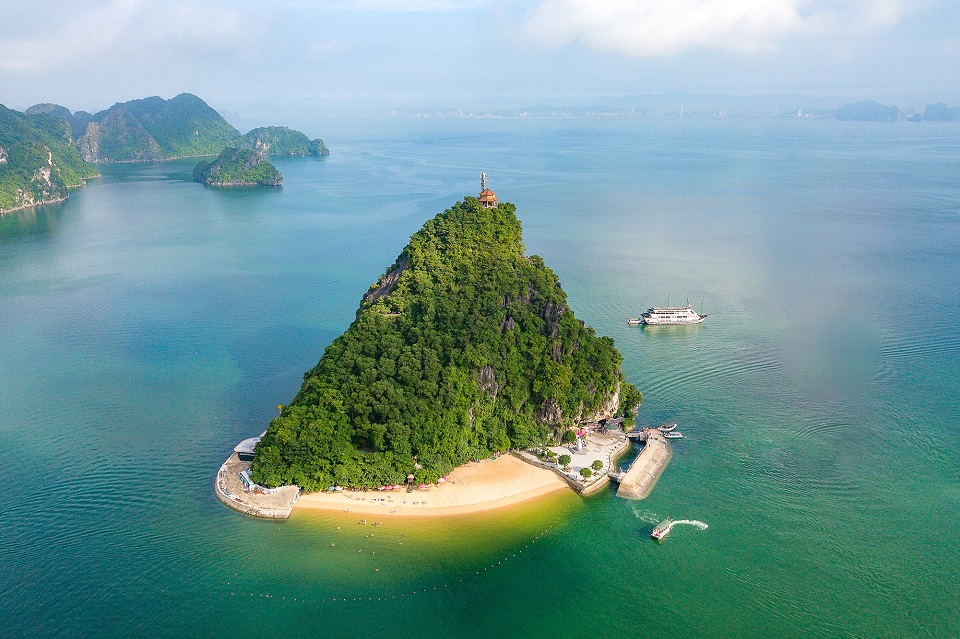 Sung Sot cave
Sung Sot Cave is located in the center of Halong Bay World Heritage and in the top 10 most beautiful caves in the world. It is divided into 2 main compartments with thousands of great stalactites. One of them looks like a theater that can accommodate thousands of people with a large ceiling decorated by neon light. The other owns a rich system of stalactites on the ceiling of the cave. Moreover, the peak of this Halong Bay cave is considered magnificent places with a clear blue lake, all kinds of plants, and many birds.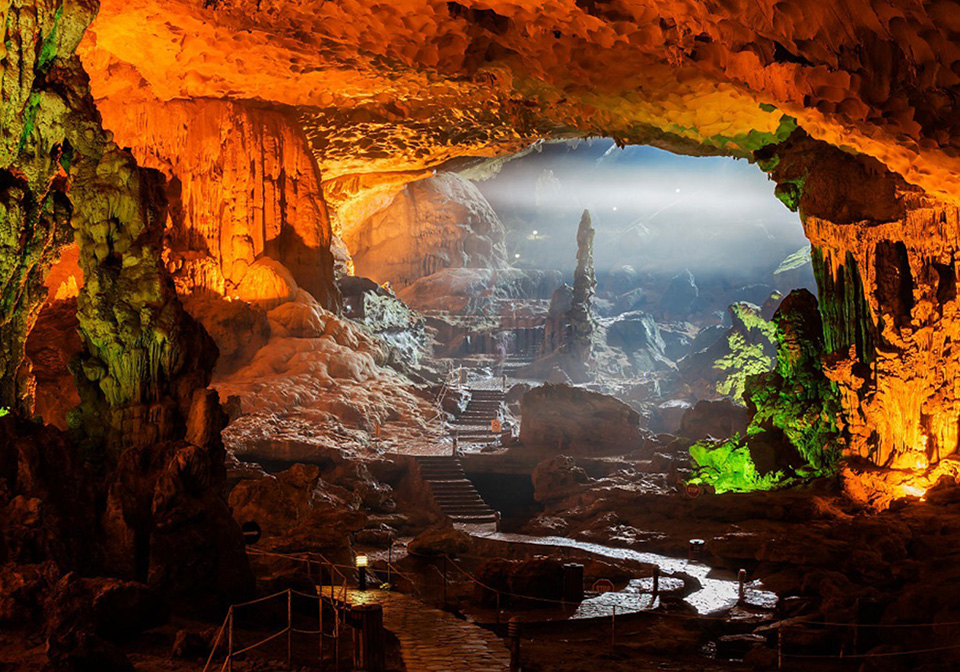 Dark and Bright cave
One more thing to do in Halong Bay is exploring Dark and Bright Cave, which is 2 km from Sung Sot cave. To discover Dark and Bright cave, doing kayaking through the tunnel is the best option. Compared to the availability of the Bright Cave, it is more difficult to find as well as pass through the Dark Cave because it can be swallowed by the tide.
The Dark and Bright cave is not only known for the stunning limestone structure at every turn but also for the interesting natural habitat. The existing evidence proves that the cave was inhabited thousands of years ago. 
Travelers will certainly be surprised with gorgeous limestone islets and mountains in this destination. Kayaking and discovering each corner of Dark and Bright grotto by yourself is a memorable experience. The amazement of the Dark and Bright cave is the combination of many things, which are the mountain's size and form, the color of the water and the clouds.
When coming to Halong Bay, one of the extremely interesting experiences is kayaking. Travelers are able to admire the magnificence of Halong Bay from a different perspective, which is closer to the water surface. On the jade green water, you have a golden chance to lead the small kayak through a number of limestone mountains rising from the sea. Especially, there are not any obstacles even it's the first time doing kayaking to discover hidden caves or tranquil lagoon after the grottos. 
Travelers are given medium-sized double kayaks, which guarantees safe and appropriate for all travelers including children. Thanks to the geographical location surrounded by mountains, you can experience safe kayaking. In addition, with instructions of sailors, it's easy to kayak to explore diverse ecosystems on the island or caves at the foot of the mountain. When kayaking, mandatory things are wearing life vests and complying with safety regulations, bringing protective gear required by staff.
Tai Chi exercise
To start a bright new day in Halong Bay, enjoying Tai Chi exercise is the ideal option. It is a gentle physical exercise mixture between deep breathing, slow as well as easy movements. A form of martial art, Tai Chi is extremely beneficial for your health as it helps to remove stress, and improve mental as well as physical health. Travelers from all genders, all ages are strongly recommended to get up early and engage the exercise.
Tai Chi classes are usually from 6:30 am or 7:00 am, on the sundeck if it's sunny and in the dining hall if it rains. Most Halong Bay cruises offer Tai Chi sessions on board to aid passengers in detox and release tension from body and mind.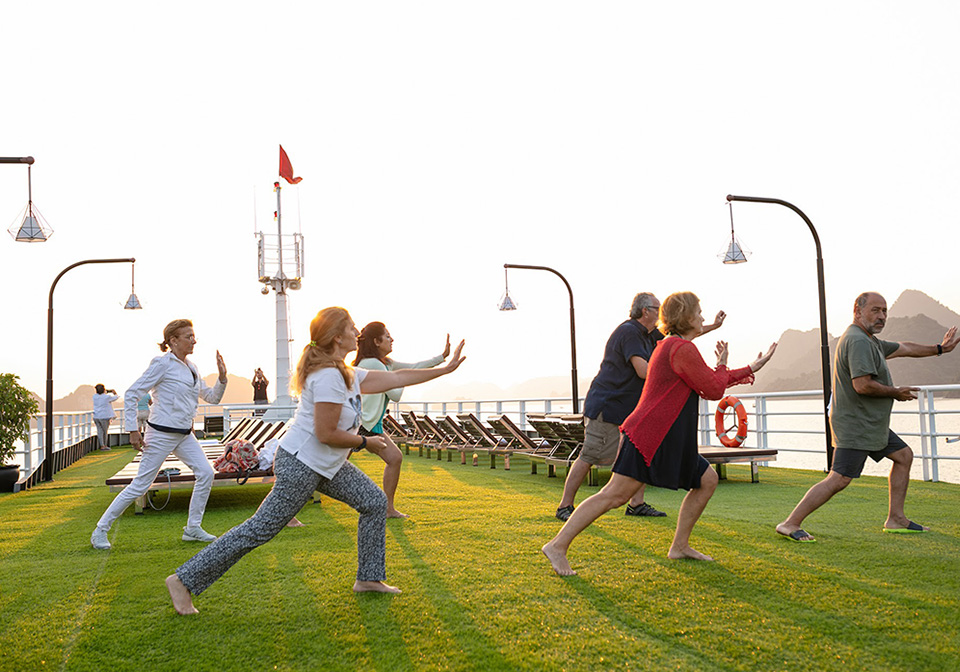 Halong Bay cooking class
Halong Bay cooking class is suitable for all ages, helping travelers to get more knowledge about Vietnamese cuisine. It is usually organized in most Halong Bay cruise tours. One of the most commonly instructed dishes is the traditional Vietnamese spring rolls. Initially, travelers will observe the process of preparation. You then listen to the cooking experience, do it yourself, and finally enjoy it. In addition, Halong Bay cooking class is an interesting activity for children. Most of them are very excited and keen on making food by themselves.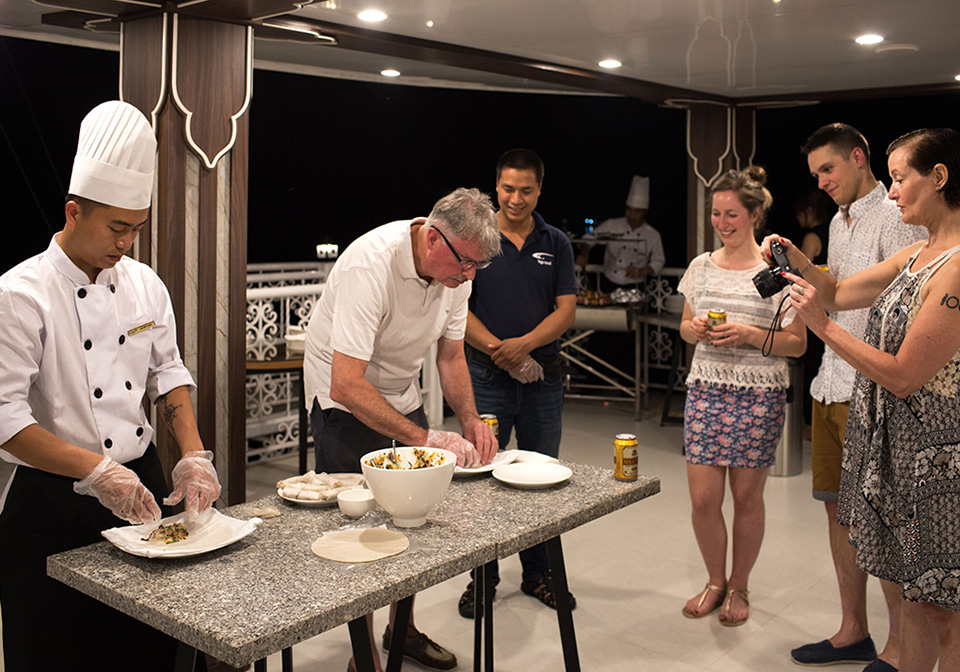 Squid fishing on Halong Bay is one of the must-try activities. At the same time, you can enjoy in squid fishing and admire the gorgeous beauty Halong Bay at night. You can engage any day of the week if the weather conditions are favorable. Squid fishing season is usually from April to July.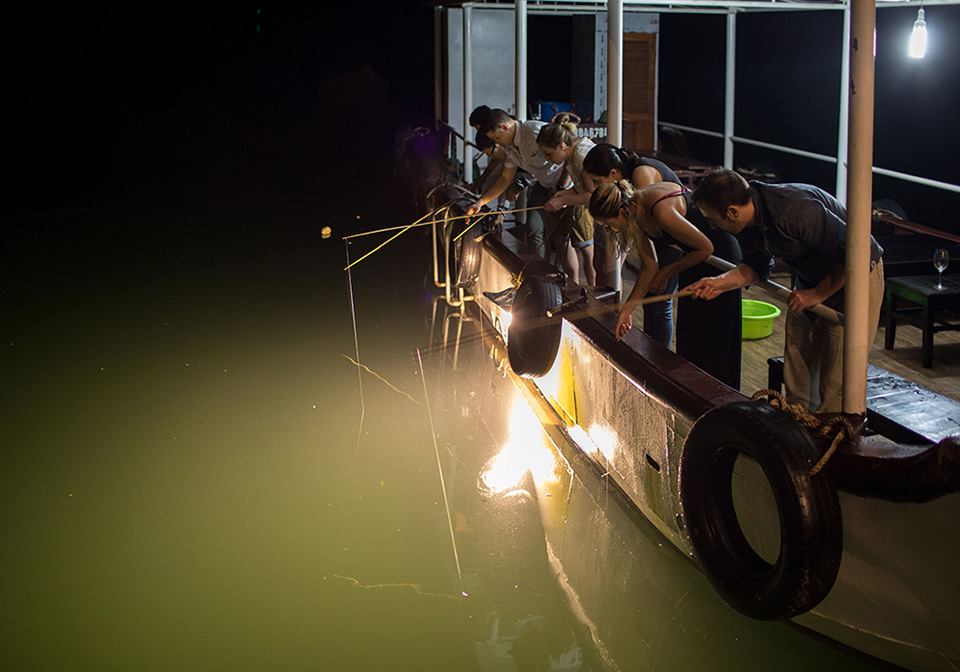 All of the exciting activities, as well as the attractive destination mentioned above, belong to the list of things to do in Halong Bay. Our recommendation is that you should follow the forecast enable to choose the best time and weather to visit this beautiful land. 
Nguyen Ngoc Huyen – Travel Lover