Mai Chau, a highland district of Hoa Binh province, is well-known for its nature, fascinating landscapes and lovely people. Moreover, it also hides in itself a unique cultural identity that can not be found anywhere else. This plateau area has become a huge inspiration for many artists, journalists, especially youngsters who love to explore. If you are planning Mai Chau tours, let's find out more about Mai Chau weather and the best time to visit Mai Chau.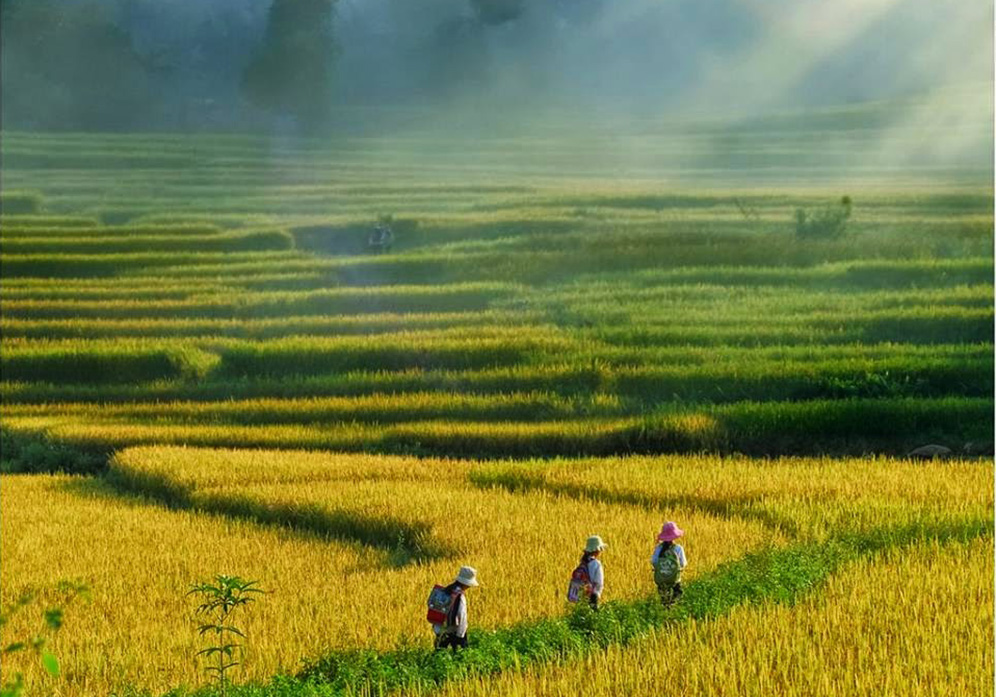 About Mai Chau weather
The climate of Mai Chau is perfectly pleasant, comfortable all year round which is suitable for all outdoor activities. Moderate humidity in all seasons and fresh air in the Northwestern mountainous region make Mai Chau an ideal place to explore, relax and rest.
In detail, during the summer months, the average temperature in Mai Chau is about 27.5°C, the highest is 31°CC at noon; and when night falls, the temperature decreases quickly but not too low, about 24°C. From May to July is the time when the temperature reaches a peak, at 35°C. The temperature and humidity this time are quite high, therefore, you should bring along umbrellas or raincoats.
The weather in autumn is quite pleasant, the temperature is about 26oC. Humidity and rainfall are at a comfort level that makes this season an ideal time to travel in Mai Chau.
Winter (from November to the end of January) is also considered as the peak season in Mai Chau, due to many festivals taken place. The climate is relatively cold with an average temperature of 16°C. If traveling to Mai Chau during this time, you should bring along warm clothes to avoid catching a cold.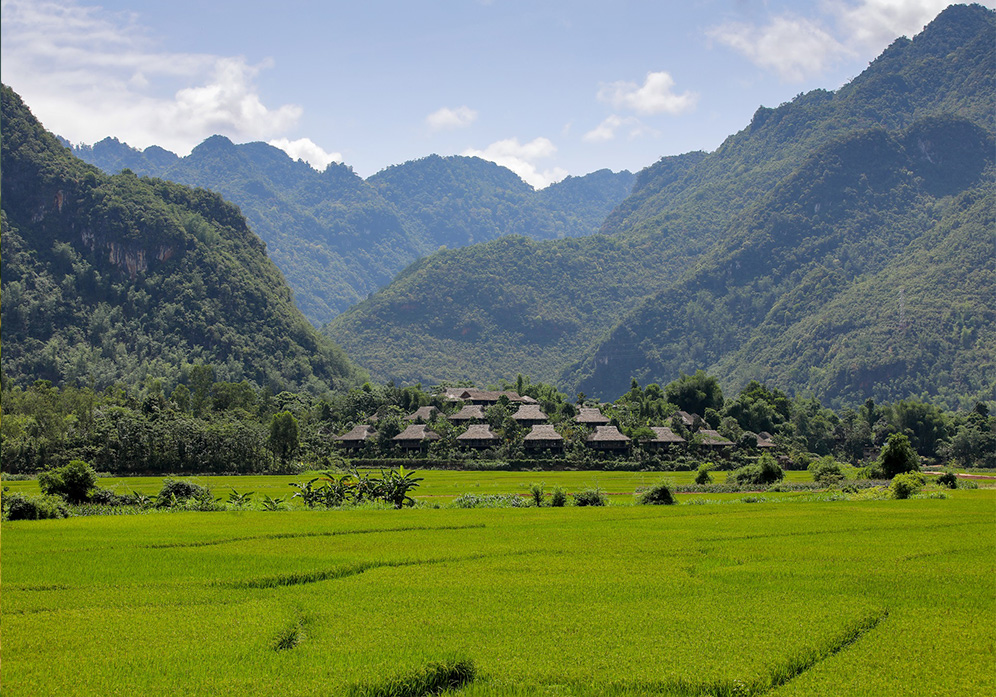 Best time to visit Mai Chau
It is difficult to say which season is the most beautiful in Mai Chau because each season has its own beauty.
September to November
Coming to this beautiful valley, visitors can not miss the rice season in Mai Chau which occurs from September to November. It is also probably the best season to travel to Mai Chau. The entire Mai Chau is covered with a shiny golden color and the scent of ripe rice terraces. Magnificent scenery, fresh air, tranquil atmosphere and pleasant weather will surely give you wonderful moments with your families and friends. This season is also completely suitable for outdoor activities such as exploring, kayaking, trekking or team-building.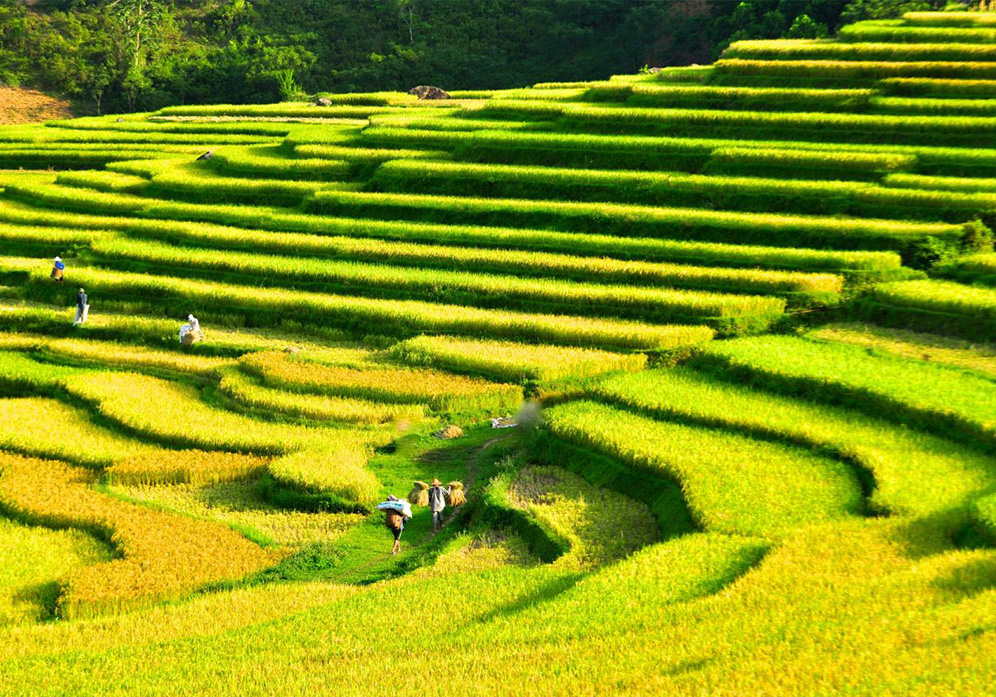 November to January
What could be more wonderful than releasing yourself and being immersed in the vast field of white canola flower. At this time, canola flowers in Mai Chau are in full bloom creating an incredible panorama here. Besides white canola flowers, you can also admire the alluring peach blossoms gardens in Mai Chau and enjoy the Tet holiday with locals. From November to January, the temperature in Mai Chau is quite cold, around 16°C, you should bring warm jackets or hats to keep yourself warm. One more important thing is you should book in advance because the hotels or homestays here are very easy to run out of room, especially on weekends.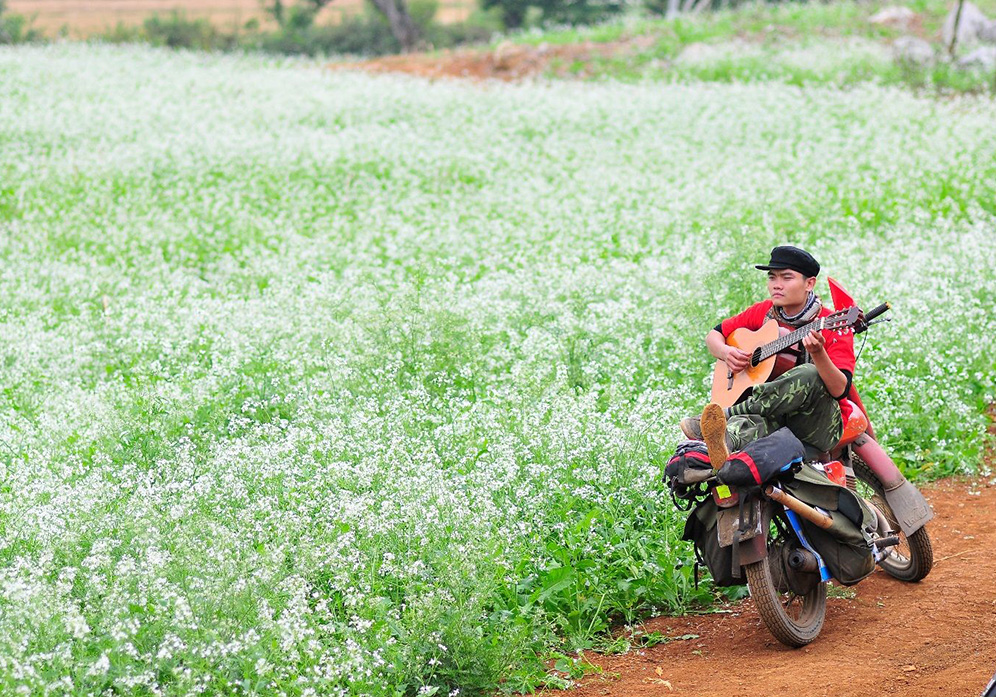 Late January to February
At the end of January, a special festival of Tay people is held, called Long Tong festival. It is a traditional festival of the Tay ethnic group in Mai Chau which is held every year in early spring from the 5th to the 15th of January in the lunar calendar. The festival takes place with the wishes of the farmers working in a favorable rainy season, good harvests, and the life of the farmer is full. Coming to Long Tong festival, travelers can participate in many traditional activities such as lion dance, folk dance, tug of war or stilt walking.
Moreover, the typical festival that travelers visit Mai Chau at this time cannot miss is Cong Chieng festival of Muong people in Mai Chau. This special festival is held in the springtime, which is considered a common and indispensable event here. Especially on the Tet holiday, the festival takes place with the purpose of a prosperous and happy new year. 
One more special festival of Thai people also takes place at this time is the Cau Mua festival. This is a traditional ethnic festival of the Thai people in Mai Chau. During the festival, people throughout their village, sing and carry torches to pray for rain.
March to April
The time period from March to April is also a wonderful season to travel to Mai Chau. The temperature is about 18 – 25°C at this time. Mai Chau is covered with the white color of ban flowers and plum flowers – a typical flower in the northern mountains in the late spring. Picturesque scenery, enjoyable atmosphere promise to bring you the best experience.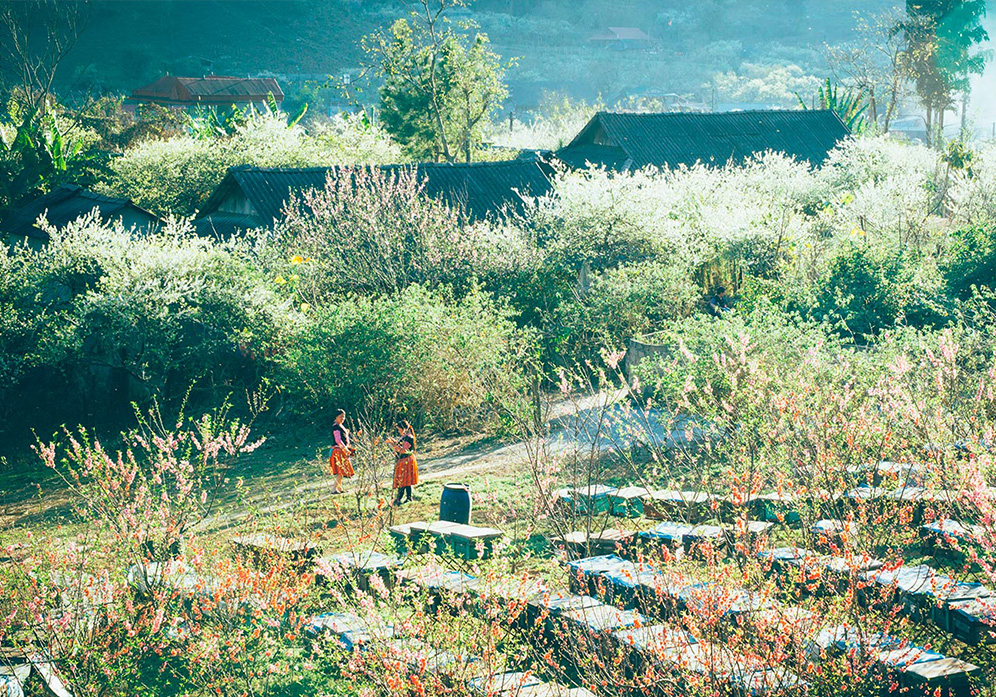 May to August
From May to August is not the peak tourism season but this is the most peaceful season in Mai Chau. At this time, the temperature is quite high, about 25 – 35°C. However, fresh air and wild nature in Mai Chau will provide you a tranquil moment to refresh yourself, relax and escape from the urban life. You can leisurely cycle through the green fields, enjoy the eco-tourism or explore the vibrant culture and local potentials here.
However, the time period from May to August is the rainy season in Mai Chau. So if paying a visit to Mai Chau this time, you should bring along essential items namely sunglasses, hats, sunscreens, umbrellas and raincoats.
It is the time of Xen Ban, Xen Muong festival held in the 8th lunar month every year. It is also another traditional event of Thai people in Mai Chau to give appreciation to the god of land, ancestors, also praying for a harmonious rainy season and a thriving life.
Mai Chau is an excellent destination for your Vietnam tours with family and friends. Coming to Mai Chau in any season, you can still find its own distinct beauty that promises to give you the best experience when spending time in this beautiful valley.
Thanh Thanh – Travel Lover