Mai Chau is famous for its community-based tourism and homestay systems. This type of tourism is suitable for those who love to explore the culture of localities and ethnic groups. Currently, the number of homestays in Hoa Binh is about 150, which is mainly in Mai Chau with nearly 120 homestays. This kind of Mai Chau accommodation gives travelers a closer, more realistic view of the daily life of local people and the opportunity to discover the culture, cuisine, and customs practices of indigenous communities. Let's check top 5 recommended resorts and homestays for a perfect trip to Mai Chau.
Mai Chau resorts
Mai Chau Ecolodge
Address: Na Phon, Mai Chau District, Hoa Binh
Located 135km from Hanoi, right in the center of Mai Chau valley, Mai Chau Ecolodge is convenient to move to hot tourist spots around Mai Chau such as Pom Coong, Lac, and the center of Mai Chau town, Van commune, etc.
Considered a great choice for stress relief, you will be immersed in a rustic, peaceful atmosphere when coming here. You can also enjoy the most professional service provided by Mai Chau Ecolodge.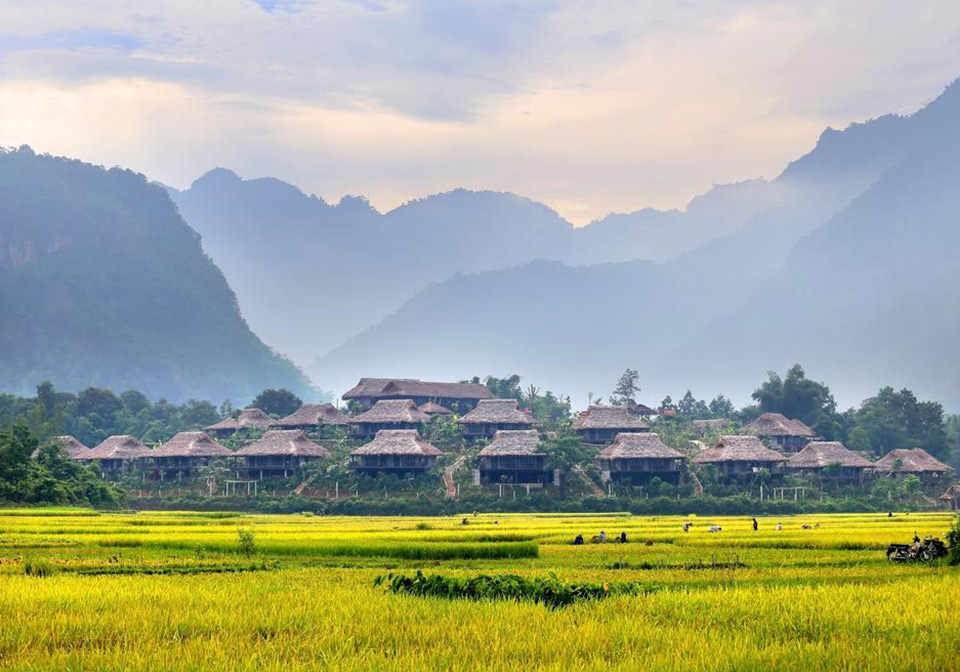 The resort resembles an old Thai village with stilt houses and ceilings made of Loi trees and palm roofs that make the appearance humble but also extremely delicate. The bungalows are built and designed in the style of traditional stilt houses of the Northwestern ethnic minorities, reflecting the native ethnic culture. Through the window of every room, visitors can admire the beautiful scenery of vast rice terrace fields and the epic mountains in Mai Chau. The open-air private bathhouse, the brocade vignettes, and the interior are entirely made from wood or bamboo.
Mai Chau Hideaway
Address: Tan Mai, Mai Chau District, Hoa Binh
Mai Chau Hideaway is an ecological resort located in a peaceful Mai Chau lake, which is an ideal destination for weekend trips with friends and family to feel the tranquility moment. It only takes about 3 hours from the center of Hanoi; so driving is perfect for travelers who are kind of adventurous.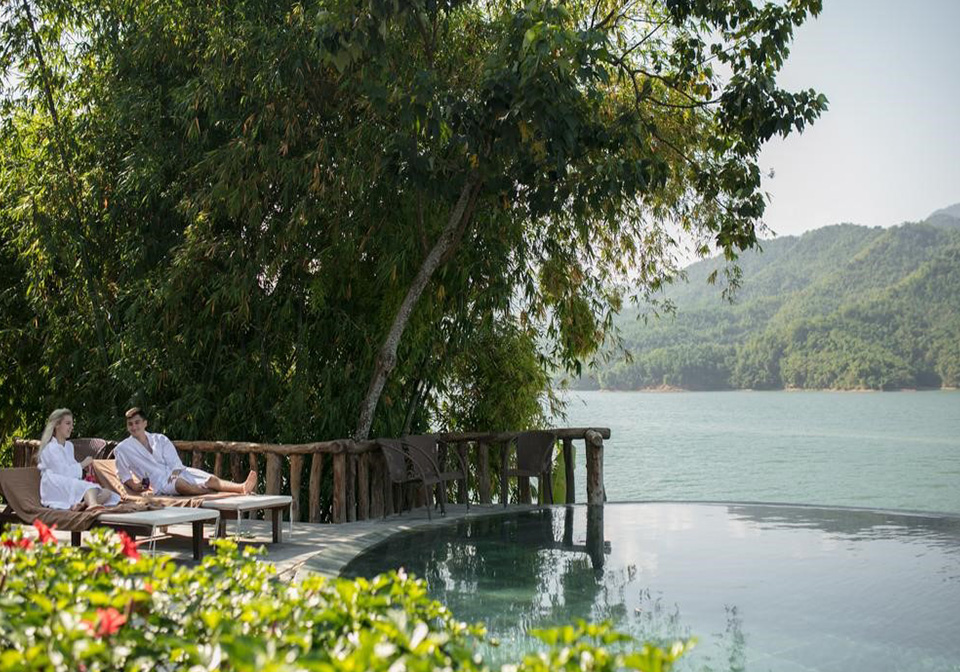 Mai Chau Hideaway is a rustic-style resort built in the 1960s of the previous century. There are 5 bungalow areas. Each bungalow will help you fully enjoy all the cultural characteristics of the northern mountainous ethnic community of Vietnam such as Muong, Thai, Dao and Hmong. Based on the architecture of the old wooden stilt houses in Hoa Binh area, Mai Chau Hideaway is designed for those who love nature with many exciting outdoor activities such as kayaking, yoga or cycling around, etc.
Mai Chau Lodge
Address: Chieng Chau, Mai Châu District, Hoa Binh
Mai Chau Lodge is situated in the middle of Mai Chau valley. Inspired by nature, Mai Chau Lodge is built of natural materials; such as thatched roofs, bamboo furniture, and a traditional, eye-catching, wooden interior design. The guest room is decorated delicately that makes the local culture and the ethnic tradition stand out.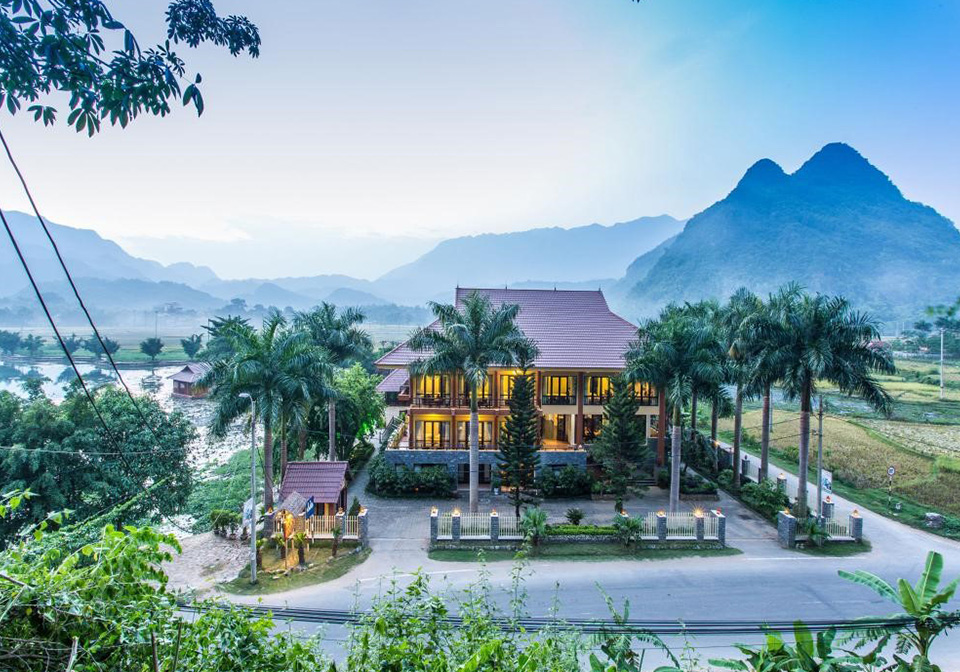 The resort provides many professional services such as a swimming pool, spa, restaurant, etc. In addition, visitors can attend traditional music performances, walk around and explore nature here or make local dishes manually. To help travelers fully discover this poetic Mai Chau valley, Mai Chau Lodge offers many interesting choices of outside activities; such as cycling or walking to Lac and Poong Coong highlands, exploring Mo Luong Cave, etc.
Mai Chau homestays
Mai Chau Countryside Homestay
Address: 30 Pom Coong, Mai Chau, Hoa Binh
Mai Chau Countryside Homestay has a perfect location to be able to travel between the two famous destinations of Pom Coong village and Lac village. With an outstanding and natural design, a favorable position and the view of extensive fields, Mai Chau Countryside Homestay promises to give you the best experience.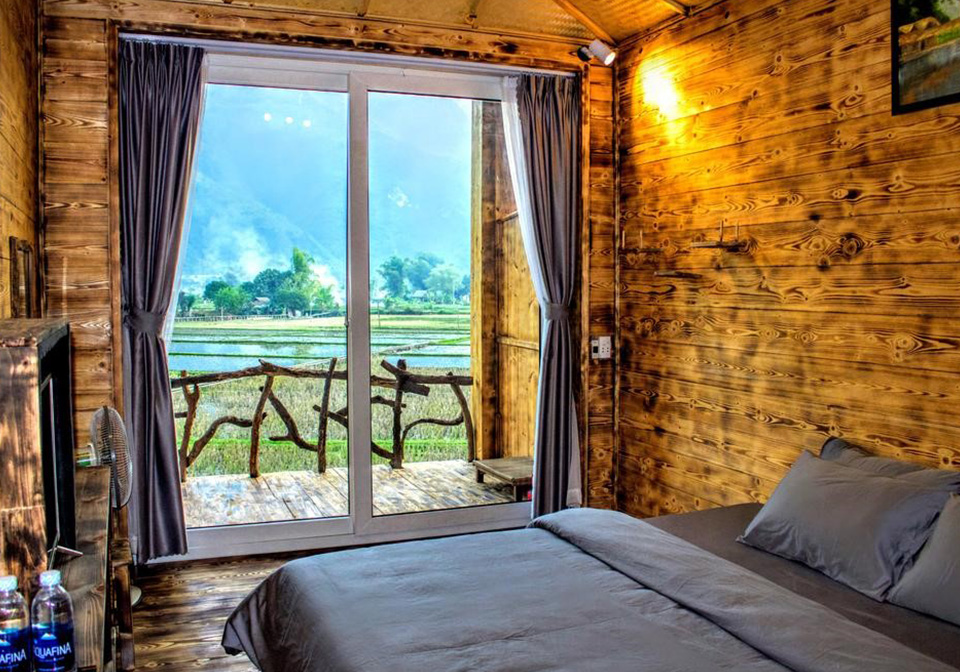 Mai Chau Countryside Homestay offers a wide range of accommodation options from private rooms with balconies overlooking the pristine countryside to community stilt houses. Similar to other homestays here, Mai Chau Countryside Homestay also uses thatched roofs and wood as the main material for the design of the rooms. The equipment in the room is clean and tidy that will fulfill your expectations with amazing moments.
Little Mai Chau Homestay
Address: Na Phon, Mai Chau, Hoa Binh
Known as one of the most economical and friendly homestays in Mai Chau, Little Mai Chau Homestay is definitely a suitable place for youngsters. Located in Mai Chau town, 8 km from Hoa Binh lake, 2 km from Mai Chau market, 30 km from Pu Luong ecological area, homestay is convenient for traveling and exploring the land of Mai Chau. The 2 hosts are very nice and open to all guests and they provide the most professional and friendly services.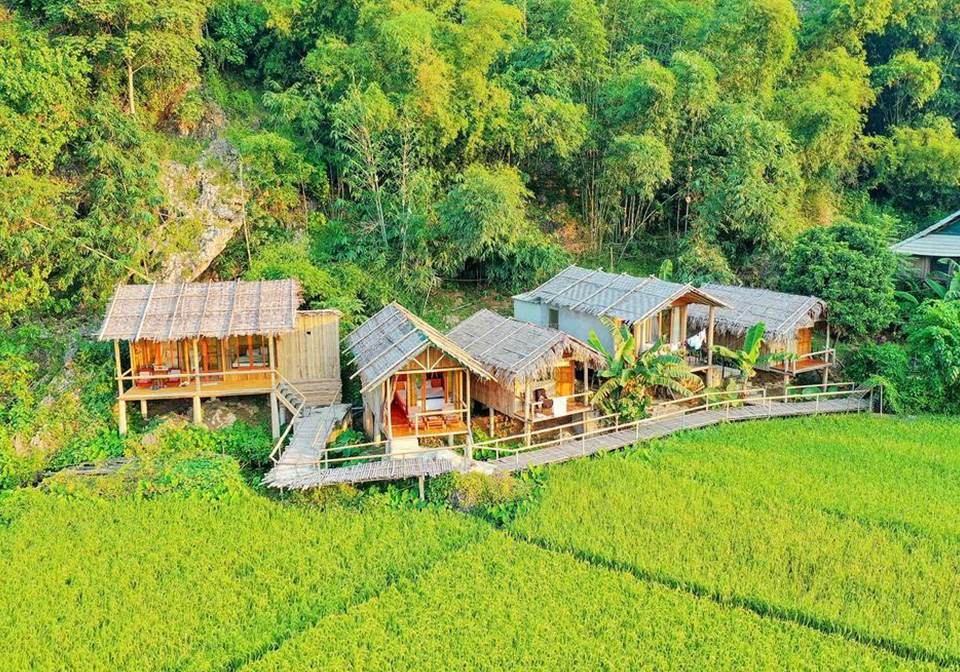 The homestay is located in a village, with views overlooking the rice field. If coming here during May and June or the end of October, you will be able to enjoy the golden season of rice terraces in Mai Chau valley. The homestay is quite spacious, offering many types of rooms; namely double rooms, isolated family rooms or dormitories for groups with services fulfillment. If visitors want to explore the local customs, they can rent a boat on the Da River, walk to the nearby villages to experience the daily life of the people here.
Mai Chau is a great place for ecotourism Vietnam tours, therefore choosing a green homestay is definitely indispensable when coming to Mai Chau. Coming to green tourism in Mai Chau, visitors will have the best moments with family and friends.
Thanh Thanh – Travel Lover