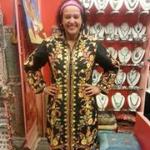 Jules
Australia
---
I have now been on 2 holidays organised by this Indochina voyages..
My first was Vietnam and my most recent was Vietnam and Cambodia
Both experiences have gone past all my expectations.My accommodation was amazing, my guides informative and made you feel like your spending time with and old friend and the whole travel experience was awesome.
Thank you Nam for booking my friends and I such and incredible life experience and adventure.
I travel a lot and and all over the world have found you to be the most professional tour organiser I've come across,.Love your work.
I will certainly look forward to your services again for future travels in that area.
Your the best!