Coming to Pu Luong, there will be many interesting choices for you, such as admiring the natural landscape, caves; exploring the ecological forest with abundant flora and fauna, or going to the local villages or markets to learn about indigenous culture and customs. In this article, we will give you some suggestions for things to do in Pu Luong to plan your Mai Chau – Pu Luong – Ninh Binh tour.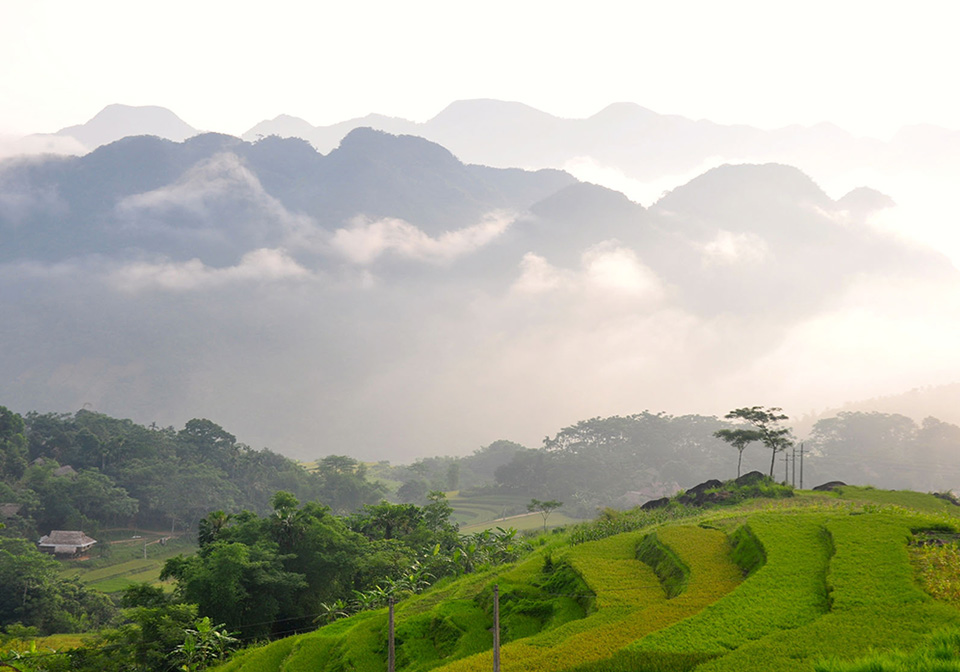 Day 01: Ha Noi – Mai Chau 
At 8 a.m, our car and guide will pick you up in your hotel for Mai Chau – Pu Luong – Ninh Binh tour in 4 days. 
In the morning, we will stop at Thung Khe Pass and Lac Village. You will have a chance to admire the majestic scenes of the natural mountain forest and have a traditional lunch at the locality.
From 2 pm to 6 pm, you will explore Mai Chau valley by bicycle:
Visiting the small stilt houses of the Thai people to learn about their unique cultural features.

The tour guide will take you to visit brocade booths, learn how to weave brocade of Thai people, and buy souvenirs here.
Afterward, you can cycle freely to explore the landscape.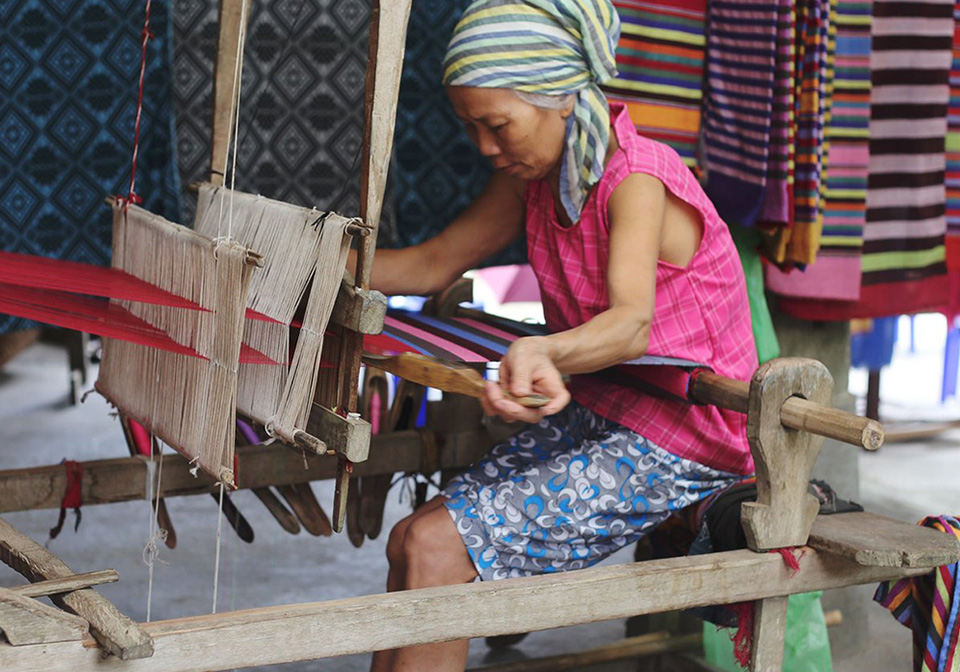 The evening is the time to explore local culture:
Having dinner at a traditional house of Thai people and enjoy traditional dishes.

Watching and participating with Thai people in traditional singing, dancing, and drinking wine.
Day 02: Mai Chau – Pu Luong 
At 7.30 to 8 am, you wake up to admire the sunrise, enjoy the quiet, peaceful moments before having a light breakfast.
About 8.30 am, the tour guide will take you to Pu Luong. According to the local language, Pu Luong means the highest peak in the region. From here, you will choose one of two forms of sightseeing by trekking or motorbike. 
Pu Luong with its diverse ecosystems is considered as a nature reserve with great value for socio-economic and tourism.
What's interesting in Pu Luong?
Explore Pu Luong Nature Reserve
Inside Pu Luong Nature Reserve, you will see an exquisite mix of primeval forests and rice terraces. Pu Luong is a great place for those who love trekking. 
With terraced fields stretching and the fresh air surrounded by forest in the national park, Pu Luong has the very pristine beauty of the tropical forest, giving visitors a very rustic and close to nature feeling.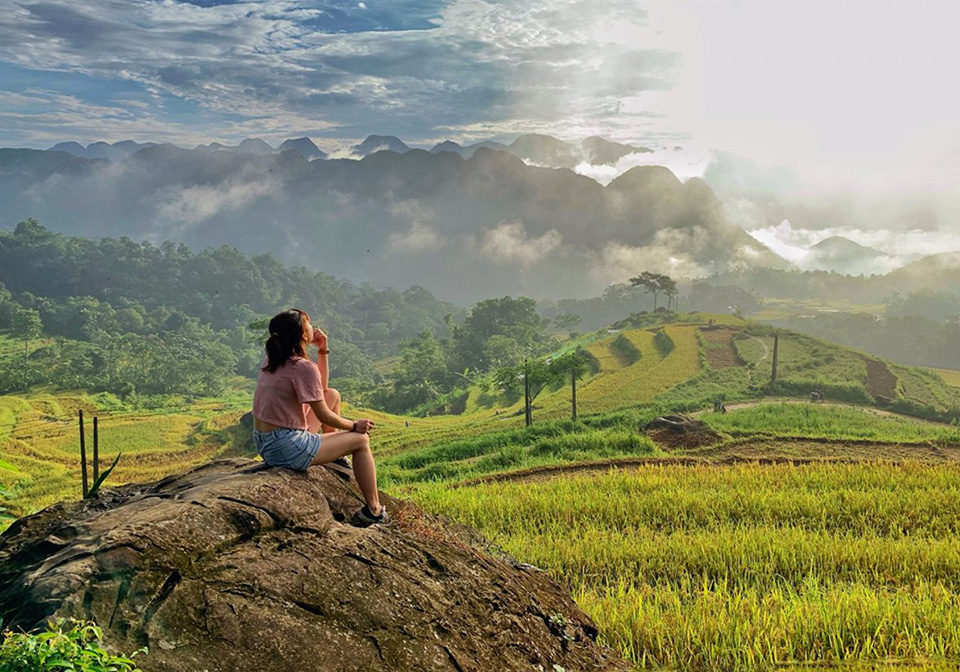 Visiting the villages
In Pu Luong, there are many beautiful villages between the hills and terraced fields. The most prominent of them are the following:
Muong Kho village

Don village

Ban Hieu is 19km from Don village.

Son Ba Muoi village is about 22km from Don village, you will pass many beautiful mountain bends.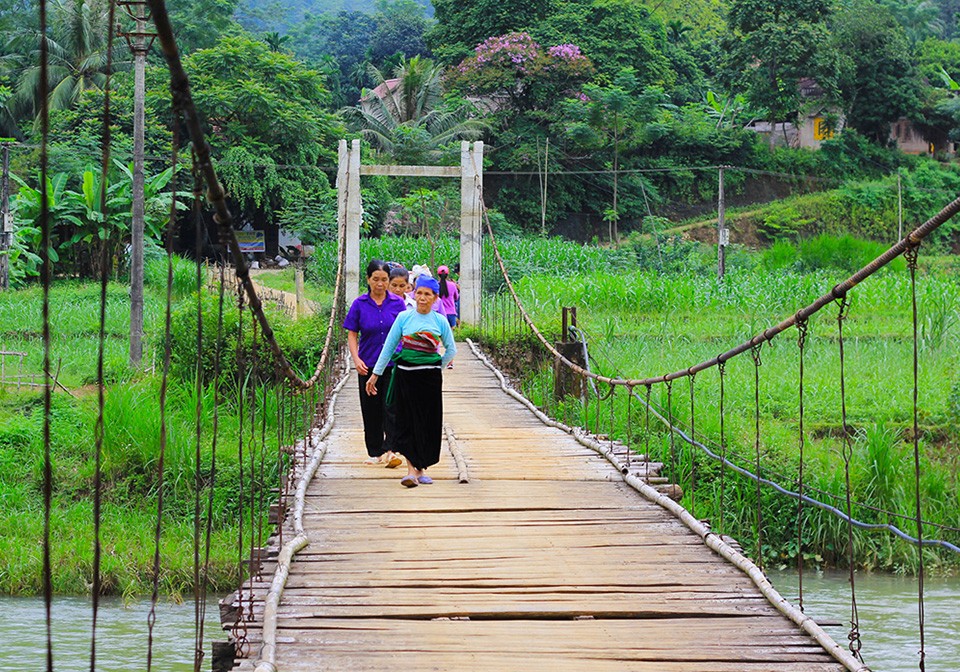 Visiting the waterfall
Pu Luong has many beautiful waterfalls such as Hieu waterfall, May waterfall and Mu waterfall. Hieu waterfall is located in Hieu village. Further to the east, May waterfall and Mu waterfall are also worth exploring because of their ecstatic beauty not inferior to Hieu waterfall.
Day 03: Pu Luong trekking
Sightseeing Pu Luong Nature Reserve by trekking, mountain biking, or motorbike all brings travelers interesting experiences. Lots of visitors to Pu Luong choose to trek to explore the natural beauty.
Normally, a trekking route from 5km to 10km will take all day. Below are some light-hard trekking routes:
The route from Pu Luong Retreat goes down Don village. This is the most beautiful trekking route in Pu Luong, about 5km long.

The route from Pu Luong Retreat goes up Bam village. With this route, you can see the wonderful rice terraces underneath.

The trekking route of Kho Muong village.

The trekking route of Hieu village combined with visiting the waterfall.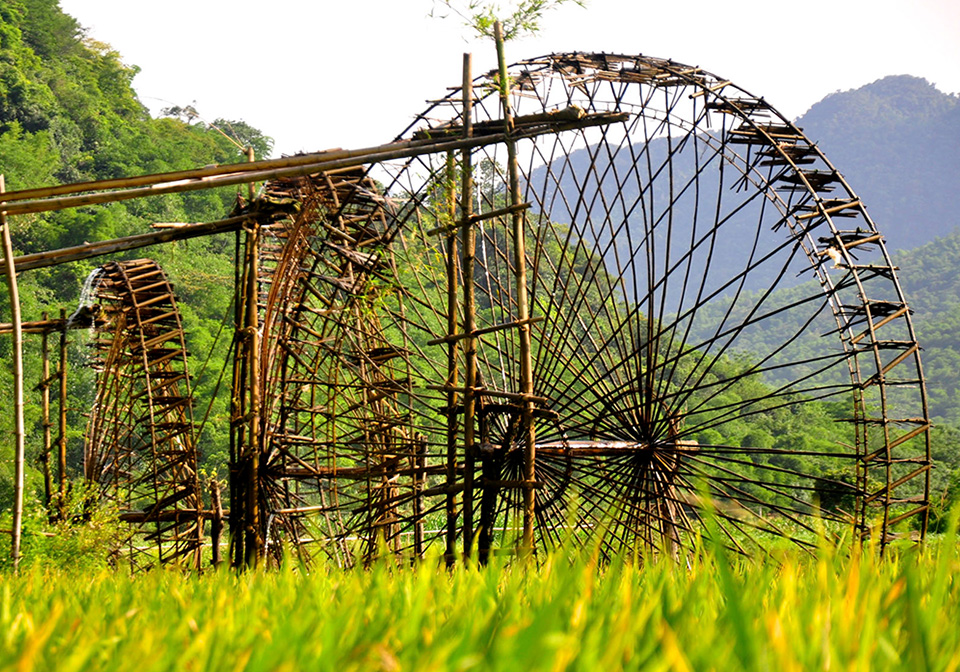 If you like to conquer high mountains, you can try Pu Luong mountain. The peak is 1700m high and usually taking about 6-8 hours in good weather to go to reach the top. You can set up a camp on the top to stay overnight, then going down the next day.
What to eat in Pu Luong?
Pu Luong cuisine will have clear characteristics of Thai cuisine with grilled dishes, items, and spices with many flavors of mountain and forest.
Day 04: Ninh Binh – Hanoi
To Ninh Binh, the guide will take you to visit the Hoa Lu ancient capital. 
Hoa Lu topography belongs to the semi-mountainous region, which is a transition between the mountains and plains. So here has many beautiful caves and landscapes.
Next, our car will take you to visit Trang An on a boat down the Sao Khe river stream winding at the foot of the limestone mountains, around the primeval forests and reeds passing 9 main caves with very strange names such as Light cave, Dark cave …
After the tour, our car will pick you up goodbye Ninh Binh and return to Hanoi.
This Mai Chau – Pu Luong – Ninh Binh tour will take you to reach the peaceful and rustic places that offer you the travel experiences close to nature and meets with extremely sincere and lovely indigenous people. This is a good choice for your Vietnam tours 2021 in 4 days.
Hong Can – Travel Lover