Pu Luong has become a new, famous tourist destination in recent years, attracting many travelers from over the world. Pu Luong is well-known for its pristine natural beauty, green valley with rice terraces, and friendly local people. If you are planning your Vietnam tours 2021 to Pu Luong, let's explore the top 5 suggestions Pu Luong accommodation in this article below.
Pu Luong
Located in the mountainous districts of Ba Thuoc and Quan Hoa in the western part of Thanh Hoa province, Pu Luong is about 170 km from Hanoi and 130 km from Thanh Hoa city. Pu Luong is the name of the Thai ethnic group which means the highest peak in the region. It is assessed as a nature reserve with scientific, socio-economic, and ecotourism values. The most popular type of Pu Luong accommodation is the homestay provided by local people. You will have chances to experience their daily life and enjoy the specialties prepared by the local people.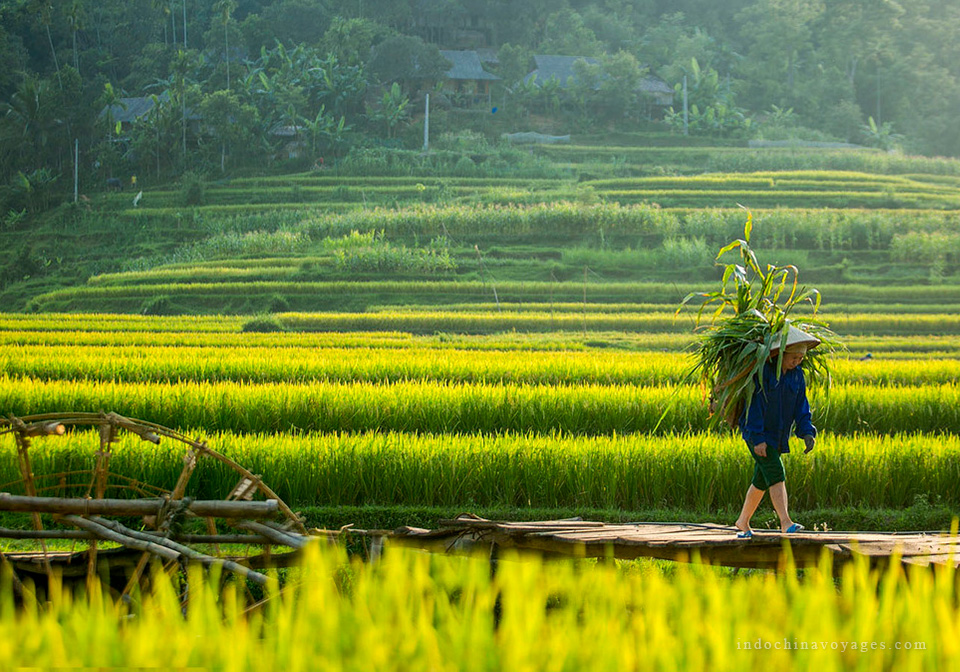 Pu Luong accommodation
Here is the list of accommodation in Pu Luong for you.
Pu Luong Retreat
Address: Thanh Lam, Thanh Hoa, Vietnam
Pu Luong Retreat is one of the most wonderful paradise resorts in Pu Luong. Accommodations at Pu Luong Retreat are designed in bungalow stilt houses style, built from traditional wood and bamboo materials. Green space is friendly with nature and the airy environment will bring a relaxing feeling for visitors.
Pu Luong Retreat currently has 4 types of rooms designed in bungalow style, furniture made entirely from traditional wood and bamboo materials. Depending on what room type you choose, it costs you from US$100 – 120 per night. Otherwise, if you want more economical and spacious community rooms, one special type of House on Stilt is highly recommended. This type of room is designed to serve groups of 16 people, 8 sleeping areas. It only costs around US$15 per single bed.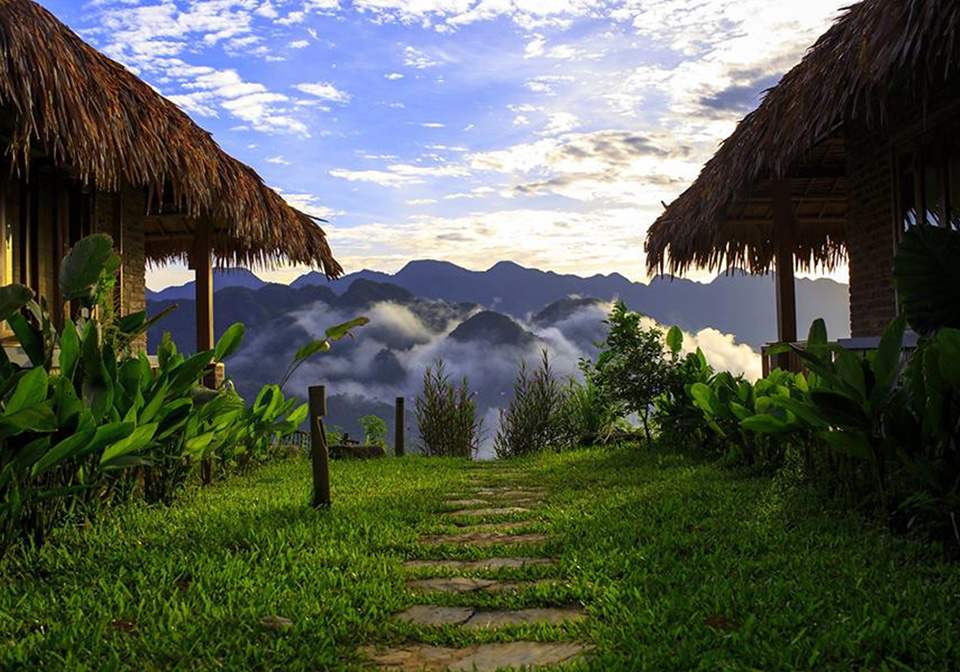 Please note that to avoid fully booking, you need to book early, especially in the high season. Room rates during holidays and weekends will be more expensive, around US$10 higher per night depending on each room type.
Pu Luong Eco Garden
Address: Bang Village, Ba Thuoc, Thanh Hoa
Pu Luong Eco Garden is a perfect choice for anyone who loves nature. It is a standard homestay that impresses visitors with panoramic views of a beautiful green valley and natural landscape. Coming to Pu Luong Eco Garden, you will truly relax, escape from the hustling and bustling world out there. Travelers will definitely fall in love with an exotic peaceful atmosphere here, from the colorful flower garden surrounding the campus to each of the Northwest-style wooden room designs.
Pu Luong Eco Garden offers 4 types of room rates from Dormitory to Private Rooms or Deluxe double room villas and villas for families. The most economical choice for you is dormitory rooms which costs you around US$13 per night with full equipment and services.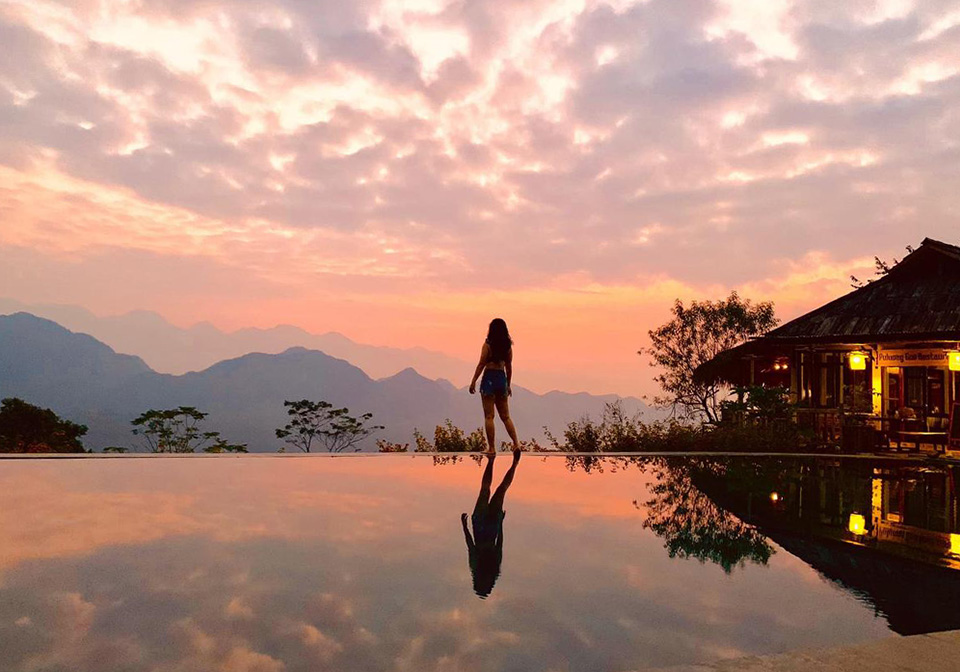 In particular, Pu Luong Eco Garden also owns an infinity pool with clear and calm blue water. It has a magnificent view of the mountain layer in front, surrounded by brilliant flowers and grass. Moreover, the homestay also offers a lot of interesting outside activities such as easy trekking tour or learning how to grow vegetables with the locals.
Pu Luong Treehouse
Address: Thanh Lam, Ba Thuoc, Thanh Hoa, Viet Nam 
Pu Luong Treehouse located in Pu Luong Nature Reserve, about 170 km north-west of Hanoi. It is designed followed by an ecological resort-style with 4 rooms type, such as House on Stilt, Treehouse, Bungalows, The Nest – Family Room. There are also many room facilities; such as a spacious double bed, unattached shared bamboo bathrooms, bath linen, complimentary toiletries, custom made linen bedding, etc.
Pu Luong Treehouse is a great choice for eco lovers as the entire facilities of homestay from the interior to exterior stuff are made from eco-friendly material such as bamboo, natural wood, and straw. Coming here, travelers will have a chance to enjoy a 180° view of the beautiful green valley with rice terrace, paddies, majestic landscapes of Pu Luong Nature Reserve. This homestay is modest but very lovely, cozy, and unique.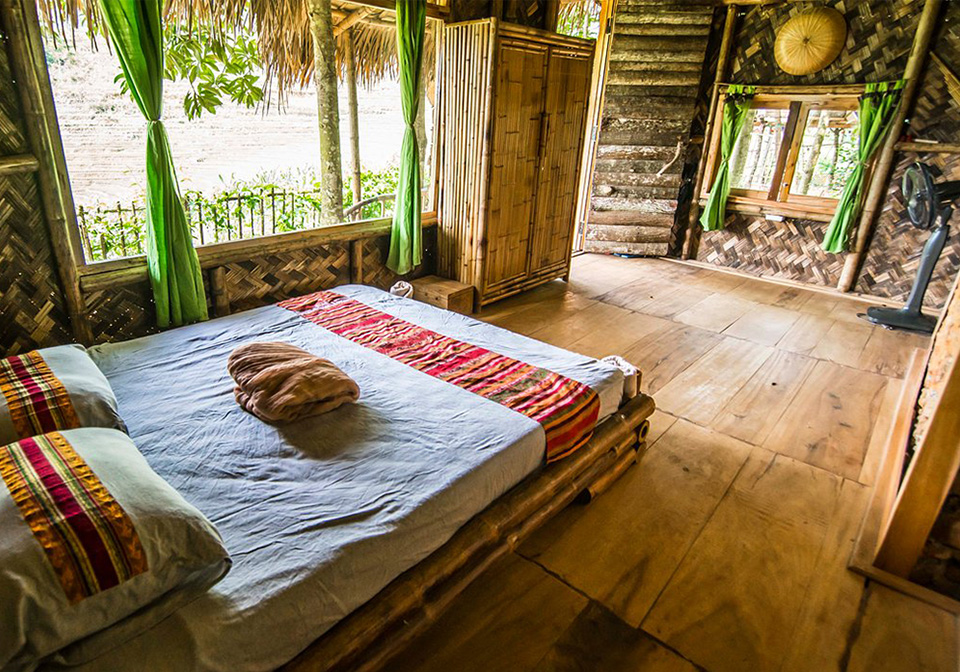 Pu Luong Home
Address: Thanh Lam, Ba Thuoc, Thanh Hoa
Located in the same ideal area as Pu Luong Retreat, Pu Luong Home offers a much affordable and economical choice that suits best for groups of friends. Pu Luong Home provides its guests with a cozy, friendly atmosphere with the most enthusiasm, professional staff. The homestay offers 7 room rates with views on the lake, mountain view, or valley view. You can choose your best suitable rooms between these different types of double, triple, quadruple dormitory or bungalow. Moreover, they will surprise you with many excellent services such as coffee shops, restaurants, BBQ facilities, or continental breakfast at a reasonable price.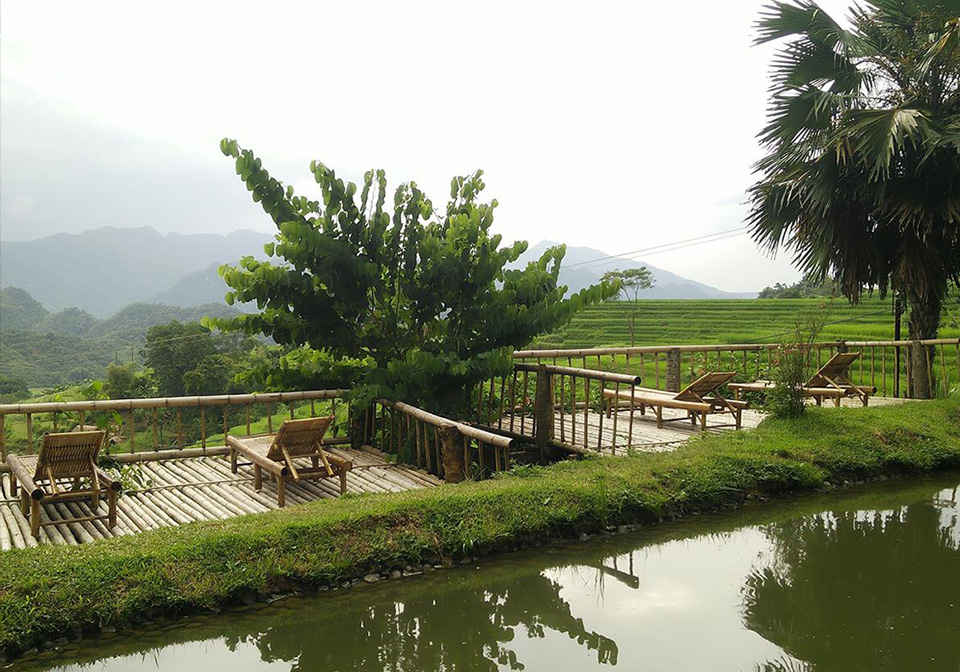 Pu Luong Natura Bungalow
Address: Thanh Lam commune, Ba Thuoc, Thanh Hoa
Surrounded by beautiful terraced fields, Pu Luong Natura Bungalow is an ideal homestay for complete relaxation and precious time with families and friends. 
Pu Luong Natura Bungalow offers 7 room types; including Traditional Stilt house, Private room, Deluxe Private room, Superior room, 2 kinds of Valley view Bungalow, and a suite. The price depends on the type of room and the number of guests. Stilt houses suit best with groups of 10-15 people that cost you around US$18 per person. Deluxe Valley Bungalow is an outstanding option with a view of the valley and the beautiful swimming pool. The rooms are very suitable for couples on a honeymoon, it only costs you US$80 per night per room.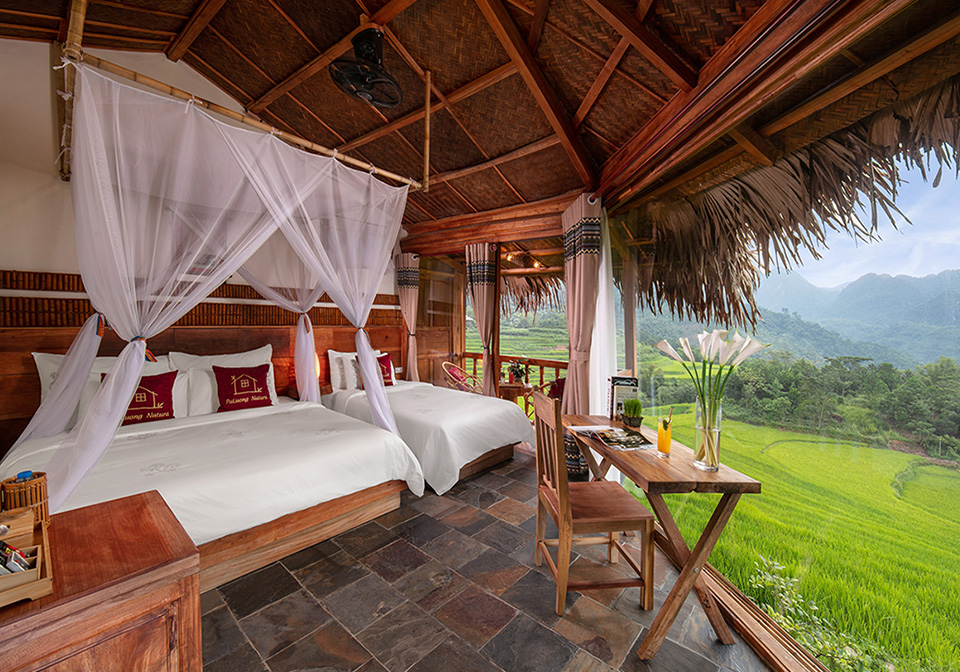 Above are our recommendations for you about Pu Luong accommodation in Thanh Hoa Vietnam. We hope you will have a memorable trip with families and friends in this beautiful land of Pu Luong.
Thanh Thanh – Travel Lover