Homestay (or Ngủ bản in Vietnamese) has recently become one of the most attractive types of green tourism for travellers, especially for those traveling from overseas as it is the best way to discover the truly culture of Sapa. Living in a homestay means that instead of booking a Sapa luxury hotel, you stay in a local's house and living with the owner's family.
You will never regret if you ignore the comfort of a luxury hotel and choose homestay experience in Sapa. Travellers will be given a great chance to have close-up experiences of the life-style as well as to fill your curiosity about the local culture. You will be treated as a member of the family and I am sure you will very interested in joining in activities of a daily living such as enjoying meals together, talking with family members about every thing from weather, foods to their customs and traditions. The North Vietnam tours
One more positive point for this exciting experience is the price which is much cheaper than any Sapa luxury hotel while, according to travellers's reviews, homestays in Sapa were inviting with hospitable hosts, cosy atmospheres and very great food. There are some homestay villages in Sapa that travellers might put in considerations including Lao Chai, Ta Van, Bac Ha, Ban Ho, Cat Cat village. Among them Lao Chai is a village of H'Mong people, around 7km far from the town of Sapa. This is a very unique tourist destination for travelers who want to experience a homestay. Like Lao Chai, Ta Van is also a small village situated in a pictureque valley – Muong Hoa valley. On your way to Ta Van, travellers will pass through green terraced rice fields – a typical natural beauty of Sapa. Visit Sapa with Travel to Vietnam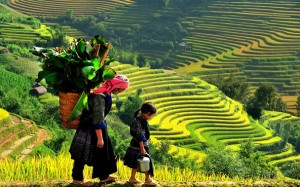 It is really hard to describe how amazing homestay in Sapa is, before you decide to book a Sapa luxury hotel as usual, I recommend you to think of another different experience, homestay, if you want to discover the truly beauty of not only nature but also of the people here with a reasonable price.
The Indochina Voyages team.
Read more: