Just as the biting cold of winter kicks in, many people from the Northern hemisphere are heading towards the equator in search of sunny skies and warm weather. Among many options, Vietnam stands out as an affordable and safe tropical country for travelers. If you plan to spend your winter holiday here, these best 5 destinations for ultimate Vietnam package deals below will spark an interest.
Why winter in Vietnam?
It's no doubt that traveling during the summer, a.k.a peak season can mean higher hotel prices, longer queue lines and tired tour guides. At the same time, winter, for the most part, is low season here in Vietnam. So think about enjoying step-right-up service at restaurants and tourist offices, savoring a hot cup of tea after indulging in a big hot-pot, observing locals being busy with work and studies. In addition, the country is generally much drier from November to January. It allows visitors to avoid the humidity in order to make sight-seeing and explores a more comfortable experience. Overall, there is a lot that makes Vietnam a perfect escape from the winter blue.
Hanoi
Many travelers choose to start off their Vietnam journey in this dynamic capital city. Situated in the heart of North Vietnam, Hanoi enjoys a comparatively chilly winter where temperatures can dip below 15°C/59°F. This creates a perfect opportunity to explore the city's vibrant cultural scene.
A stunning myriad of ancient traditions, old and modern architecture, sounds, smells, bustling commerce and crazy traffic. Hanoi is chaotic and charming at the same time– a great place to discover both ancient and contemporary Vietnam. You can find most sights in the Old Quarter area, including the iconic Hoan Kiem Lake and the sacred Bach Ma Temple. Picking Vietnam package deals will take you to hidden gems that might not be included in travel books and seeing the best of Hanoian lifestyle.
Hoi An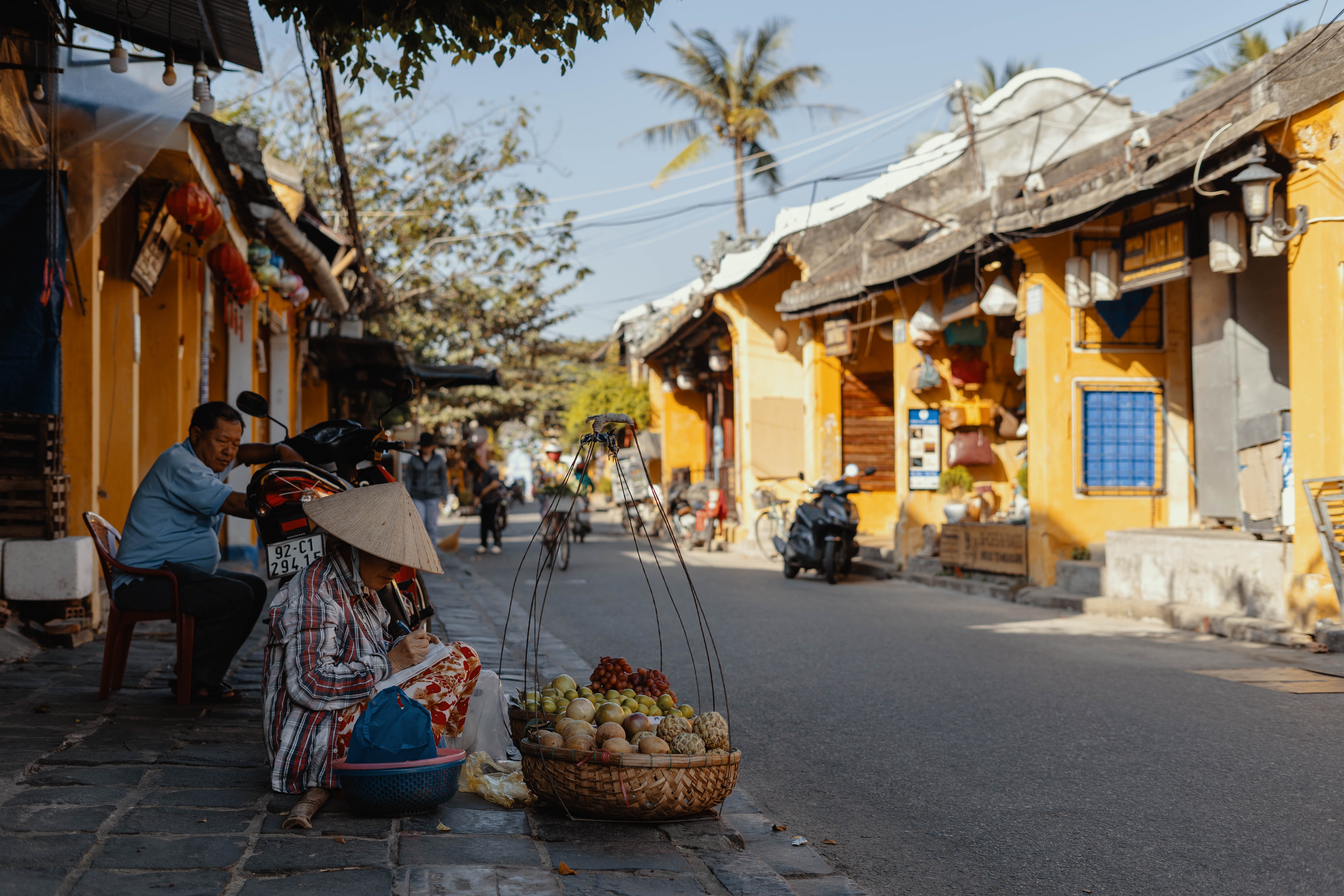 Book a long-distance bus ride from a package deal to Vietnam. Then head further South to Hoi An with its Venice-like canals and beautiful old town for some top sightseeing. Enjoy the old port, wander through its winding alleys and sit back in its numerous fine restaurants and shops, or watch sunset by the river bank. Once a fishermen's village, this town's now well-protected by preservation laws and has turned into a major hot spot for visitors.
Your package vacation will not be completed without savoring the town's abundant collection of authentic and iconic Central Vietnam cuisine. And everything becomes a whole lot better in winter when many local produces are in season. Aside from the Hoi An bread that is the basis of Hoi An's cuisine, travelers can experience the signature Cao Lau. It is a noodle dish made with the water from the closely guarded, hidden Cham wells. A perfect fusion of upscale and casual comfort is sprinkled throughout town, creating a scene that is readily and deliciously accessible.
Nha Trang
A city that boasts a fabulous oceanfront, laid-back tropical vibe, and all-year-round sunny skies, a no-brainer for your Vietnam package tour deal. It's no wonder that Nha Trang has drawn visitors from across the world for decades. Thus the tourism and hospitality is the main business here in the city.  A stroll along its lively boulevard can take to you multiple accommodation sites, from luxurious resorts to lovely family-run home-stays.
You can expect to bask in the warm sunshine, savor on fresh grilled seafood or go for a dive in the offshore. All of these can happen in total serenity. As you will have a whole beach to yourself while locals are busy studying and working.
Mekong Delta
For travelers who seek to delight in the essence of Southeast Asian lifestyle, a stop for 1-2 days at the Mekong Delta is always included in most package tour deals in Vietnam. Here, the Mekong River empties into the South China Sea via an incredible maze of smaller streams. It's a lush, green region and the source of half of Vietnam's agricultural produce. Get ready to be taken away by poetic scene of the rivers and rice fields stretching as far as the eye can see. A place where natural landscapes and culture go hand in hand as life revolves around the water. The Mekong streams are a major means of transportation and host floating markets.
At the same time, travelers will also get a glimpse into another era, one where people proudly celebrate the timeless traditions passed down from ancient time. A place where water buffalo roam. Women in colorful tunics sell fresh fruits in lively floating markets. And children wave to you while swimming freely in the cooling water. Don't forget to bring a camera on your package tour in the Mekong Delta
Phu Quoc Island
For an unforgettable package tour deal, pair any of Vietnam's cities with the comparatively untouched Phu Quoc Island. It's Vietnam's largest island off the south-west coast in the Gulf of Thailand, with a tropical climate, plus year-round warm temperatures. Specially, it is home to pristine forests and hills in the north, fun-packed tourist beaches in the south and secluded spots on the west coast. It's as close as one can get to the iconic Thailand holiday, for a much cheaper price.
Another highlight from your package holiday deal could be visiting the process of Fish sauce production. The islanders have traditionally earned their living from the sea. For many years they have built up fame for the signature Phu Quoc Fish sauce. Their product is famously exported to the mainland for domestic consumption. Though an impressive amount finds its way abroad to kitchens across Japan, North America, and Europe.
Whether you are exploring the history-rich streets of Hanoi, savoring the flavor of Hoi An, relaxing on Phu Quoc's palm-lined beaches, Vietnam is sure to impress you from your first to final moment in this beautiful country. Traveling in the winter time allows you to avoid the crowd and the constant rainfall, creating a perfect condition to enjoy the best of Vietnam tours.